After we have already presented Christmas in Poland and the most beautiful and bizarre customs there in another article, today we will show you how Easter in Poland is being celebrated. Because that has in the predominantly Catholic country only little to do with how we celebrate the holiday in the West. We present you the most beautiful, but also the most unusual customs and explain why they pour buckets of water over young women and why they should better stay at home on Easter Monday.
Last day before Lent: "Fat Thursday".
Tłusty czwartek, literally "Fat Thursday," is the last Thursday before Lent begins. In Germany and Switzerland, it marks the beginning of Carnival week. However, since carnival does not play a role in Poland, this day takes on a special role. Here, people really dig in again before the peak phase of Lent begins. Especially popular on this day are the doughnuts.
In Poland, they come in countless variations. While in Germany they are usually doughnuts with a jam filling and powdered sugar, in Poland there are also those with icing, vanilla or chocolate filling. The treats, called pączki, are mass-produced and bought for this day and often given as gifts. Even in Polish offices, there is usually at least one plate of pączki on display; I was even given one once by a bus driver.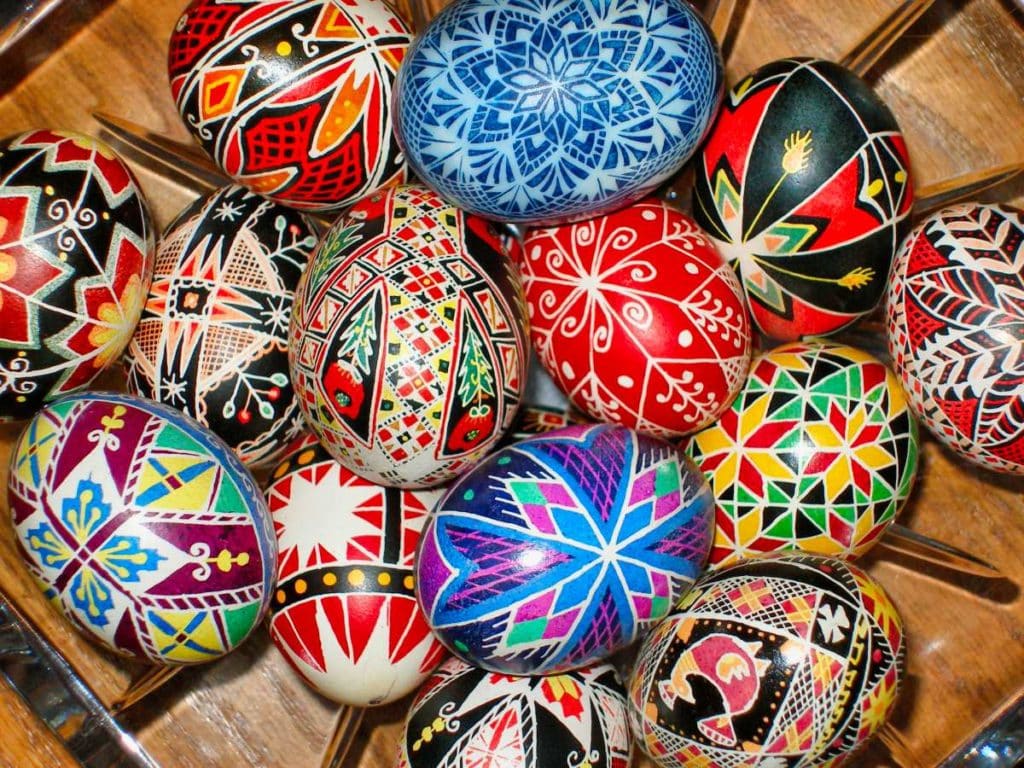 Easter eggs in Poland – True pieces of art
After Fat Thursday, the peak phase of Lent begins. By the way, many clubs and bars in Poland are also closed then. Nightlife is noticeably scaled down and the period of contemplation begins. This is often spent praying. In many families, however, Easter eggs are made, which have very little to do with those in Western Europe.
Pisanki are the name given to painted Easter eggs in Poland. The relatively unimaginative dipping of an egg into a colored liquid (not uncommon in Germany) is hardly practiced here. For Easter in Poland true works of art are created, for which one needs sometimes several hours. Often the eggs are not only painted, but different layers of wax are applied and the egg is dipped in color in between, so that colorful patterns are created. Also the light scratching of the eggshell is common, later the fine grooves are then also colored, one calls these eggs then drapanki.
I myself once tried to make pisanki in a course in Ukraine, where the custom is even more widespread and is now a kind of national treasure. It took forever to apply various layers of wax and the result was so modest that I would rather not show it to you here. There is even an Easter egg museum in Ukraine, which you can learn more about in this article.
Besides the pisanki, there are also the so-called ażurki. These are even more difficult to make, because here a blown-out eggshell is decorated with elaborate patterns using a fine knife or drill. One mistake and the eggshell would break. Hours of work would thus have been in vain.
Palm Sunday
Traditionally, Easter week is ushered in with Palm Sunday, which commemorates Jesus' entrance to Jerusalem. The symbolic palms are then blessed during a church service. Due to the climatic conditions in Poland, these tend to be branches, of course. These are often tied into elaborate arrangements and decorated with colorful bows.
Everyone wants to be there
Easter in Poland is a family celebration. Whereas in Western Europe relatives living far away often only get together at Christmas, in Poland this also happens at Easter. This is also due to the fact that in the West, contrary to the doctrine of the Catholic Church, Christmas has long since overtaken Easter as the most important festival. In Poland, both festivals are equally important, and consequently many Poles abroad make the often long journey to their homeland. The house is often prepared days in advance, the windows and doors are cleaned and everything has to be spotless. The time of arrival varies from family to family and, of course, also depends on the respective job situation. Some, however, already set off at the beginning of the Holy Week.
Easter in Poland – The "Big Week"
Just as in other Catholic societies, Holy Week in Poland is a time of rest, contemplation and prayer. The highlight of Holy Week is Good Friday.
Good Friday is called "Great Friday" (wielki piątek) in Poland, and Holy Saturday is consequently called "Great Saturday" (wielka sobota). Unlike in other countries, however, Good Friday is not a public holiday. Many fast the entire Holy Week, but most, in my estimation, only on Good Friday and Holy Saturday. Some take the entire Lent, then there is neither meat nor alcohol on the forty days before Easter in Poland. Very conservative Poles eat and drink only bread and water during Holy Week, but at least abstaining from meat and alcohol is the custom in many families on these two days.
In many traditional families, it is also the custom to hang the mirrors as a sign of mourning. I know this only in connection with the death of a person and the associated superstition that there could be more dead people. If you know why they do this in Poland on Good Friday too, feel free to write us a comment below! Also the church bells remain silent on this day and the churches are not or only dimly lit – everything is supposed to remind of the dark time Jesus spent in his burial cave.
Easter Saturday – blessing of bread, sausage, cakes and eggs
In the West, churches are fairly full at Easter, but in many places half of the benches remain empty. At Easter in Poland, things are quite different. And not only on Easter Sunday, but also on Holy Saturday. Families flock to the churches to have their Easter baskets blessed, most of which they have made themselves. The priest then sprinkles them with holy water. It is up to each person to decide what goes into the Easter basket, but it is usually bread, sausage, cakes and eggs that are carried into the church on grass or cress.
The custom is many centuries old. Originally, the priest went from house to house and blessed the Easter table. Later, due to time constraints, the entire Easter meal was brought to the church, but today it usually remains with a symbolic basket. In fact, the priest has enough to do on Holy Saturday, because long lines form in front of the confessional. According to Catholic teaching, confession must be made at least once a year, and in any case before Easter. And just like buying presents before Christmas in the West, confession in Poland is something many people do at the last minute.
Then it is time to go home to prepare the food for Easter Sunday. There will be no time for that tomorrow. Also, the Easter table is already being decorated, in addition to flowers, the "palm fronds" from Palm Sunday are usually used. And so the family cooks and decorates together what will be eaten or looked at the next day and you go to bed relatively early.
The Easter service – Not for late risers!
Easter in Poland is called "Great Night" (wielkanoc) – and this is taken literally here. The Bible says that Jesus rose from the dead on the night of the third day, so in Poland and in the Eastern Orthodox Churches it is customary to celebrate the service at an unusual time. In fact, the climax of the Easter Mass should ideally fall at sunrise, so that the symbolic resurrection of Jesus coincides with the first rays of the sun. This leads to the need to get up very early.
Since churches are usually packed, you have to think carefully about when to go to the place of worship. It is absolutely common to celebrate mass in front of the church. However, the weather can be very unstable at Easter in Poland and who wants to stand outside for two hours at temperatures around freezing point. Nothing helps, at 3 or 4 o'clock it is time to get up and go to church. Many spare themselves this ordeal, however, meanwhile and visit another mass, there are numerous services held on Easter. However, this does not really correspond to the tradition …
The resurrection is also celebrated by the priest lighting a candle, which is then passed around. Most of the visitors to the service have brought a candle from home and so the church is gradually filled with light – an impressive moment that creates a very special atmosphere.
Good protection by the fire fighters
What is particularly striking about the Easter service in Poland is that firemen armed with axes stand in front of the church – at least in the countryside. The reason for this is that they are symbolically guarding the tomb of Jesus. Since they have been doing this since Good Friday (and also at night!), they often seem tired and can hardly stand (but this may also be due to the fact that many of these guarding duties are made somewhat more bearable with a good amount of vodka).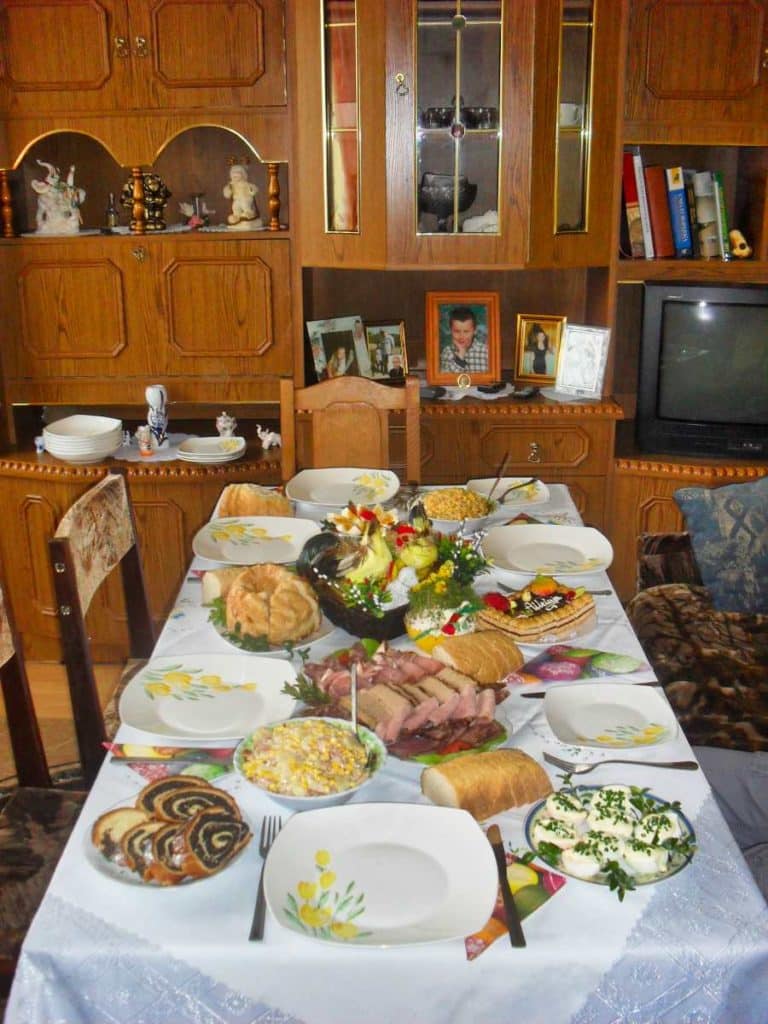 The Easter meal – Flour soup and vodka for breakfast
Still slightly sleepy, people go home after the service. Usually there is a coffee first, but then the Easter dinner already starts – early in the morning. However, many people now postpone the meal a little and take a little nap. And now everything is eaten, which was cooked the day before and (in parts) blessed. Sausage, bread, eggs, often also roast, pâté and layered salad come on the table. With this, one or the other glass of vodka is drunk.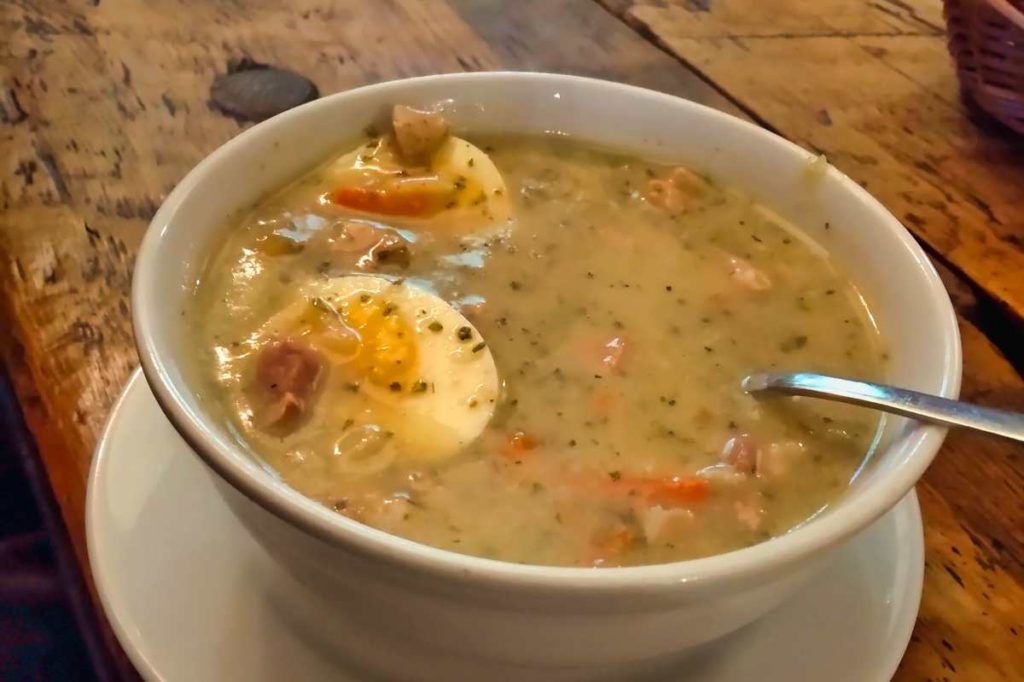 The classic Easter dish is not bread, roast or sausage, but Żurek, a soup. The taste of Żurek is sour and relatively unusual for our palates. If you listen to the ingredients and look at the soup, it may be a little surprising at first. Żurek is, after all, a flour soup made on the basis of sourdough. To this is then added sausage or a meat garnish and a boiled egg. Żurek is now available all year round, often served in restaurants in a loaf of bread, by the way. However, the classic with the egg, which is supposed to symbolize new life and thus the resurrection, is the Easter Żurek.
Of course, sweet dishes are also served. One of the most popular is the makowiec, which you can see at the bottom left of the picture. The Polish poppy seed cake consists of yeast dough, which is filled with poppy seeds and often also candied fruits or raisins and then baked. It is usually rolled beforehand to give it its characteristic snail shape. The mazurek, a cake with caramel, raisins and nuts is also very popular. Actually, no Easter table should be without the babka, a cake with powdered sugar. Until recently, chocolate Easter bunnies were hardly common in Poland, but thanks in part to German supermarket chains, this fashion has now also arrived in Poland.
Anyone who is now full and thinks that's it, is mistaken. When the stomach is actually already full, close relatives (or, if they do not live nearby, the neighbors) are visited. At least that was the case at my three Easter celebrations in Mazovia and Masuria. And of course there was a lot of food and one or two glasses. After we have rattled off half the village, the day ended with nice conversations in the house and everyone went to bed full, tired and slightly tipsy.
Traveling to Poland at Easter
If you can spend Easter with a Polish family, consider yourself lucky. You will return home richer with many memories (and a few pounds). Important notice: If you are planning a trip to Poland during Easter, we do not recommend it. Without a family connection, there is not much going on in the cities. Many restaurants and stores are closed, museums and other institutions are not working as usual. You can compare it a bit with Christmas in the West.
Caution, water!
Śmigus-Dyngus is the cryptic name of one of the strangest Easter customs in Poland. On Easter Monday, which is also known as lany poniedziałek ("Wet Monday"), young women in particular are splashed with water in the street. According to the church, the custom commemorates the baptism of Mieszko I in 966, which is also known as the baptism of Poland. Baptism is representative of cleansing from sins. Whether this still plays a role for a woman, who is doused with a bucket of water, or children, who chase each other with water pistols on Easter Monday, I dare to doubt.
Presumably, wet spraying is of rather pagan origin. For young, marriage-minded men, this was often one of the few ways to show a woman that he was interested in her. Perhaps not the most subtle form of pickup, but certainly one that will be remembered …
The custom can take on relatively bizarre features, also because it can still be very cold on Easter in Poland and, at least in the countryside, you can still occasionally find people shivering and cursing the custom. In the cities, it has meanwhile gone very much out of fashion. Full and wet ends Easter in Poland!
Do you know any other Polish Easter traditions and have you ever celebrated Easter in Poland? Let us know and write us a comment. Also follow us on Facebook or Pinterest to stay up to date with the latest articles!
Book recommendations
This rather short book gives a good overview about Polish customs and the Polish culture.
If you want to geet a deeper insight into Polish culture this book is a great choice, although it is a little outdated.