Have you always wanted to cook Estonian food? In our article, we present our favourite dishes of Estonian cuisine. Come with us on a culinary journey to Estonia and discover the most delicious Estonian food. You will notice that many of the dishes in Estonian cuisine can also be found in other countries. The local cuisine has had many different influences over time, including the Russian, Scandinavian and German cuisine (read our article on Ukrainian cuisine here). However, we don't care where the dishes originally come from, because we mainly want to know what's on the plate in Estonia.
Estonian food
Traditional Estonian cuisine is hearty and down-to-earth. This is not surprising given the cool climate and a traditionally peasant society. Pork, bacon, potatoes and sauerkraut can still be found on every menu. Due to the location on the Baltic Sea and the many lakes and rivers, fish also plays quite an important role. Culinarily, a lot has happened in the last few years. Especially in the hip capital Tallinn, there are many nice corner cafés and small restaurants that rely on fresh and seasonal ingredients and prepare high-quality dishes with a local touch. But now we want to introduce you to the delicious Estonian food in more detail. Jätku leiba – Bon appetit or "May the bread be enough", as they say in Estonia!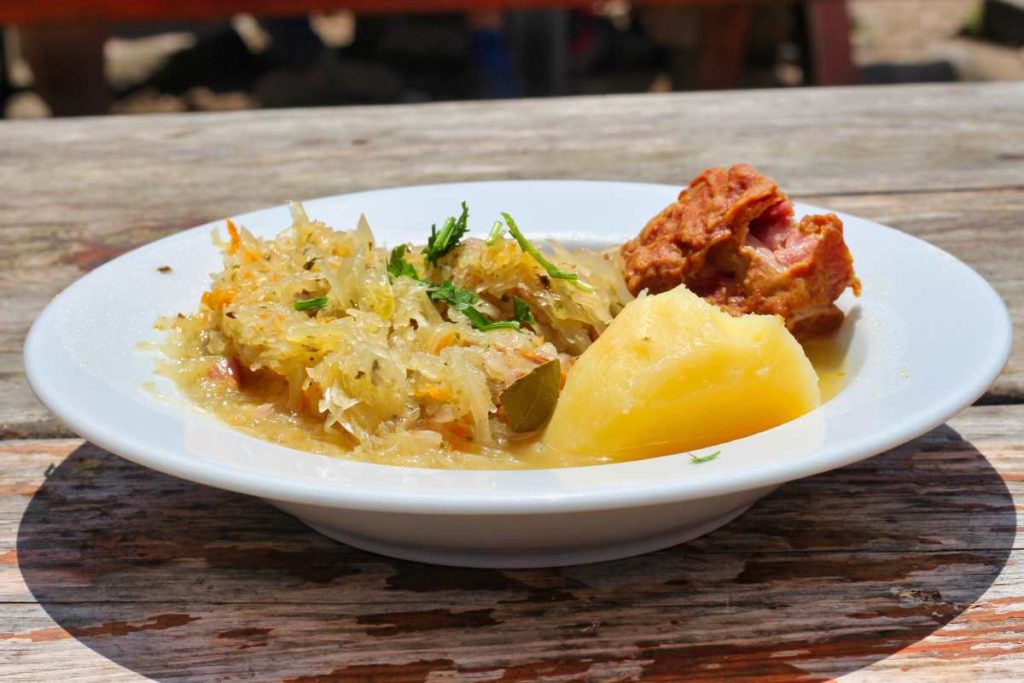 Hapukapsas
Sauerkraut is a part of many Estonian dishes. This also has to do with the climatic conditions, because pickled cabbage has a longer storage life and was an important source of vitamins in winter in the past. Sauerkraut is made by grating fresh cabbage and mixing it with salt. Natural fermentation then produces the delicious dish, to which many Estonians add carrots, cranberries or caraway seeds to give it a special touch.
Mulgikapsas
Mulgikapsas, also called mulgi kapsad, is an absolute classic in Estonia. The most important ingredient here is sauerkraut. In mulgikapsas, the sauerkraut is mixed with pork and often also with pearl barley, and some use smoked bacon instead of meat. This delicious and hearty dish comes from the south of the country, more precisely from Mulgimaa. Mulgikapsas is often served with potatoes, which are one of the most popular side dishes in Estonia.
Hapukapsasupp
Due to the influence of various Slavic cuisines, especially Russian, soup and stew dishes have become an integral part of Estonian cuisine. In this country with its large Russian population, classic Slavic soups such as borsch, solyanka and the like are also eaten. An Estonian classic, however, is sauerkraut soup. There are many different recipes here. In addition to sauerkraut, pearl barley is often added to the pot, and carrots, onions and bay leaves give the soup a special flavour.
Kilu
Estonia is framed by the Baltic Sea to the north and west, and also has many islands. No wonder that fish dishes are an important part of the local cuisine. The sprat is considered the Estonian national fish. The silvery fish is native to the entire Baltic Sea region and is fished here alongside other species. There are many ways to prepare kilu. It is available smoked, fried, marinated or – see below – as a bread topping. In the past, sprats were often salted to preserve them. Traditionally, Estonian spice mixtures were used, such as those made from bay leaves, nutmeg and cloves. There really are no limits to the imagination and sprats are popular in both down-to-earth cuisine and among top chefs in Tallinn and other cities.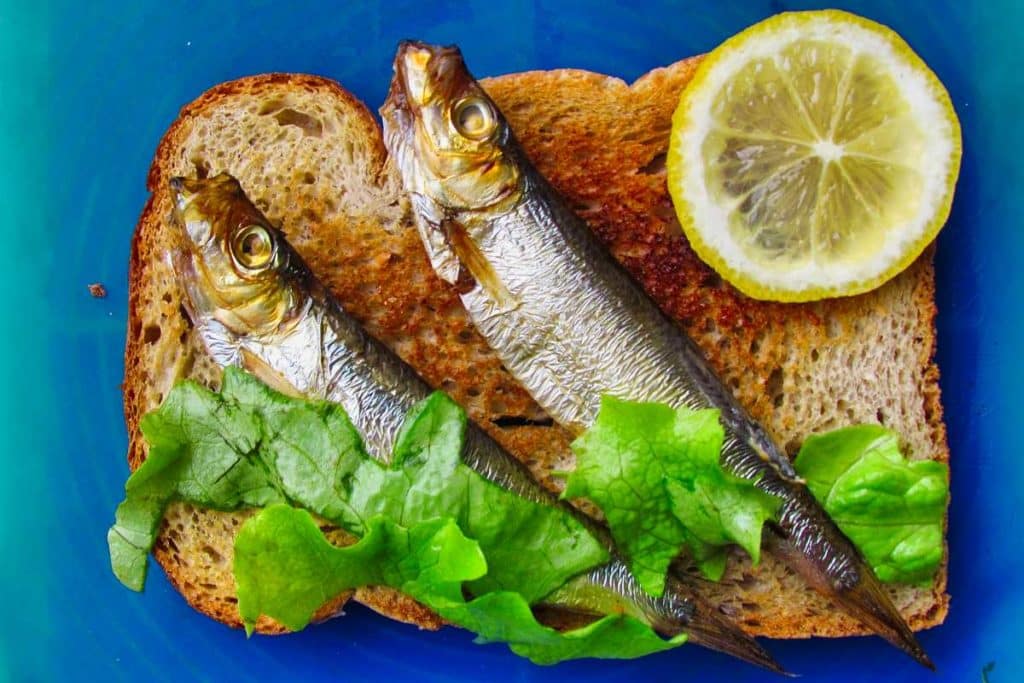 Kiluvõileib
A true classic in Estonian cuisine is the kiluvõileib (literally: sprat butter bread), which is also the easiest one to make. Simply take dark rye bread (called leib), spread it with butter and top it with sprats, egg slices and onions. You can also chop the eggs and mix them with the butter – this popular egg butter is also available pre-packed in Estonia at the supermarket.
Pirukad
Pirukad are a dish that originated in Russian cuisine. They are dumplings filled with minced meat, cooked rice and spices and can be bought on every corner in Estonia. The perfect Estonian street food! Of course, there are countless other fillings, such as those made of ham, cabbage, carrots or potatoes. The dough is relatively easy to make; apart from milk, yeast, flour, butter, egg and a little sugar, you don't need any other ingredients. In Russia, the dumplings are known as piroshki, which should not be confused with the Polish pierogi.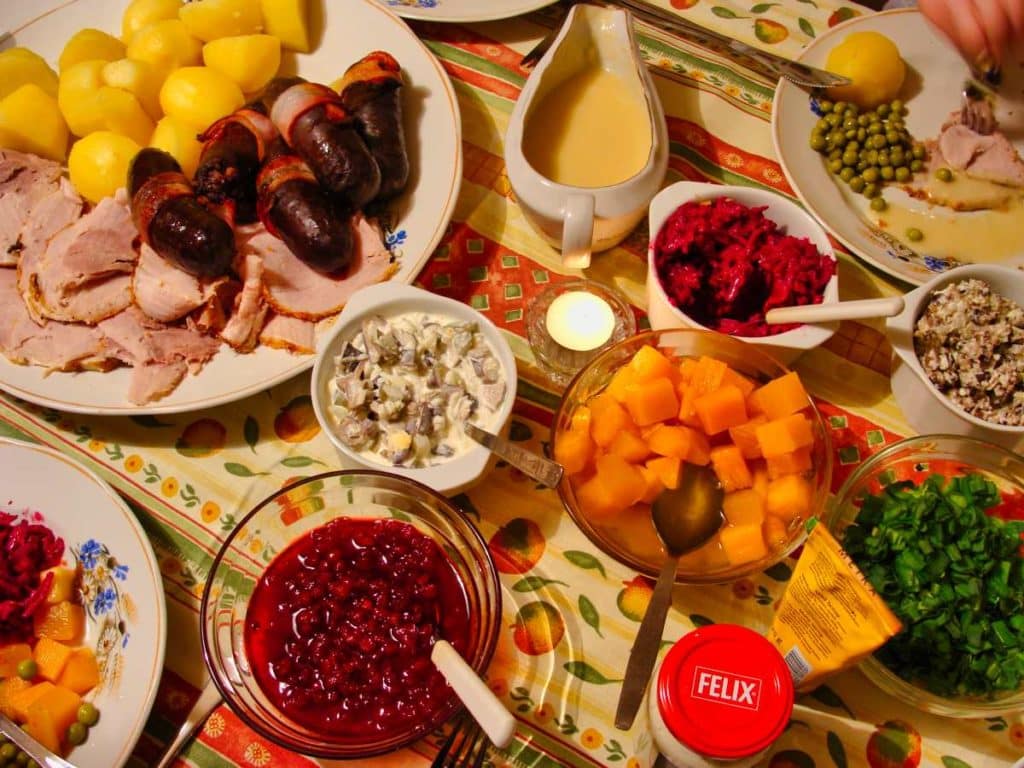 Verivorst
Verivorst is the Estonian name for blood sausage. This dish is also known in other countries, but what is special in Estonia is the way it is presented. In Estonian cuisine, blood sausage is usually served hot, with lingonberry jam and potatoes and hapukapsas. Verivorst is perhaps the classic of Estonian cuisine par excellence and belongs to every Estonian Christmas dinner, just like mulgikapsas. The sausages, by the way, traditionally look like short, thick roast sausages.
Rosolje
Rosolje is another real classic at Christmas, but is also very popular elsewhere. Beetroot is also part of neighbouring cuisines, especially the Russian. In Estonia, therefore, there are also several beetroot dishes. One of these dishes is rosolje, a rather hearty salad that also includes herring and egg and sour cream and mayonnaise. Meat and potatoes are also usually included. The beetroot gives the salad a beautiful pink colour in combination with the cream or mayonnaise. Horseradish or hot mustard often provide the right seasoning. Rosolje is also available as a vegetarian version.
Puder
A hot croissant with jam or a sweet roll for breakfast? Hard to imagine in Estonia, where the breakfast is usually hearty: bread with sausage and cheese (perhaps also with sprats) or eggs. The Estonians make an exception for their beloved puder, i.e. oat or semolina porridge, which is eaten plain, with butter or jam. Puder is easy to prepare and is similar to porridge, which is popular in England. Simply cook a handful of cereal flakes with a pinch of salt in milk and water and then allow to swell and sweeten to taste. There are no limits to the imagination and many Estonians have their own ideas when it comes to the right consistency, the mixture of flakes, the degree of sweetness or the toppings.
Kama
A speciality of Estonian cuisine is kama, which is also known as talkkuna in Finland. It is a roasted flour made from barley, oats, wheat (rarely), rye or beans, mixed with kefir, buttermilk or yoghurt. Restaurants often serve delicious dessert creations with kama as the main ingredient.
Kaneelirullid
Cinnamon buns are one of the most popular desserts in Estonian cuisine and have their origins in Scandinavia, where they are especially well-known in Swedish cuisine. Yeast dough is spread with butter and then sprinkled with a mixture of cinnamon and sugar and rolled up. The roll is then cut into small strips and baked in the oven. By the way, after baking, the cinnamon buns in Estonia are not glazed with sugar as is customary in other countries.
Drinks
A good meal in Estonia naturally goes hand in hand with a good drink. In Estonia, people like to drink vodka with their sprat bread kiluvõileib. But beware: vodka is called viin in Estonian. So if you see it on the menu and would rather have wine, you're in for a high-proof surprise. The following drinks are typical for Estonia and have become increasingly popular in recent years.
Kali
Kali is a fermented lemonade. At first glance, it doesn't sound very tasty, but especially in summer it is a delicious refreshment. In terms of taste, kali is similar to kwas or malt beer. Originally, kali was made from stale bread, but that is rather the exception today and industrial production uses the grain directly to make the delicious drink.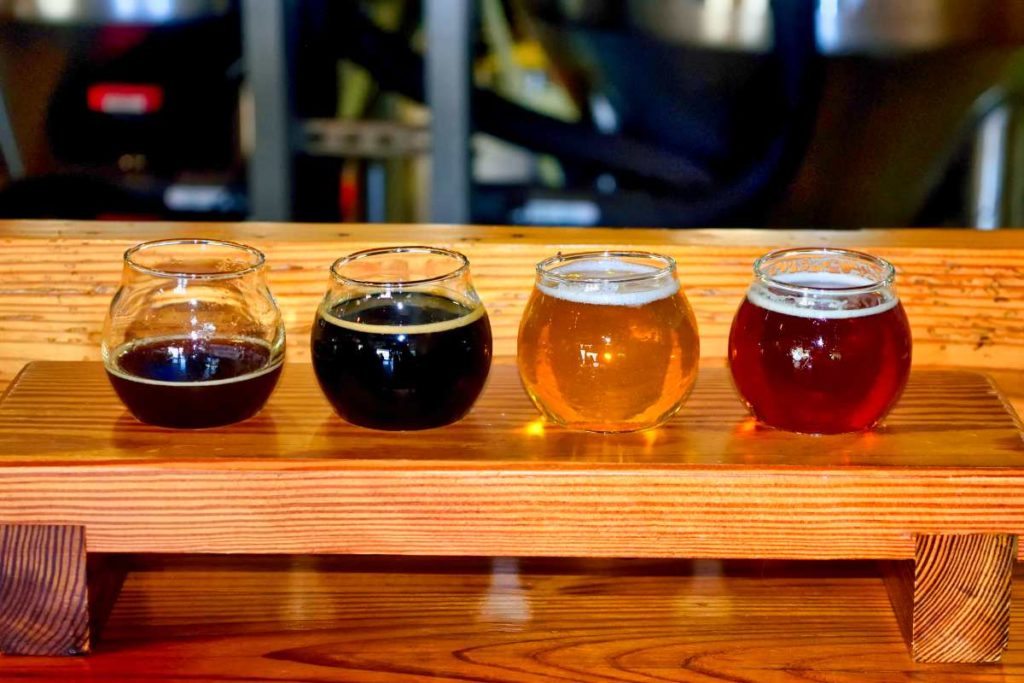 Craft Beer
Beer (õlu) has been booming in Estonia since the fall of communism at the latest, although the first beer was brewed in Estonia as early as the 13th century. The top dogs among Estonian breweries, Saku and A. Le Coq, have faced increasing competition from small, creative microbreweries in recent years. These breweries use different raw materials to give the beer a special flavour. Rye is often used, but moss and juniper have also found their way into Estonian beer. The best way to see the high quality for yourself is at the Craft Beer Weekend in Tallinn, which always takes place in May.
Vana Tallinn
"Old Tallinn" is the name of this popular liqueur. It has a dark brown colour and tastes a little like rum with a slight aroma of nutmeg, cinnamon and vanilla. It is drunk either neat or in coffee and is available in different versions and percentages. It is also popular as Vana Tallinn Sour, i.e. with ice cubes and a squeeze of lime juice. It also makes a great souvenir.
Well then, terviseks – cheers!
Book recommendations
Hungry and want to cook your own Estonian food? No problem, here are a few tips for you!
Collection of easy to cook dishes from Lithuania, Latvia and Estonia, that is well illustrated.
This book, too, compiles some of the tastiest dishes of the region, but focusses on a handful of them.
A different approach: Not only does the book present 150 traditional and modern Estonian recipes, but also puts them into cultural context and tells a lot about the country's history.
How do you like Estonian cuisine? Let us know and write us a comment about Estonian food!