Polish cuisine is very hearty and savory and has always been open to outside influences throughout the country's turbulent history. Therefore, the Polish cuisine also contains many elements from the country's neighboring cuisines, for example the Ukrainian or German.
Polish cuisine – what Polish food is all about
Polish cuisine is not exactly considered sophisticated, but rather down-to-earth. This widespread prejudice we want to refute a bit, because some of the dishes on this list are not really easy to cook. But enough of words, here we go with the best Polish dishes, because you are surely already hungry. Smacznego – bon appétit!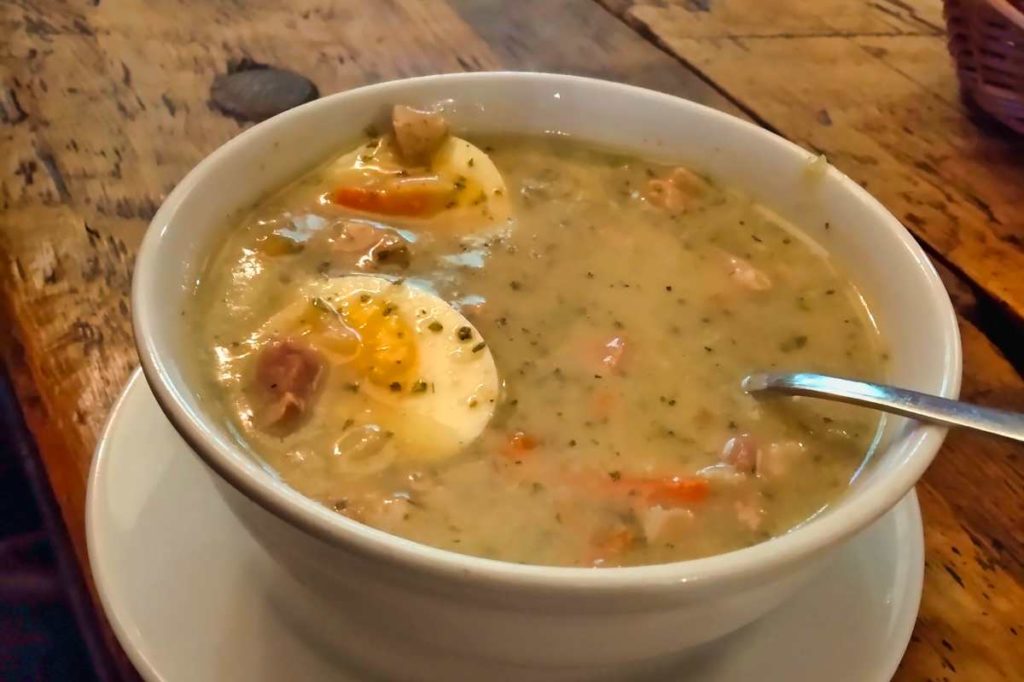 Żurek
When people ask me about my favorite Polish dish, I always say Żurek. The taste of Żurek is sour and relatively exotic to people from the west. If you read the ingredients and look at the soup, you might be a little surprised at first. Żurek is, after all, a flour soup made on the basis of sourdough. Sausages or meat and a boiled egg are then added.
A traditional Easter dinner
The egg, a symbol of life and resurrection, is also the reason why Żurek is a traditional part of a Polish Easter meal. However, you can get Żurek all year round in Polish restaurants, where it is often served in a loaf of bread. When you have finished the soup, you can break off the bread and eat it with the rest of the soup – simply delicious!
Barszcz
Barszcz is knwon as borscht in the west and one of the most popular meals in Poland. The dish originates from Ukraine. A classic Barszcz consists of onions, cabbage, carrots, potatoes, tomatoes and a little bit of beef (many also make it vegetarian). The most important ingredient, however, are beet roots, which also provide the characteristic red color. Regionally, there are quite different borscht variants and each family has its own recipe. There is also green borscht with sorrel and – especially delicious on hot days – a cold borscht. However, this is prepared in a completely different way than the classic borscht and is also called Chłodnik Litewski (Lithuanian cold soup) in Poland.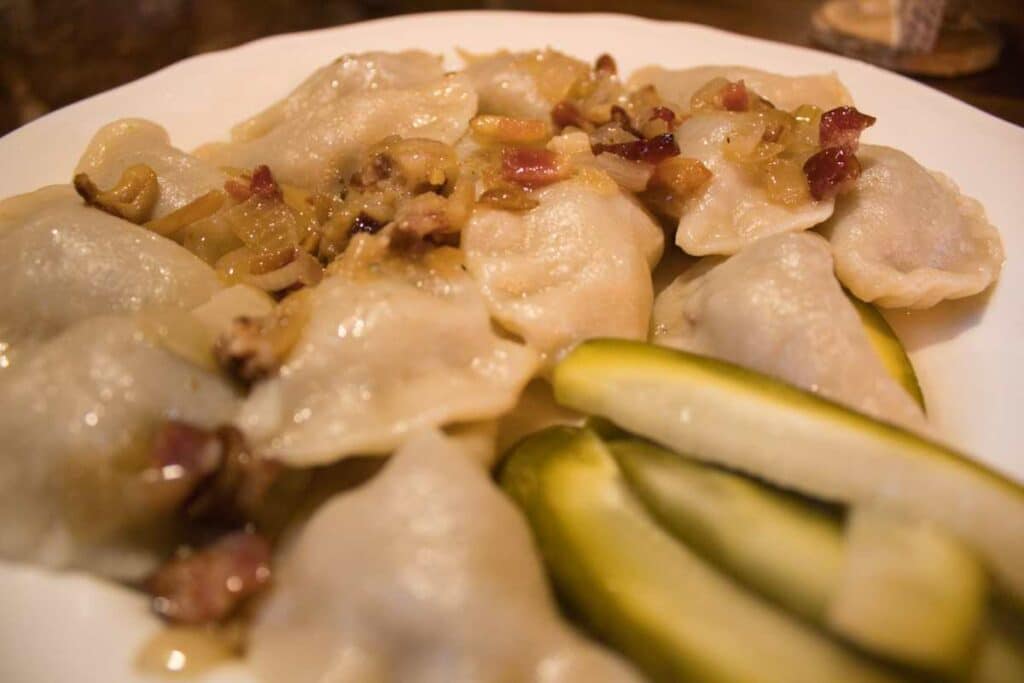 Pierogi
If you ask about the national dish of Poland, you usually get pierogi as the first answer. And it's no wonder, because pierogi are delicious and incredibly versatile. The small dumplings can be filled as you like and are then pressed together by hand. It's not all that easy, and if you don't pay attention, the pierogi can open up during cooking. But you quickly get the hang of it. Popular fillings include cottage cheese and potatoes, mushrooms, minced meat or even fruits such as cherries. Pierogi are often served with sour cream (Śmietana), and occasionally with stewed onions.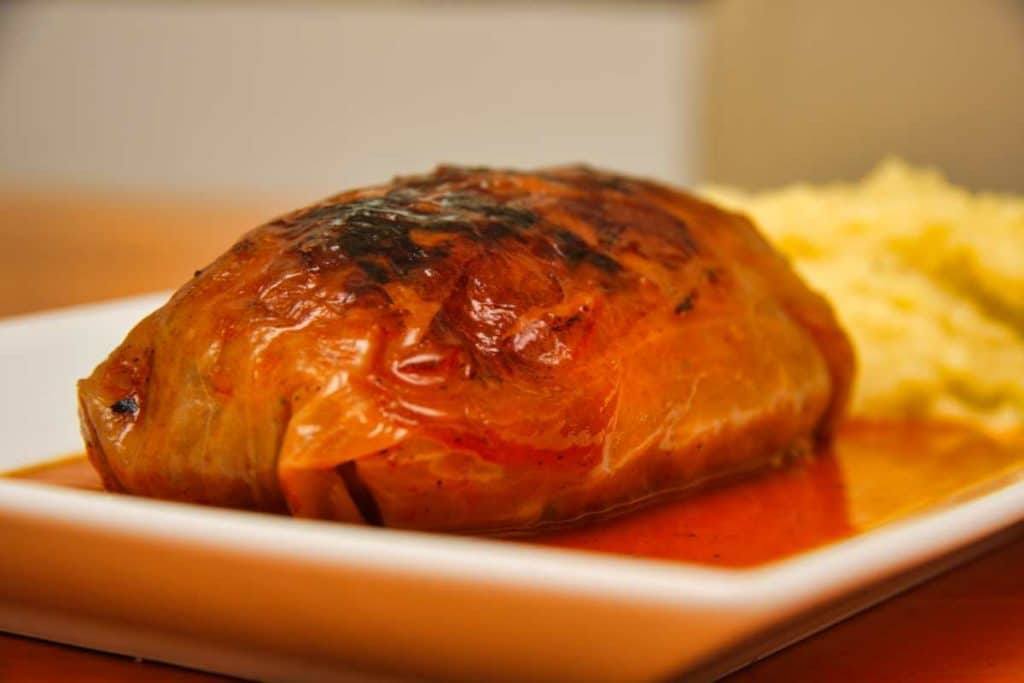 Gołąbki
Gołąbki are cabbage rolls, which are prepared in a similar form in Germany and Ukraine. They are also known in a similar form in Russia. To make classic Gołąbki, a cabbage head is boiled for a long time, and then the leaves are carefully separated from the head and put aside. Then the leaves are stuffed with rice, bay leaves, onions, carrots, minced meat and pepper and stewed in the oven. The polish dish goes great with a sauce of water, tomato paste and spices. As a side dish we recommend mashed potatoes. A delicious dish and a Polish meal that is not so complicated once you know how to remove the cabbage leaves from the head.
Bigos
Bigos is another classic of Polish cuisine. It is the Christmas food par excellence and should not be missing at any Christmas dinner in Poland. Usually, meat goes into the stew of cabbage, mushrooms and bay leaves, but at Christmas it remains vegetarian. By the way, a real Christmas bigos is simmered for seven days (not continuously) before it is ready. However, you can find bigos in Polish restaurants all year round, and each restaurant and family has its own recipe for the delicious stew.
Dishes with mushrooms
Mushrooms can be found in almost every country, and as a result, mushroom dishes are also on many menus around the world. In Poland, however, mushroom picking is a kind of national sport, and as a tourist you wonder why one car after another is parked at the edge of the forest in the middle of nowhere. Most Poles are very well acquainted with mushrooms and know exactly which ones are edible and which are not. The mushrooms collected in autumn are then processed in many ways: They are served in a soup, filling for pierogi, in bigos or in pickled form and are an indispensable part of Polish cuisine.
Kluski śląskie
Silesian dumplings, as they are translated in English, differ from pierogi not only in shape and are very popular especially in the south of Poland. Their dough is made from mashed potatoes, potato flour and salt, sometimes an egg is also used. Many then roll the dough into a roll and cut the roll into small slices, others roll the small dumplings by hand. A small hole is then pressed into the dough with the thumb, giving the dumplings their classic shape. Cooked in salted water, the Kluski śląskie are then usually served as a side dish along with meat.
Zapiekanka
In Polish, the term zapiekanka refers to both a gratin or a casserole and a baguette topped and baked with cheese. The baguettes are classic fast food made in Poland and originated in the 70s. Most often they are topped with mushrooms, but in principle there are no limits to the imagination. Then usually garlic sauce or ketchup is poured over the zapiekanka. But you have to be a little lucky with zapiekanka. I have also seen a baguette being put in the microwave and served as a soggy goo. But in recent years, however, there are even celebrity chefs who create elaborate zapiekanki. Therefore, the most Polish of all fast food snacks has won many fans again.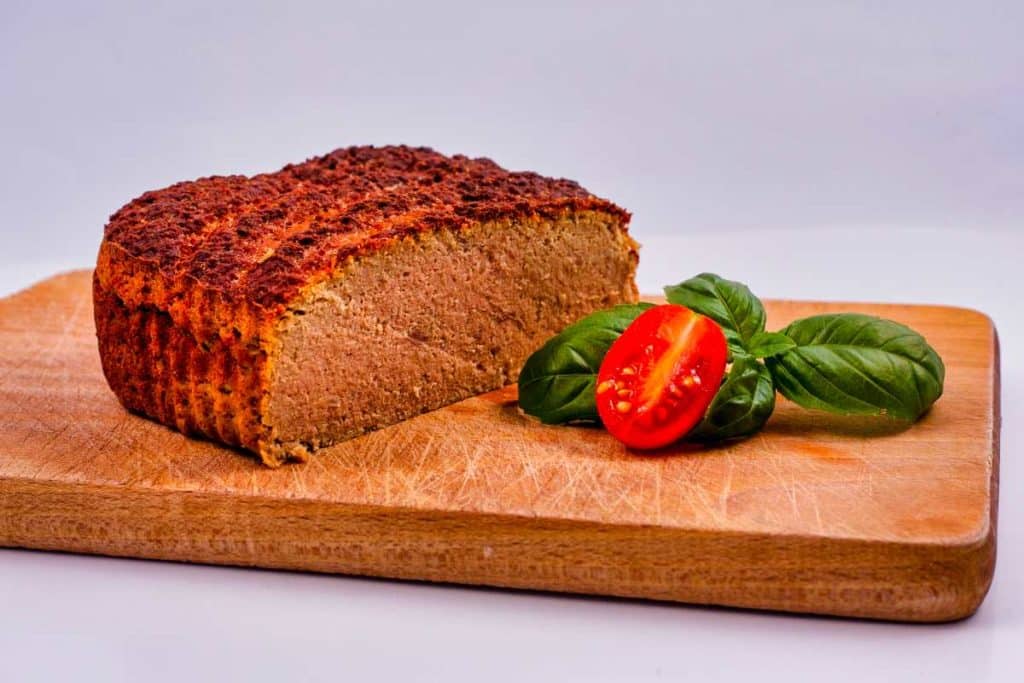 Pasztet
Pasztet is nothing more than a pâté. The mass is usually obtained from poultry or pork, while higher-quality versions also use deer or beef. The minced meat is mixed with many different ingredients, including eggs and flour, and then seasoned. Then the Pasztet is being baked, creating a mass that from a distance could be mistaken for a cake.
People in Poland often enjoy pasztet on bread or as a side dish. However, many families no longer bake the Pasztet themselves, preferring to buy it in the supermarket. The Pasztet there is then usually offered as "Grandmother's Pasztet". However, the advertising conceals the fact that grandmother obviously had a bachelor's degree in chemistry …
Polish desserts and cakes
While it's hard to imagine that you'll still be hungry after enjoying all the Polish delicacies, of course, we still have to mention here the desserts that enrich the Polish cuisine.
Sernik
Sernik is a classic cheesecake, whose name is derived from the word cheese (ser), as in the English cheesecake. Of course, cheesecake has nothing to do with real cheese. Polish cheesecake is traditionally baked with raisins, sometimes even potatoes are used to make the curd firmer.
Makowiec
Makowiec, Polish poppy seed cake, is a classic and Polish cuisine has known it for a long time. Yeast dough is filled with poppy seeds and often candied fruit or raisins and then baked. Usually it is rolled beforehand and thus gets its snail shape, as you can see in the picture above.
Szarlotka
Szarlotka refers to a classic apple pie. The name derives from Charlotte, the sister-in-law of Russian Tsar Alexander I, in whose honor a French pastry chef designed the dish. Besides apples, it is mainly shortcrust pastry that is used.
Pączki
Pączki are closely related to the sweet pastries baked in fat known in Germany as Berliners (or Pfannkuchen or Krapfen). In Poland, they are traditionally eaten on "Fat Thursday," which in the West heralds the peak of Carnival.
Book recommendations
You got hungry, you want to cook one of the Polish dishes or you already know a little bit about Polish cuisine? Then take a look at our cookbook selection.
The kindle book doest not only contain many recipies, but also a number of beautiful illustrations and is therefore a nice counterpart to other cook books.
"Beyond Borscht" says everything: The book lists many different recipes, not only from Poland but also from Ukraine and Russia.
A cookbook of a different kind: the author does not just list common and unusual Polish recipes, but also interprets them in a modern way.
What do you like most about Polish cuisine and what are your favorite Polish dishes? Let us know and write us a comment! And make sure to follow us on Facebook for more articles!