In another article we have already presented the most beautiful sights of Saxony. Here we want to deal with the most important practical aspects of travel and give you some important Saxony Germany travel tips.
The most important Saxony travel tips
Climate and travel time
Saxony lies in a temperate climate zone and is influenced by the foothills of the Atlantic winds and the Eastern European continental climate. Mild summers are followed by relatively cool winters, which can be significantly cooler than the average for Germany as a whole. While it is relatively warm in the north of the state around Dresden, temperatures in the Fichtelgebirge and Erzgebirge mountains drop significantly in winter. There is also significantly more snow and rain here than in the more urbanized regions of Saxony. A small consolation: Summers in Saxony are often significantly drier than in the rest of the country.
The optimal time for your visit to Saxony depends, of course, on your personal interests. Are you planning to visit Dresen or Leipzig with their wonderful city centers? Of course, this is possible all year round. In summer, however, it can get very crowded here, so ideally you should spend your time there in the off-season. If you prefer to visit the countless forests and mountains of the state, summer is ideal. And in winter, when the snow covers the Ore Mountains in a soft white, the Christmas stollen tastes even better and you can take home one of the famous Räuchermännchen!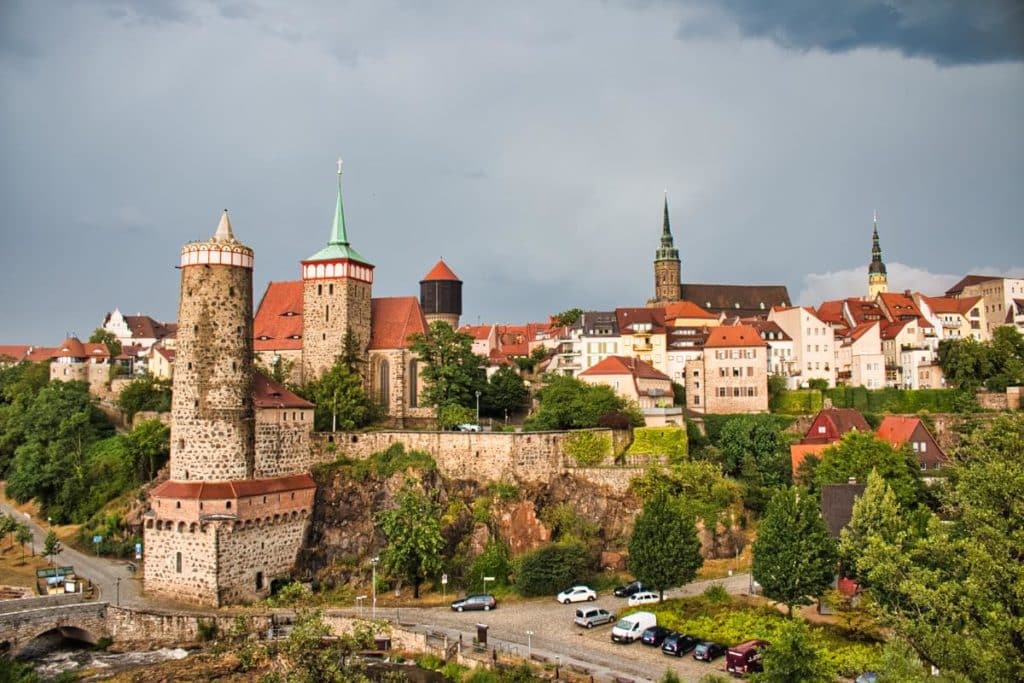 The most beautiful Saxony Germany sights
Dresden – even if the "Florence on the Elbe" has lost the title of World Heritage Site, Dresden is still as beautiful as ever
Saxon Switzerland – bizarre rock formations overlooking the Elbe valley and where you can hike especially beautifully
Ore Mountains – the former mining region invites today not only into the former mines, but surprises with a lot of nature, great sights and the beautiful Christmas tradition.
Leipzig – the liveliest city in Saxony, cultural metropolis, starting point of the Peaceful Revolution and at least as watery as Venice
Bautzen – Sorbian cultural treasure with medieval old town and many attractions
Vogtland – from the Plauener Spitze to one of the most beautiful railroad bridges in Germany, the Vogtland offers many surprises
Görlitz – one of the most beautiful cities in Germany, where numerous Hollywood films were shot
Kriebstein Castle – one of the most beautiful knight castles in the East
Torgau – lesser known Luther town, meeting place of Soviets and Americans on the Elbe and a charming castle
Zittau Mountains – hike along the border triangle with the Czech Republic and Poland, see the Oybin Monastery and the spa town of Jonsdorf, and take the narrow-gauge railroad back to the picturesque town of Zittau.
In a separate article we have compiled the most beautiful Saxony sights for you.
Special routes
By car
Silver Road – leads across the border through the Ore Mountains to the Czech Republic
Saxon Wine Route – by car to the most beautiful and best wineries in Saxony
By bicycle
Elbe Cycle Path – leads through the Elbe Valley and on to Brandenburg and Saxony-Anhalt
Oder-Neisse-Radweg – from the Czech border to Bad Muskau and then on to Usedom
Mittellandroute – leads from Aachen to the border triangle near Zittau and crosses the whole of Saxony in the process
Spreeradweg – the Spree too flows through Saxony
Mulderadweg – route to some of the most beautiful places in Saxony
By train
With the regular trains, the following routes are worthwhile for their beautiful views:
Leipzig – Hof – travels over the Göltzschtal bridge in the Vogtland region, among other places
Chemnitz – Aue
Elbtalbahn – from Dresden to Bad Schandau along the river Elbe
Sebnitztalbahn – one of the most spectacular railroad lines in eastern Germany
Narrow-gauge railroads
Fichtelbergbahn Cranzahl – Oberwiesenthal
Lößnitzgrundbahn Radebeul Ost – Radeburg
Weißeritztalbahn Freital – Kipsdorf Spa Village
Zittauer Schmalspurbahn between Zittau and Oybin / Jonsdorf
Public transport
Of course, you can also use the long-distance trains of the Deutsche Bahn in Saxony. Unfortunately, ICE trains only stop in Dresden, Leipzig and Riesa, and often not even every hour. Good that at least the network of local trains is relatively dense.
The following transport companies are responsible for local transport in Saxony:
Especially in and around the larger centers of Dresden, Leipzig and Chemnitz, the network is close-meshed and the frequency is good. In the mountainous regions around Görlitz and Zittau, however, the situation is different. Here, it is particularly important to plan your trip in advance.
Regional tickets
The classic is of course the Sachsen-Ticket,which is also available in a similar form for other federal states. With the ticket, you can take as many trips as you like in Saxony, but also Thuringia and Saxony-Anhalt on the day of validity (ideal if you are traveling from there), but on weekdays only from 9 a.m., but on weekends from midnight. The ticket is available for one to five people. As a single person you pay 24 euros, with each additional traveler the ticket increases by only seven euros, so it's best to take your friends or family with you!
Ähnlich funktioniert auch das EgroNet-Ticket, nur das dieses auch noch in Bayern und Teilen Tschechiens gilt. Mit 22 Euro pro Person ist es sogar noch etwas günstiger (jede weitere Person zahlt nur 7 Euro mehr) als das klassische Länderticket, allerdings gilt es nicht in Sachsen-Anhalt. Wenn ihr also aus Thüringen oder Bayern anreist, nehmt lieber das EgroNet-Ticket als das Sachsen-Ticket.
We also recommend the Regio120-Ticket, which allows you to travel up to 120 kilometers. It costs €15.90/person, and from the 121st kilometer, you can buy the Regio120Plus ticket for €20.90. The Regio120 ticket is not only valid in Saxony, Saxony-Anhalt and Thuringia, but you can also use it to travel as far as Berlin.
You want to explore Saxony and Bohemia? Then the Sachsen-Böhmen-Ticket from Deutsche Bahn might be just what you're looking for. It is available for one to five people and is valid on all local trains in Saxony, and even on long-distance trains in the Czech Republic. A day ticket for one person costs 26 euros, each additional person pays only 6.50 euros.
On the road with the car
Since the bus and train schedules are not always great, the car is of course a good alternative to get around in Saxony. This is especially true if I want to head for more remote towns in the Polish-Saxon border region or in the low mountain ranges.
A total of seven highways run through Saxony:
A4: Germany's fourth longest highway runs from the Dutch border in North Rhine-Westphalia to the Polish border and is ideal if you are coming from the Ruhr, the Rhineland or Thuringia and want to drive to Chemnitz, Dresden or Görlitz, for example.
A9: The A9 connects Munich with Berlin and runs through western Saxony, so it's the best option if you're coming from Bavaria, Franconia, eastern Thuringia, Berlin or Brandenburg.
A13: The relatively short highway connects Dresden with Berlin. If you visited Berlin and southern Brandenburger before, this is a good option.
A14: Currently, the A14 mainly connects Magdeburg, Halle, Leipzig and Dresden. But it is being extended further and, when completed, will take you almost from Dresden to the Baltic coast near Wismar.
A17: The very short A17 connects Dresden with the Czech border and is only interesting for those who come from the Czech-German border area.
A38: The so-called Südharzautobahn is only a good 200 kilometers long, but it runs through five German states. Starting at Göttingen, it runs through northern Hessia, Thuringia and Saxony-Anhalt all the way to Leipzig. So if you're coming from these regions or are traveling from Hamburg or northern Lower Saxony, the A38 is the highway of choice.
A72: The so-called Vogtland freeway concludes this list. It runs from Hof in Bavaria via the Chemnitz interchange in a semicircle to Leipzig.
In addition, there are numerous federal highways.
Typical food and drinks
Sauerbraten – marinated roast, usually served with red cabbage and dumplings
Saxon potato soup
Dresdner Eierschecke – sheet cake from yeast dough
Leipziger Allerlei – mixed vegetable dish
Fratzen (Ore Mountains) – potato pancakes
Green dumplings (Vogtland) – dumplings made with raw potatoes
What do you think? Do you have any other Saxony travel tips? Write us your Saxony travel tips in the comments!
Book recommendations
Do you feel like a trip to Saxony? Then we recommend the following books!
Good, short overview of Saxony and it's history.
Beautifully illustrated book with lots of pictures of Saxony.
No products found.