What is the best way to get to Estonia and how do you get around in Estonia? You can find out here. We have compiled the most beautiful places in Estonia for you here.
Getting to Estonia – How to start travelling to Estonia
The possibilities to come to Estonia are limited:
By plane
By long distance bus
by ferry directly to Tallinn
by ferry and own vehicle across the neighboring countries
with your own car
Perhaps in the future, as part of the RailBaltic project, there will again be a viable through train connection.
By plane to Estonia
The only international airport in Estonia is the one in Tallinn. The airport is strikingly beautifully designed, pleasantly manageable and directly connected to the city center by streetcar.
There are direct flights to Amsterdam, Berlin, Brussels, Copenhagen, Frankfurt, Helsinki, Istanbul, London, Minsk, Oslo, Oslo Sandefjord Torp, Riga, Salzburg, Stockholm, Vienna and Warsaw.
Normally, Ryanair also offers several direct flights to Estonia.
But you have to inquire about the current flight schedule.
By long distance bus to Estonia
You can also start your Estonia trip by bus. The trip takes a long time, but it is an experience in itself. In addition, it is environmentally friendly, cheap and you can take more luggage. The journey from Berlin for example takes about 26 hours. The provider is ecolines.net.
By ferry directly to Estonia
Comfortable and relaxing you can travel to Estonia by ferry. Direct ferries go to Tallinn from Stockholm and Helsinki. From Stockholm, TallinkSilja will take you to Tallinn in about 14 hours. From Helsinki the trip takes only about 4 hours. Ships from TallinkSilja, Viking Line and Ekerö Line operate here at short intervals.
From Germany to Estonia by ferry and vehicle
Via Finland
It is also possible to travel to Estonia by ferry from Germany. Without your own vehicle, however, this is only possible via Helsinki. Then you travel in about 32 hours from Lübeck-Travemünde to Helsinki. There you have to change the port, then you continue with the direct connections between Helsinki and Tallinn. This is not very practical for a short trip, but on a round trip it can be combined with a visit to Helsinki.
Via Latvia
The easiest and cheapest way to start travelling to Estonia by car, is via Latvia. Stena Line sails in a good 24 hours from Lübeck-Travemünde to Liepāja in Latvia, from there it is still about 350 km to the border. Alternatively, you can also go via Klaipeda in Lithuania with DFDS. Depending on where you live, this can be a good option. Especially travelers from the west and south save many kilometers. However, you should book early, because the ferries are quickly booked up at peak travel times.
By car to Estonia
If you want to go to Estonia by car, you should already enjoy being on a road trip. After all, it is still a good 1500 kilometers from Berlin to Tallinn. The fastest route is via Warsaw. The highway to Warsaw is in excellent condition and partly toll. From Warsaw to the Lithuanian border, the expansion of the route is not yet complete, so that there are always town crossings; depending on the time of day, it can get crowded on the roads. In Lithuania, Latvia and Estonia you drive on the Via Baltica, which is mostly on the level of a good provincial road. Make sure the sat nav doesn't send you through downtown Riga, but along the major ring roads. Otherwise, you can end up in a really tough after-work traffic jam.
On the road in Estonia
Once you have arrived, you can finally start your actual Estonia trip. Transportation in Estonia is generally uncomplicated and comparatively cheap. The only thing to keep in mind is that the population density is so low that you can't expect to reach remote places by closely timed public transport.
By long distance bus through Estonia
The long-distance bus network is well developed. The buses are cheap, fast and well equipped. For example, you can travel from Tallinn to Tartu in 2.5 hours for around €10. Wi-Fi on board is standard. The bus stations (bussijaam) usually offer a good infrastructure and are more or less conveniently located. Thus, you can reach all major cities and towns along the routes well and can travel relaxed. Searching and booking is done via the central booking site.
By train through Estonia
Trains are also a comfortable way to travel, but the network is limited. From Tallinn you can reach the following destinations by train: Narva in the far east, Paldiski in the west, Viljandi south of Tallinn and finally Tartu in the southeast and Valga on the Latvian border. All routes and tickets can be found here.
Other means of transport
Things get more difficult if you want to go into nature or to more remote places. Where buses do go, they rarely do. Reaching Karula National Park, for example, by public transportation is a real challenge. The population density is so low in some areas that individual buses serve long routes with many stops.
Rental cars
Here a rental car is a good alternative. In addition to the well-known international chains, there are numerous local providers who also rent out older and inexpensive cars. This is often uncomplicated: After a cell phone call, the rental company brings the car to the agreed meeting point.
Cabs
Cab driving is affordable and also an option for certain routes or within the city. The major providers can generally be considered trustworthy. The most common cab app is Bolt, an Estonian company.
Buses
Within the cities, buses are the most important means of transportation – although most cities are so small that you can get most things done on foot. Public transport is really important in Tallinn. In addition to buses, there are streetcars, trolleybuses and city cabs. For Tallinn, you should get a so-called Smartcard, to which the credit for the trips is loaded. Residents of the city have a personalized card that allows them to ride for free. You can get the Smartcard  at the tourist information or at a branch of the chain R-Kiosk.
Driving a car in the city
Anyone traveling with their own vehicle within cities should register with the app pargi.ee. Since there are practically no parking ticket machines, you are otherwise limited to parking garages. Parking is also possible via SMS, but this requires an Estonian SIM card.
Ferries
A special feature of transportation in Estonia are the ferries that are needed to get to the islands. The travel times are practically all short and the frequency on the main islands is very good. Nevertheless, you should always book in advance, because the capacities per ferry are limited, so you may have to wait a long time without a ticket. At certain events it can be really tight, such as around midsummer.
Timetables and tickets to the two big islands Saaremaa and Hiiumaa can be found here. The ferries to Hiiumaa depart from Rohuküla port near Haapsalu and arrive in Heltermaa on Hiiumaa. The ferries to Saaremaa actually go to Muhu! The ships depart from the mainland port of Virtsu and arrive in Kuivastu on Muhu. Then the trip goes across the island of Muhu and a causeway connecting Muhu and Saaremaa.
The other main ferry routes, namely those to Vormsi, Kihnu and Ruhnu, and those between the islands of Hiiumaa and Saaremaa, are operated by Kihnu Veeteed.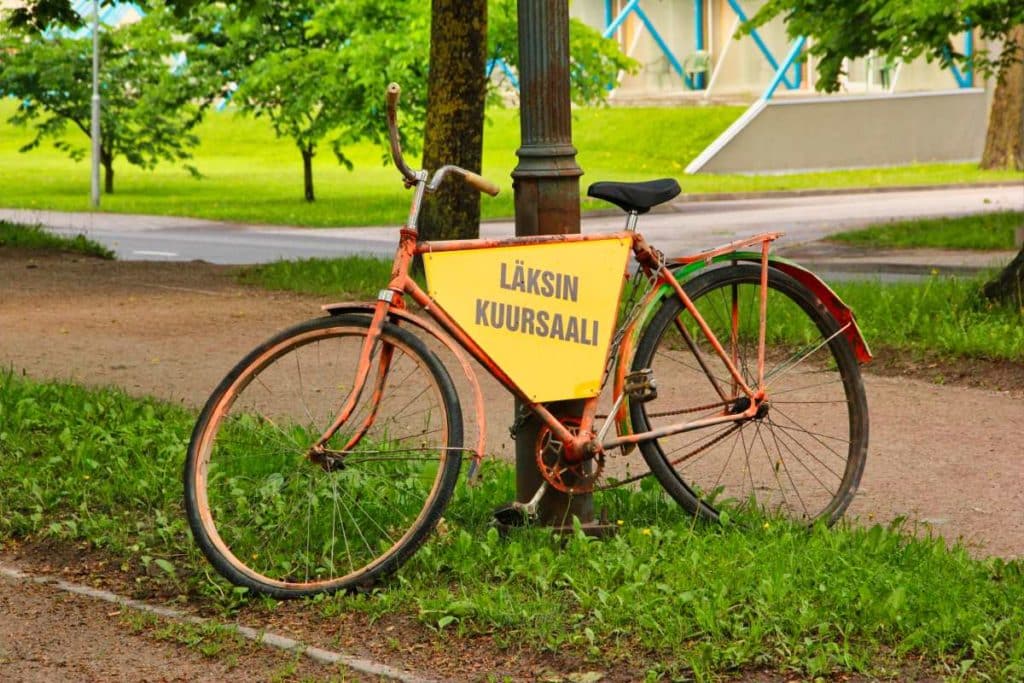 Bike riding
Bicycle tours are a good option for local excursions, for example in Lahemaa National Park or on the islands. Bicycles can often be rented at the hotels. Bicycle travelers should plan their route well. There are rarely separate, developed bike paths, so cycling along the main roads is only for the hardy. Longer gravel roads are also not much fun. On the other hand, cycling lonely in nature on small side roads – for example on the islands – is a great experience.