At any time it is better to go to Estonia than not to do it at all! Every time has its charm, especially since the seasons are very distinct. If you're lucky, you'll experience weeks of stable, dry weather in the summer and snowy magic and crisp frost in the winter. Music fans should also include some recurring festival dates in their itinerary.
Summer in Estonia: swimming, cycling and bright nights
For many activities, the summer months are the best time to visit Estonia. July and August are the warmest months and the ones with the most stable weather. The main tourist destinations can be busy, but it is rarely crowded and then most likely in downtown Tallinn when the cruise ships are there. Most of the time, "busy" in Estonia means that a small visitor parking lot at a tourist destination fills up during the day. This is because many Estonians also use their vacations to visit the country's excursion destinations: Lighthouses, nature trails, prominent points on the coast or a restaurant in the countryside.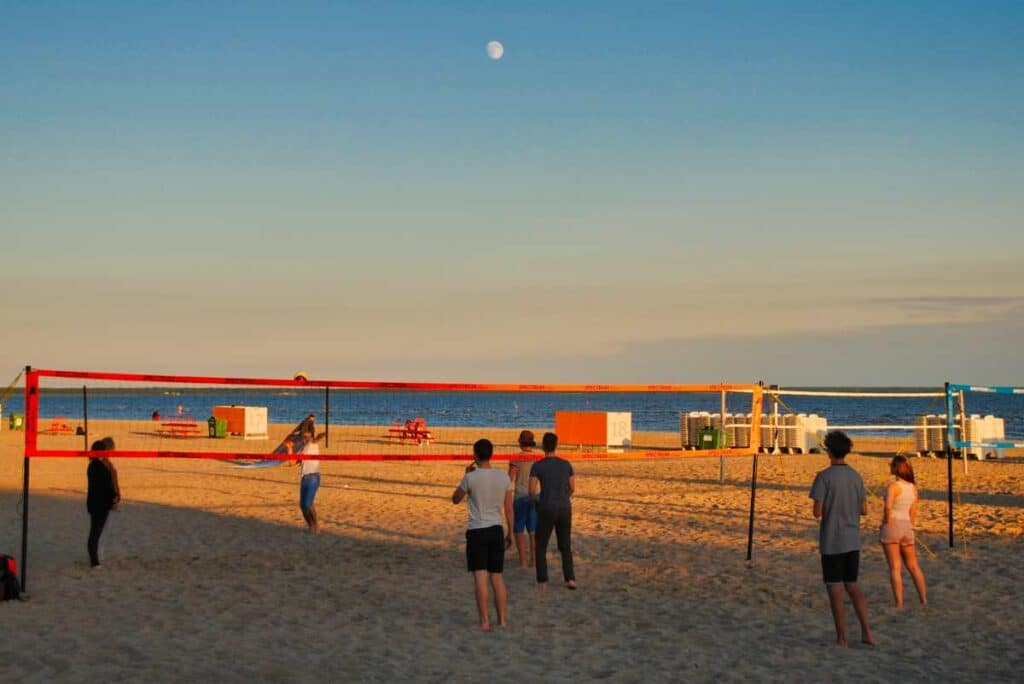 Best time to visit Estonia: Bathing
The most popular beach in the country is the one in Pärnu in Western Estonia. Here you can find typical summer beach life with beach bars and beach volleyball. Most of the bathing places elsewhere, however, are hardly developed for tourism: Apart from a hidden parking lot and some places to get changed, there is often no infrastructure. In warm summers, the Baltic Sea has a pleasant temperature, but the water never really gets warm. Another good option for swimming are the lakes. At Lake Viljandi or Lake Tamula in Võru there are beautiful shore promenades and beach life.
Culture and city trips in summer
Even in a hot summer (by Estonian standards), a city trip is no problem – the temperatures are pleasant to take long walks. And in the evening it hardly gets dark or only very late, the street cafes are lively, tourists and locals enjoy the short summer to the fullest.
St. John's Day – the brightest night of the year
For St. John's Day, the longest celebrations take place on the brightest night of the year, June 24. As a visitor, however, this is double-edged – it is also the only time of the year when many facilities close in Estonia. Estonians go to their summer homes, which is why the ferries to the islands are also heavily booked before and after this time.
You should check, especially when visiting the islands, if major events are taking place and the ferries could therefore be fully booked. Except for Midsummer, this can be the case, for example, during the opera days in Kuressaare or during the Rally Saaremaa.
Winter in Estonia: Christmas magic and ice fishing
Winter in Estonia is a special experience. If you visit Estonia in winter, you will get to know a different country than in summer. Of course, if you are unlucky, you can also get a mild, slushy winter in Estonia. Despite its northern location, the proximity to the Baltic Sea ensures that the weather is still relatively mild. But "mild" in this case means that the thermometer can drop to -25 °C and lower in January, everything sinks under snow for weeks and the Baltic Sea freezes – then you have caught a real winter.
Wonderfully illuminated cities
In any case, Tallinn's Old Town will be magically illuminated and the hot cocoa in the café will taste even better than usual. On the town hall square there is an annual Christmas market worth seeing.
Icy natural beauties
Estonian winter also offers special views in the countryside: Sea bays or waterfalls can freeze over, especially impressive to see at "Jägala juga" not far from Tallinn. And if it has been cold for a very long time, official ice roads are opened so that it is possible to travel to Saaremaa or across Haapsalu Bay without a ferry.
And Estonians know even more to do with winter: It's high season for ice fishing on Lake Peipus, when it's been freezing for weeks and they go out to catch fish in the crazy converted cars, as this video shows:
Spring and autumn in Estonia: nature in change
In spring and autumn you need some luck to catch good weather. But even these times are worth a visit, apart from the fact that it is cheaper and emptier then. Especially for nature lovers there are special spectacles. For example, the bird migration in spring attracts birdwatchers to the national parks on the coast (especially Matsalu and Vilsandi, but also in Lahemaa National Park). In Soomaa, the marshland is widely flooded when the snow melts. Estonians there speak of the fifth season. And in autumn whether in fog or when the colorful birch trees glow in the low sun the marshes and bogs are magical places.
Festivals all year
Throughout the year, you have the chance to take in some of Estonia's cultural life at festivals. Besides the already mentioned opera days on Saaremaa, there are many others: jazz at Jazzkaar, films at PÖFF, the "Film Festival of Dark Nights", at Tallinn Music Week or at Viljandi Folk. Estonians are not only close to nature, but they are also enthusiastic concert and theater fans!
You are curious about travelling to Estonia?
No products found.
Let us know your favourite places and leave a comment.
No products found.