The Lithuanian cuisine takes us into a world full of flavorful diversity and into an often exotic culinary world. It is closely related to the cuisine of other countries in the region, such as Poland and Belarus, after all, they formed a common state for a long time. But there are also dishes that are known only in Lithuania. In this article you will learn how delicious Lithuanian pink cold soups tastes and why zeppelins in Lithuania do not land at the airport, but directly on the plate!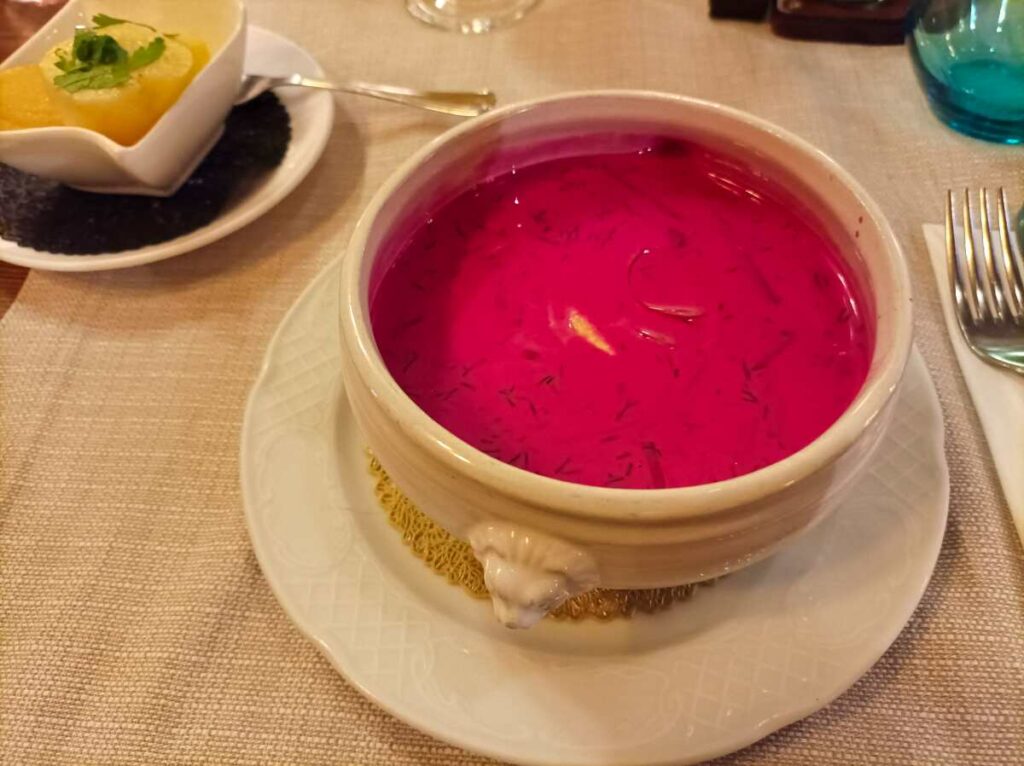 Šaltibarščiai
Lithuanian cuisine offers a variety of delicious dishes. One of these dishes (and also my absolute favorite) is Šaltibarščiai, a refreshing cold soup that is especially popular during the summer months. Šaltibarščiai, also known as "cold beet soup", is not only delicious, but also a prime example of Lithuania's rich culinary tradition. Characteristic is the pink color, which is even more evident than in borsch, as it is known from Ukrainian and Polish cuisine.
In the preparation the beet root is peeled, grated and then mixed with sour cream or yogurt. Then add cucumbers, dill, green onions and hard-boiled eggs (some add potatoes or meat). Finally, chill the soup, ideally overnight, to allow the flavors to fully develop. The combination of sweet beet notes, the freshness of the cucumber and the creamy touch of sour cream or yogurt is simply irresistible! The soup is often served at celebrations such as weddings, birthdays and summer parties.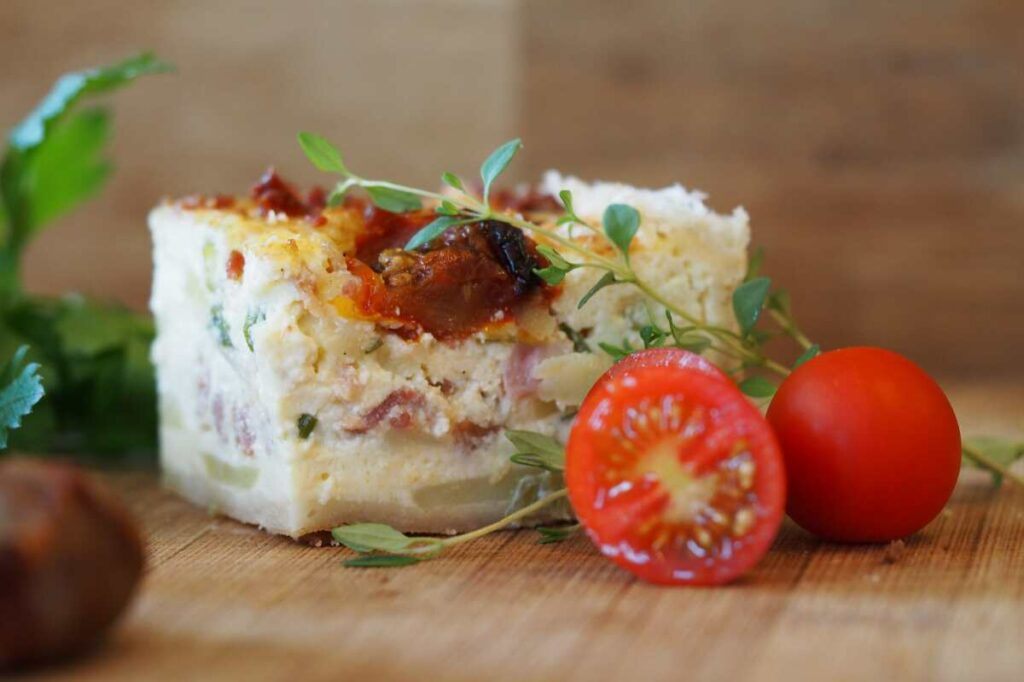 Kugelis
Potatoes are an important ingredient of many Lithuanian dishes. No wonder, since they thrives even under the climatic conditions here, which are not always easy. One of these dishes is kugelis, a potato casserole. Originally it was often served on special occasions, but today it is an every-day-dish. During preparation, potatoes are peeled and then grated into thin strips. In addition to potatoes, kugelis often contains bacon or ham cubes, onions, eggs, milk and spices such as salt and pepper. Then everything goes into the oven – voila, the nutritious dish is ready. It is being served with a dollop of sour cream, as many other dishes.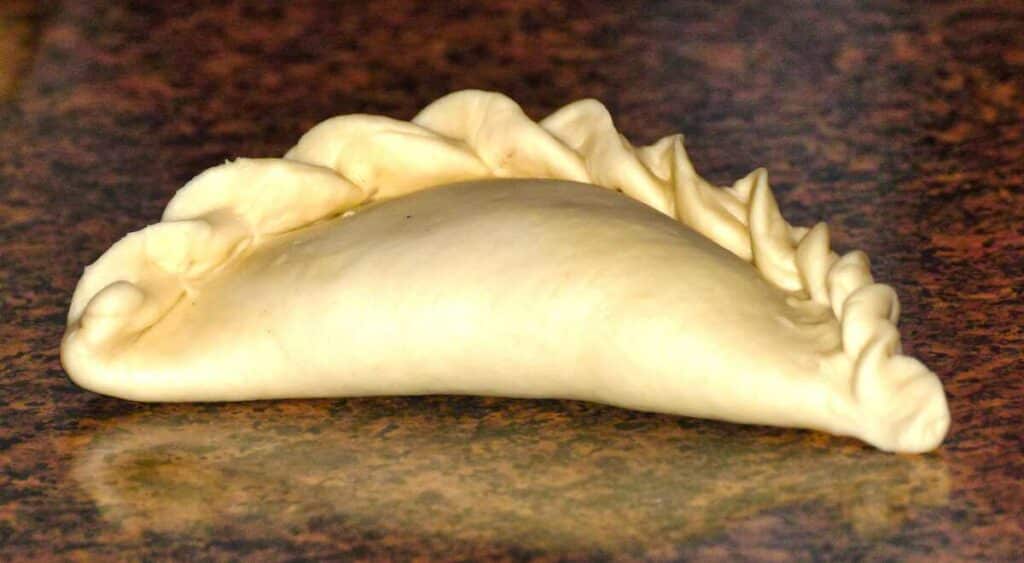 Kibinai
Have you ever heard of the Karaites? Originally from the Crimea, they are a Turkic-speaking Jewish minority and live in Lithuania today, mainly in the moated town of Trakai and its surroundings. Kibinai have a long history, dating back centuries, when the Lithuanian Grand Duke brought the Karaites to the country. The main ingredients of Kibinai are a lightly salted yeast dough and a savory filling. The filling can be varied and often contains minced meat (often mutton), onions, potatoes and spices. The dumplings are traditionally formed in an oval shape and are reminiscent of pierogi. The taste rather remindes me of meat pies. Sometimes the kibinai are not only boiled, but also briefly fried afterwards.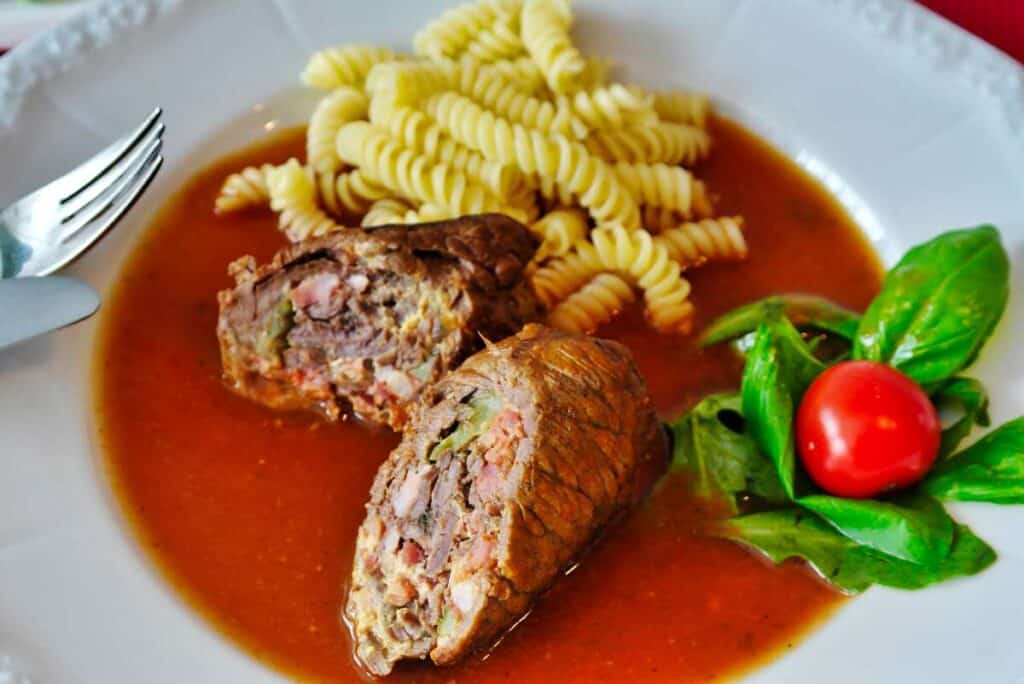 Zrazai
Zrazai are hearty beef rolls. The meat is thinly sliced or pounded and then topped with a filling of bacon, onions, pickles and spices. The roulades are then rolled and fixed with toothpicks or kitchen twine. The zrazai are then sautéed in a frying pan and cooked in a broth or sauce to become tender. Zrazai are often served with mashed potatoes, sour cream and pickled cucumbers, which perfectly complements the flavors.
Vėdarai
The name "Vėdarai" says it all, because the word is derived from the Lithuanian "vėdara", which means "intestine". So if you just have a pork intestine on hand, all you have to do is soak it in a brine and then fill it with onions, potatoes, milk and bacon. In some versions of Vėdarai, meat or mushrooms are added. Then cut the filled intestine into sausages. They are then fried or baked until golden brown and crispy. The Vėdarai tastes really delicious and if you are honest, many butchers in our country also use natural casings in the production of their sausages, so the dish is not all that unusual.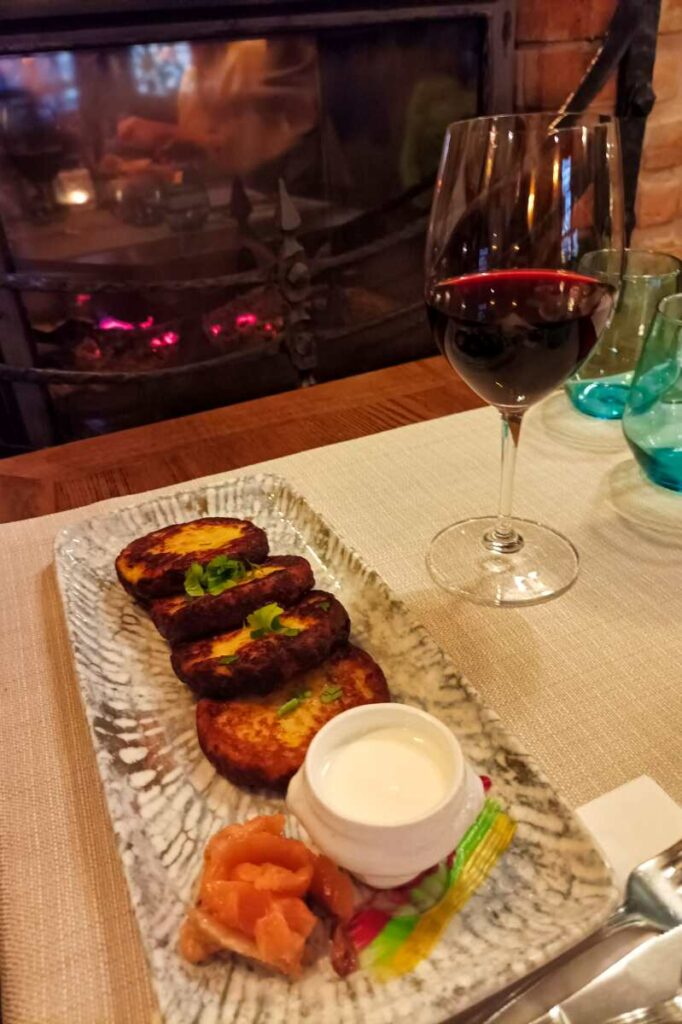 Bulviniai blynai
The name "Bulviniai blynai" is derived from "bulvė", which means "potato" in Lithuanian, and "blynai", as the pancakes are called here. They are an important part of Lithuanian cuisine and are served either as a side dish or as a main course. The preparation of bulviniai blynai is relatively simple.
The main ingredients are potatoes, which are peeled and finely grated, onions, eggs and flour. The grated potatoes are squeezed to remove excess liquid and then mixed with the remaining ingredients to form a dough. This batter is fried in a pan in oil until the pancakes are golden brown and crispy. They are often served with sour cream, sauerkraut or applesauce, depending on whether you want them to taste sweet or savory. It is also known as the Belarusian national dish Draniki, here, too, you can feel the common past of the country.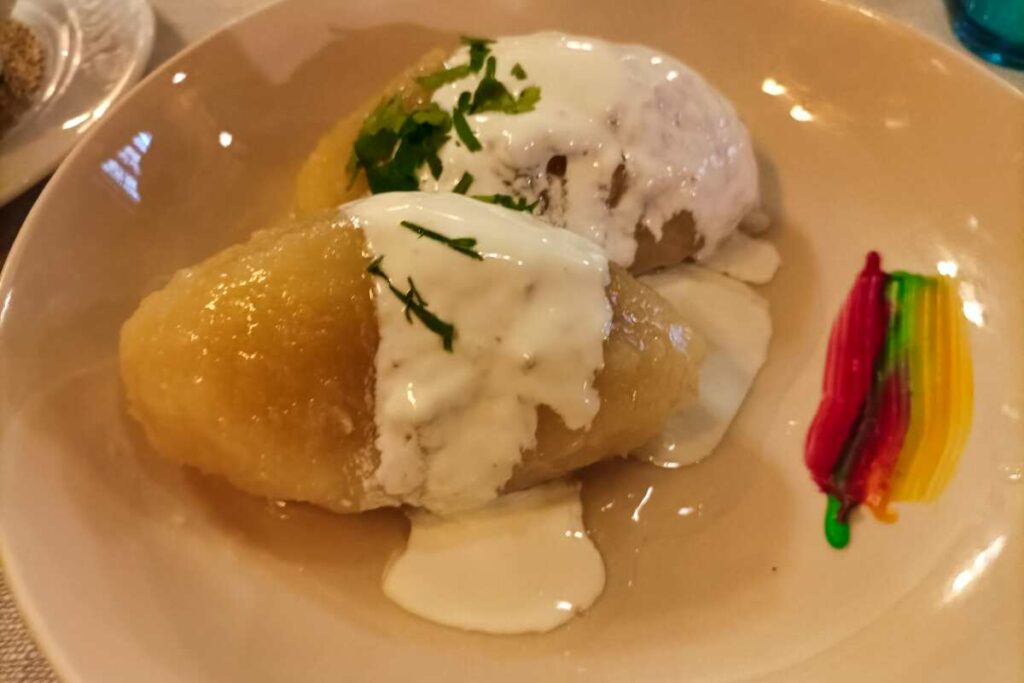 Cepelinai
I have already announced it above, zeppelins ("cepelinai") also exist in Lithuanian cuisine. These stuffed potato dumplings take their name from zeppelins, as their oval shape and size remind us of the airships that the Germans once had built in the region. The main ingredients are (you guessed it) potatoes and pork, although there are variations with other fillings. First, the potatoes are peeled and coarsely grated. Then the resulting mass is mixed with a pinch of salt and potato starch to make the dough.
The meat filling for cepelinai is usually seasoned pork, which is cooked and then finely chopped or ground. Then the dough is shaped around the filling and formed into an oval lump that has the shape of a zeppelin (at least with a little imagination). The stuffed potato dumplings are cooked in boiling water until they rise and become firm. Then they are taken out of the water and often served with a mixture of sour cream and bacon (in the picture above, which I took in a restaurant in Vilnius, there was unfortunately no bacon).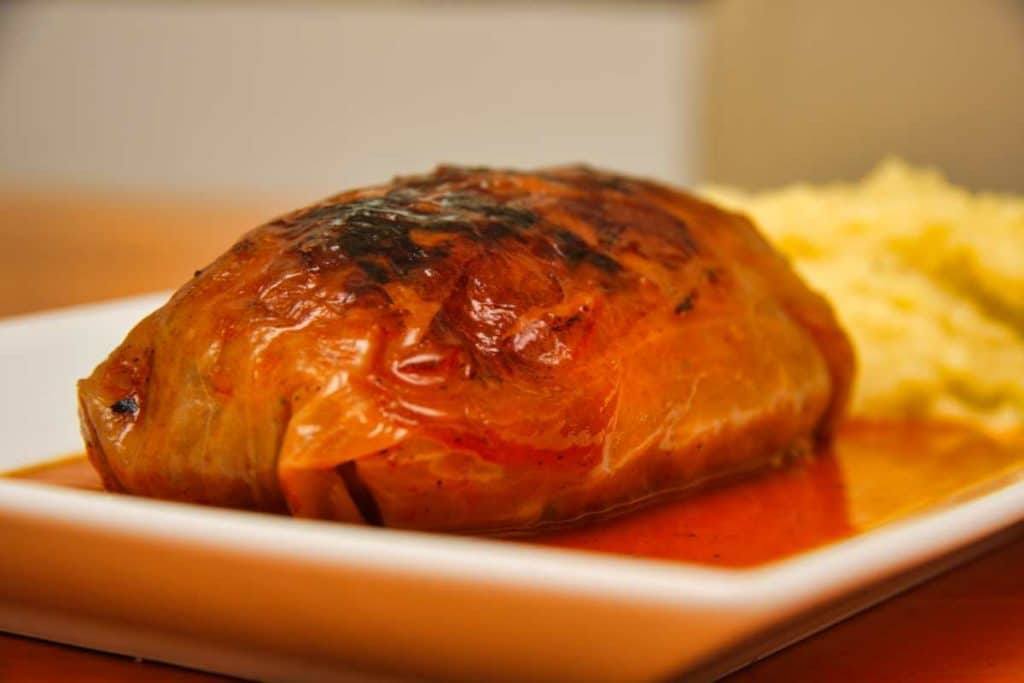 Balandėliai
Balandėliai is better known as cabbage roll or cabbage roulade in the west. The main element of this dish is the cabbage. It is cooked, and the outer leaves are carefully removed and used individually. These leaves are then blanched briefly in boiling water to soften them and make them easier to roll. The filling for Balandėliai is usually mixed minced meat, rice and onions. The stuffed cabbage leaves are then cooked in a pot with a spicy tomato sauce or broth until tender and juicy. This is often accompanied by (no surprise) sour cream again.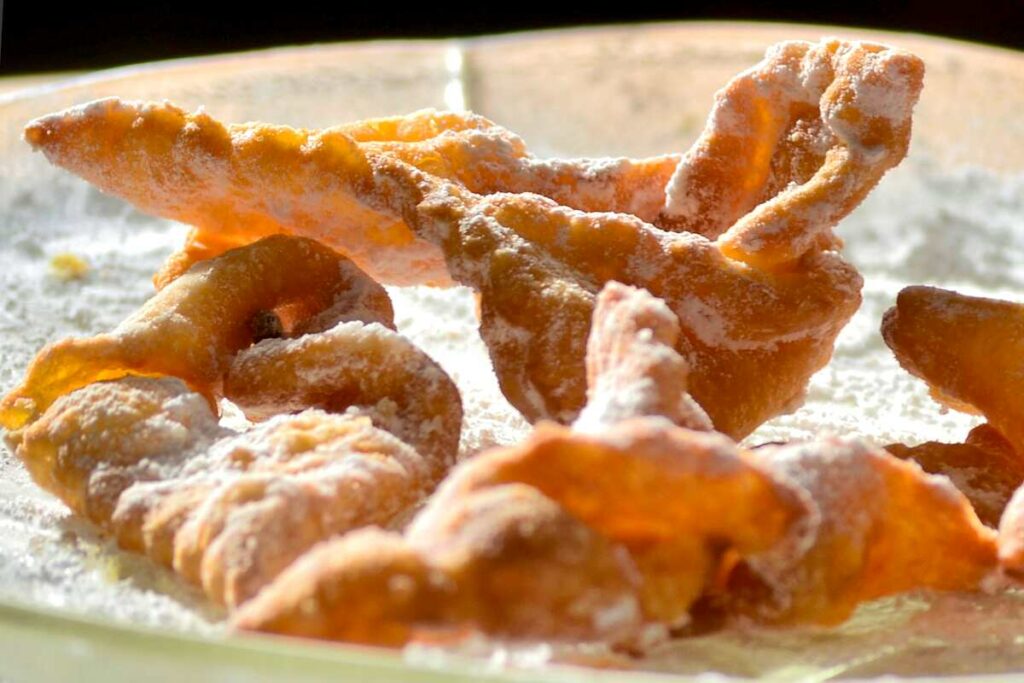 Žagarėlis
Let's move on to dessert. The first dish in this list is Žagarėlis. It is known in Poland under the name of Faworki and in Belarus it is also known under this term. In southern Germany, the dish also exists, here it is called "Scherben" because of its characteristic shape. The preparation involves rolling out a dough of flour, eggs, butter and a little sour cream into a thin dough and then cutting it into strips. These are then fried in lard or oil and sprinkled with powdered sugar, some then dip them in honey.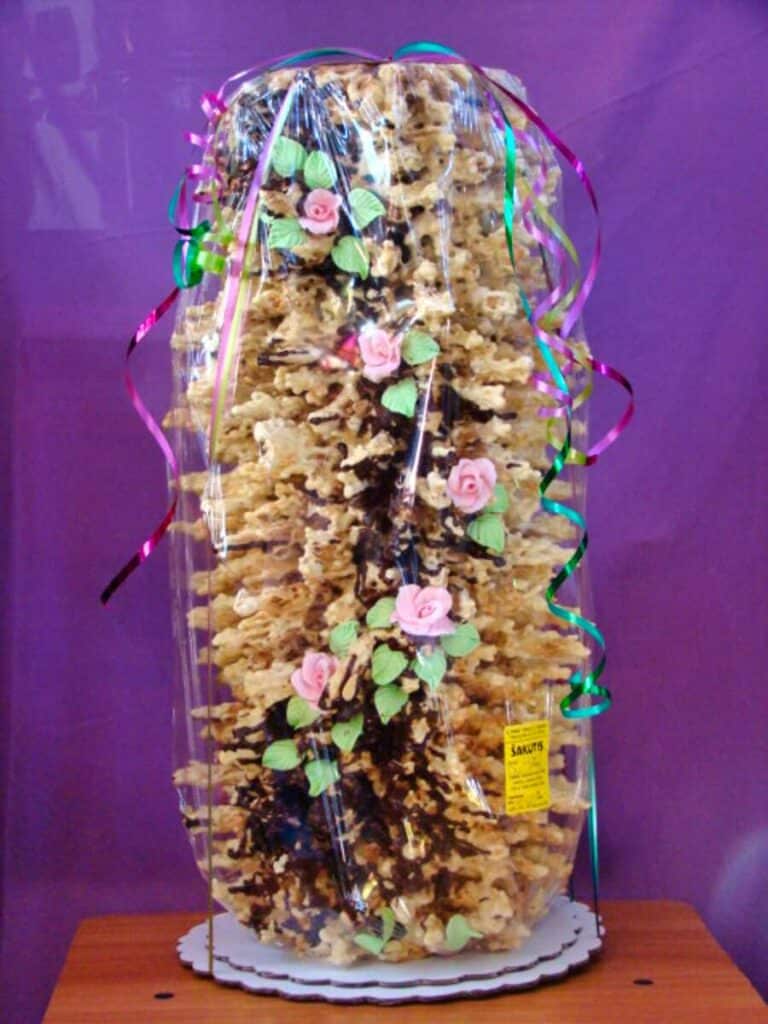 Šakotis
"Šakotis" is a traditional Lithuanian pastry, also known as "tree cake" or "branch fork cake", and is the quintessential Lithuanian cult dessert. The name tree cake hardly suggests what a culinary work of art it is. Šakotis is made from a dough consisting of butter, sugar, eggs, flour and cream. This dough is then poured in layers onto a rotating cylinder or roller that spins over an open fire.
The dough flows down, forming thin layers that gradually wrap around the cylindrical core. This process is repeated until the cake reaches the desired height and resembles the shape of an upside-down tree or branch fork. During baking, Å akotis develops a golden brown crust that is crisp and sweet, while the inside of the cake is soft and tender. The elaborate production of this cake requires skill and patience, and Å akotis is often the centerpiece at festive occasions.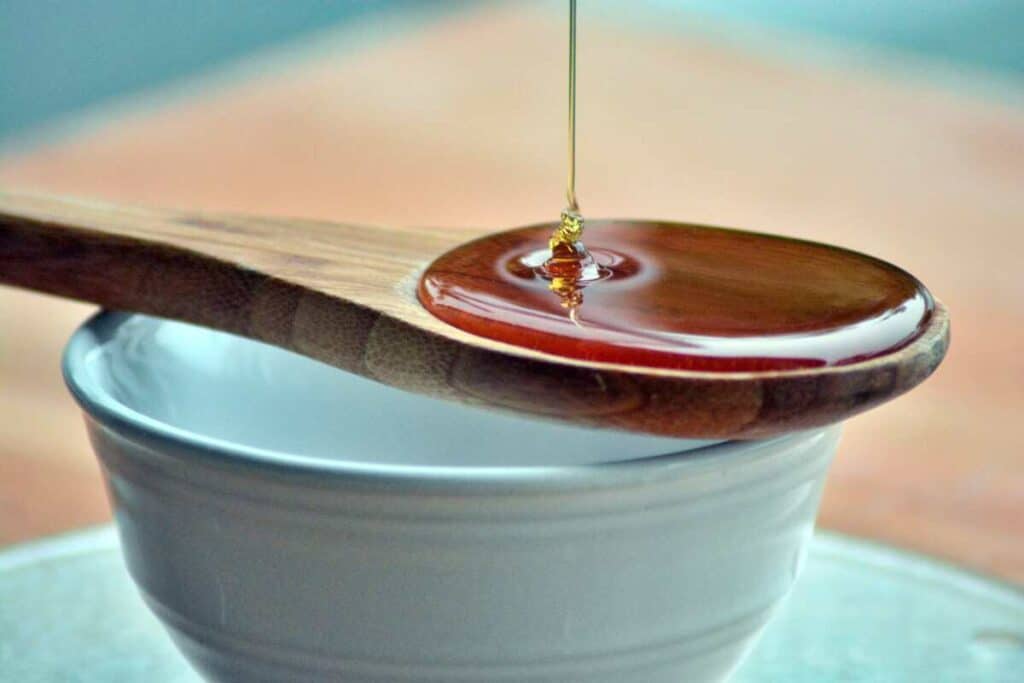 Lithuanian honey
Honey is something very special for Lithuanians. And there are even historical reasons for this, because Lithuania was the only area in Europe where honey functioned as a kind of secondary money for a long time. The peasants here could even pay their taxes to their liege lord with honey! The often still untouched nature, high quality standards and the great variety of flowers ensure the high quality of the honey. Lithuanian honey is used not only as a sweetener, but also in traditional Lithuanian cuisine for desserts, pastries and various dishes.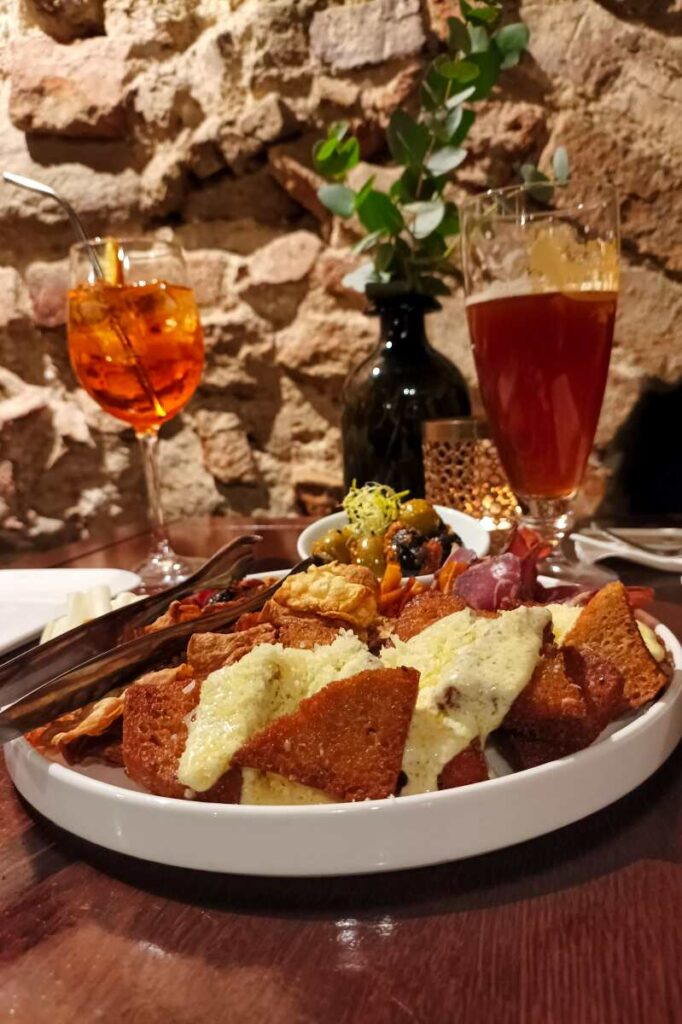 Lithuanian bread
Lithuanian bread, sold under this name also in Poland, is one of the specialties of the country. Of course, there are countless types of bread here as well, but dark rye bread is what I ate most often. This is also served in the form of Kepta Duona as a perfect snack with beer. The bread is cut into strips, fried in hot oil and then mixed with garlic, and often cheese is added. You shouldn't exactly be on a diet, but as I said, there's hardly anything better as an accompaniment to a Lithuanian beer.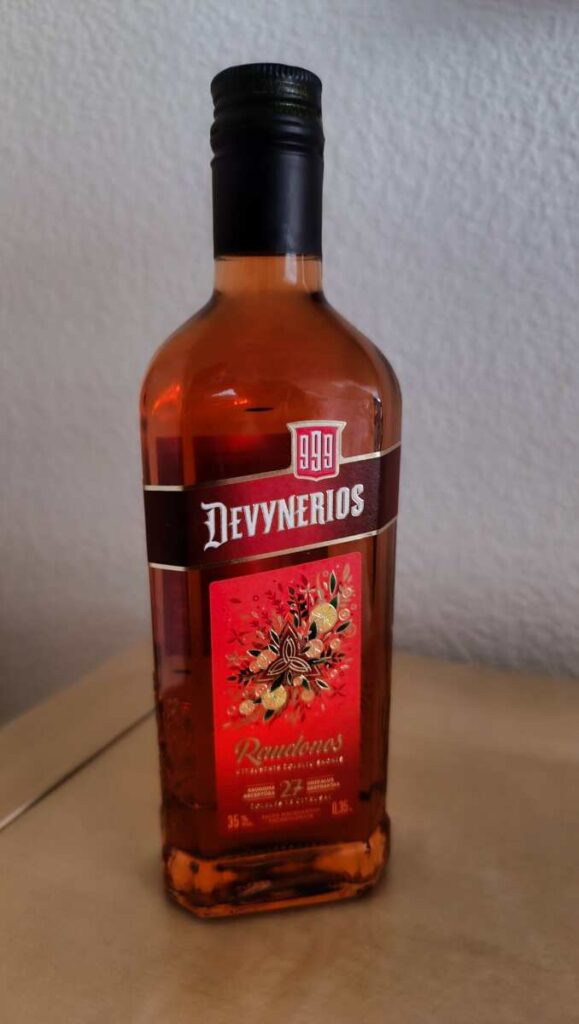 Lithuanian drinks
Lithuanian cuisine, of course, also needs the right beverage companion and here the country presents itself very diversified.
Lithuanian beer
Beer is a good keyword, because the local craft beer culture is absolutely impressive despite the country's small size. Microbrewers like Genys, Green Monster, Dundulis, Kuro Aparatūra and Joalda are also available at our beer merchant with a little luck. With Keptinis there is even its own beer style. Translated, it means "baked", which is attributed to the baked malt. If you're in Lithuania, be sure to check out Keptinis beer, even though the style is rarely found today.
Honey in a jar
Above I have already described how important honey is for the Lithuanian cuisine. In fact, it's so important that there are two drinks here that use it. Firstly, there is the mead, which is called Midus. This is also known in the west, but the drink is much more popular here than in Western Europe. Krupnikas, on the other hand, is probably only known to connoisseurs. This is a liqueur made from honey and herbs and can have up to 45% alcohol content. By the way, you drink it hot!
Herbal liqueur
Herbal liqueurs have a long tradition in Lithuania and have been produced here for centuries. They come in countless varieties and are often blended with fruit or enjoyed as a long drink, for example with tonic water.
How did you like this article about the Lithuanian cuisine? Feel free to write us a comment!