In the past we have already presented some of the most delicious Polish dishes and shown you that Poland tastes good. But we didn't just want to show you what's delicious to eat in Poland in theory, so we took a trip to the eastern voivodeships of Poland and introduce you to some really special, sustainable and surprising family-run businesses that are guaranteed to make your mouth water!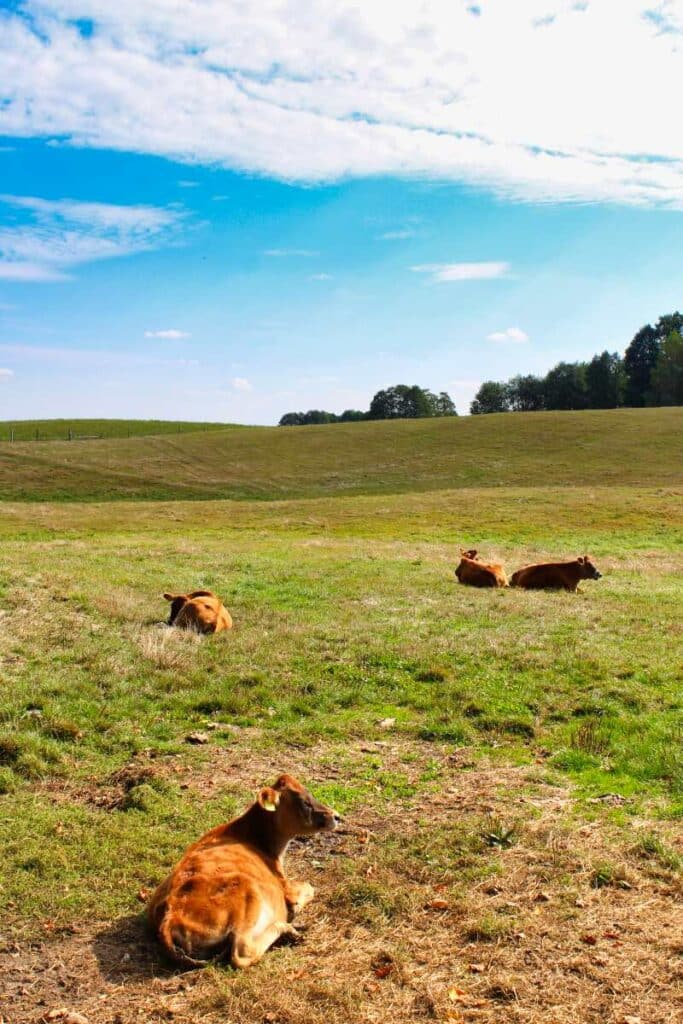 Ranczo Frontiera
When you think of delicious cheese, countries like France and Switzerland probably come to mind first. But we were able to see for ourselves in Masuria that this also applies to a large extent to Poland. Admittedly, you have to drive a long way to get to Ranczo Frontiera. The small farm is only about 15 km south of Reszel, but the road is adventurous and you need a stable car. And then you have arrived in the idyll. A few cows graze on a pasture and the view wanders into the distance, except trees, pastures and lakes there is nothing here – pure idyll and typical Masuria just!
We are welcomed by a friendly man with his daughter. We learn that the family actually comes from Poznan, but got fed up with life in the city and bought a farm of about 17 hectares about 20 years ago. Soon the family began to experiment with cheese making and in the meantime they have developed a cheese so delicious that you can hardly get enough of it. Ranczo Frontiera is not a mass farm, however, because the family keeps only four Jersey cows.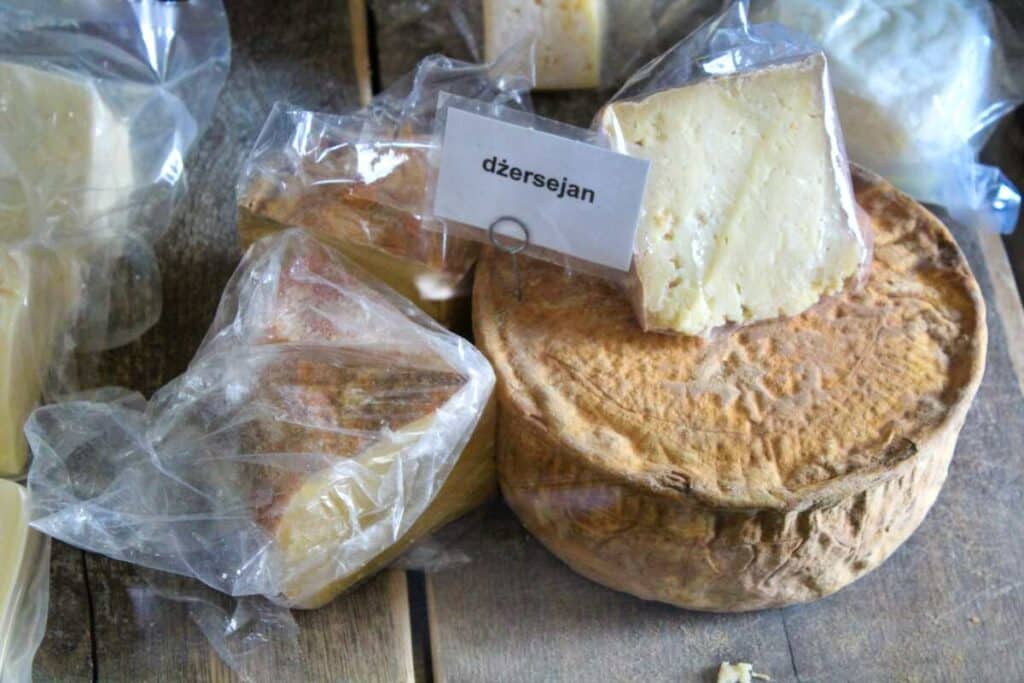 Anything else would spoil the quality, says the farmer, who is actually a pianist. Why are we telling you this? Simply because it affects the quality of the cheese, at least that's what the farmer is sure of. He regularly plays to his cows. But maybe the cheese here is so good because you simply feel that the animals are respected here, that they have plenty of space and simply a relaxed life.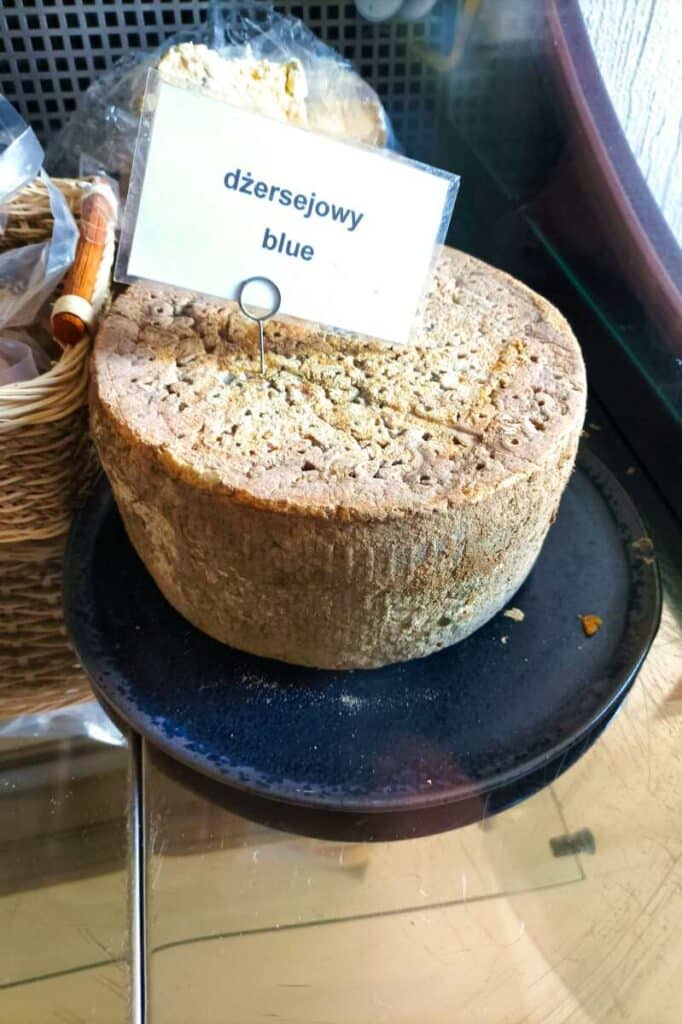 Meanwhile, the small company, in which the cheese also matures, has won countless awards and hotels, private buyers from overseas and star restaurants are lining up to be able to buy the coveted loaves or just a few slices. The cheese, by the way, is available in various degrees of ripeness, but it is always mild, which is due to the high butterfat content.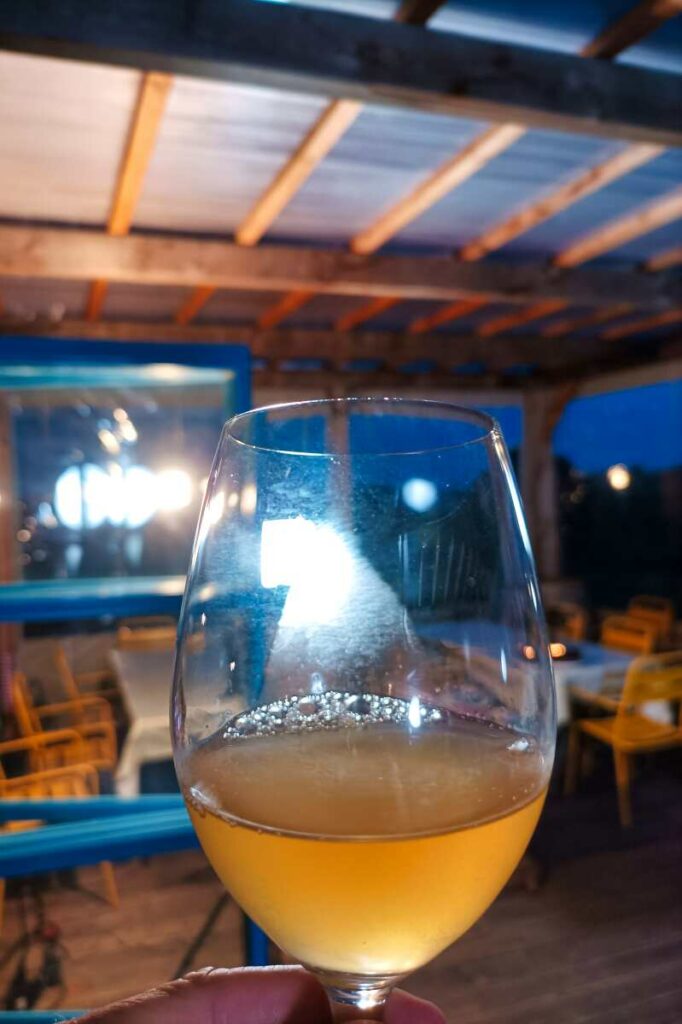 Kwaśne Jabłko
I wonder if cider goes well with cheese? If only we had taken some cheese with us to taste it when we set off for the no-man's land between the town of Morąg and Dobre Miasto. Here, directly in the idyllic valley of the river Pasłęka, lies the approximately 50-hectare farm Kwaśne Jabłko, which could be translated as "sour apple". The countless apple trees here are many years old, and the operators feel a close connection to the region and its turbulent history. They always express their respect for the German farmers who planted the trees here before the Second World War, when the area was still called "Oberland".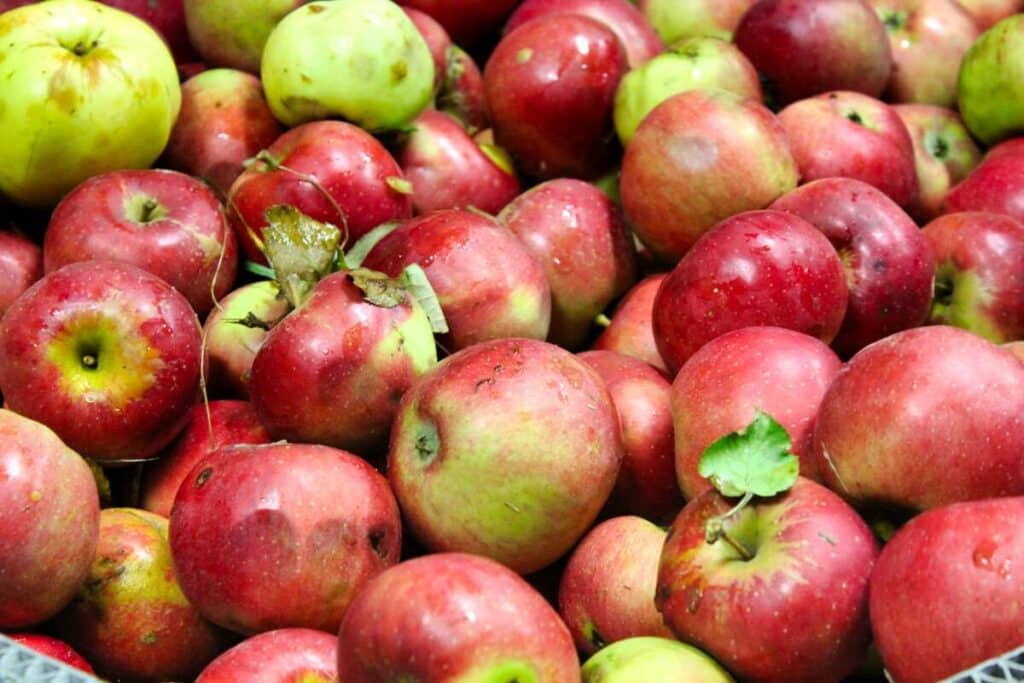 And this love of the region is evident in the delicious cider that is produced here. Various types of apples are used, and some juices even mature into cider in barrique barrels by spontaneous fermentation, which gives the whole thing a very special touch. By the way, no yeast is used in the process. The leftovers from the production, which relies entirely on organic quality, are then processed into pig feed – sustainability plays a huge role on this farm. By the way, the cider produced in Poland is a bit more sour than the one you might know from France. Experts recommend enjoying it especially with fish dishes, as it adds a whole new flavor to their taste.
We really liked it here and found both the sweeter and the somewhat sourer varieties consistently delicious! By the way, if you're interested in the various drinks of Eastern and Central Europe, then feel free to take a look here.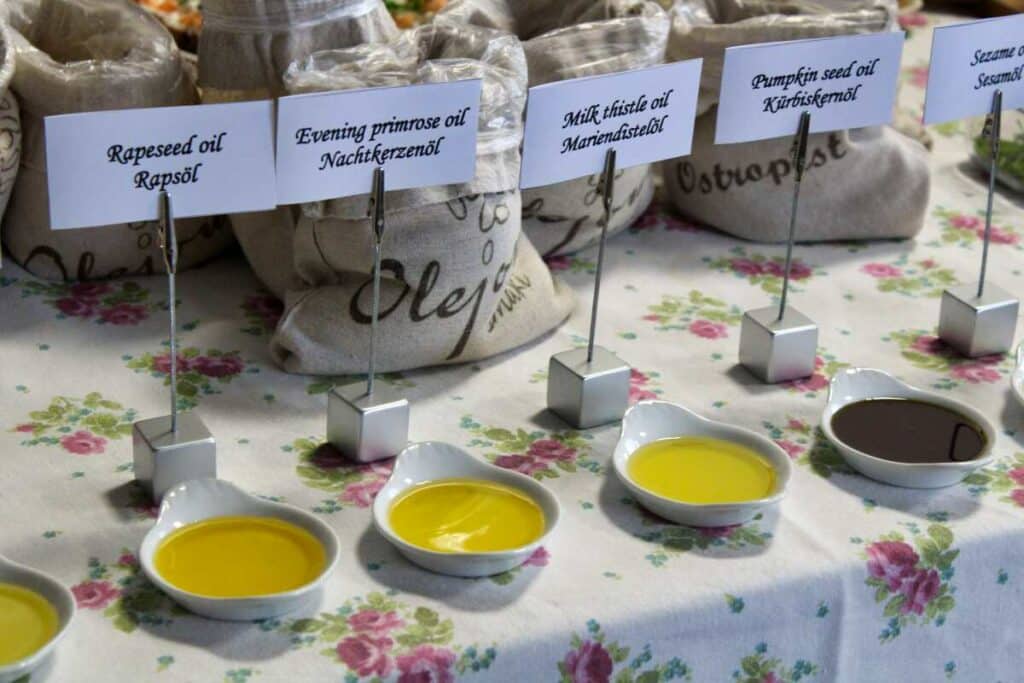 Olejowe Smaki
We felt very much at home in Masuria. Our next stop, however, was the area around Białystok in the very northeast of Poland. Here lies the small village of Turośń Kościelna, which is difficult to pronounce, but is home to a special place called Olejowe Smaki. Oils of all kinds are produced here, and one learns quite a bit about the products pressed from various seeds. The operators of the small oil mill are convinced that there is an oil for just about every illness that can lead to the alleviation of symptoms. This applies perhaps to the famous Gault&Millau, in any case it recommends the oils explicitly. A nice side effect is that the pressed seeds are processed into pellets – a true zero-waste operation.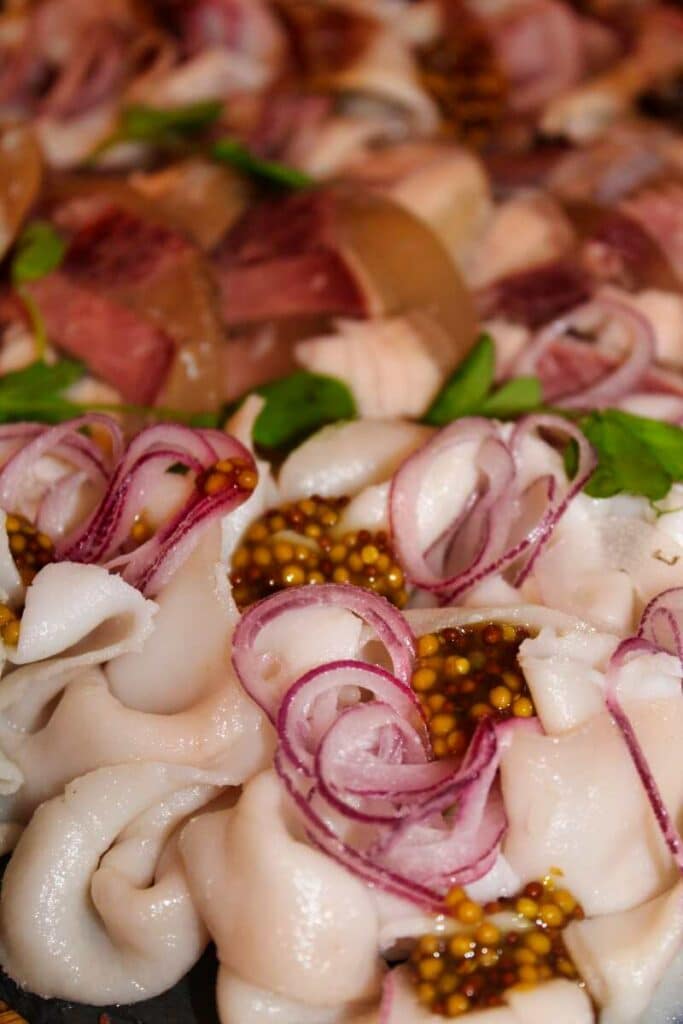 Ancypo
Let's move on to classic Polish products – sausage and meat. Even at home, many go to Polish stores and buy sausage from Poland, because it is simply excellent quality. So the bar is high. And as you can see from the cover picture, we were not disappointed at Ancypo in Sokółka near Białystok. Here, meat is purchased in the traditional way exclusively from local farmers and then processed in a variety of ways, which has already earned the company countless awards.
Whether sausage, bacon, salami or ham – everything is of outstanding quality and we can only warmly recommend the company to you. You can also get it in Krynki and Białystok or order it directly to your home via the website.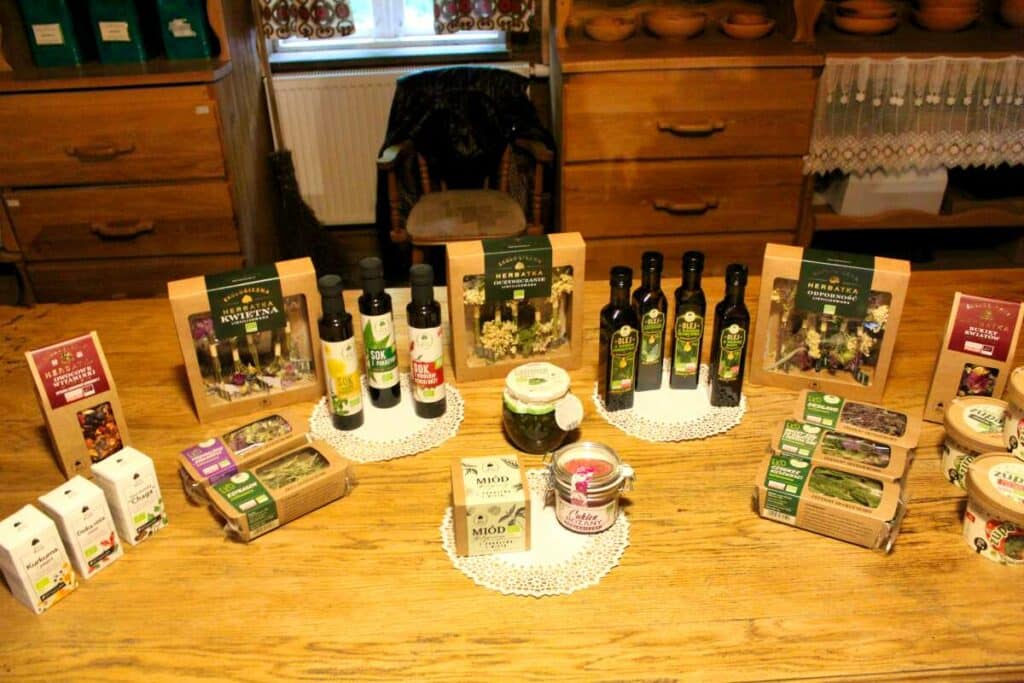 Ziołowy Zakątek
About halfway between Białystok and Siedlce is our next stop, the Ziołowy Zakątek, loosely translated as "Herb Corner." This region of Poland is considered particularly traditional and a melting pot of cultures. In the border triangle between Poland, Ukraine and Belarus, not only the Catholic and Orthodox churches fought for the upper hand for a long time, but also traditional shamanic ways of life held on for a long time. And these shamans passed on their knowledge of the healing power of herbs for generations. Ziołowy Zakątek picks up these traditions and sells herbs, herbal mixtures and much, much more here.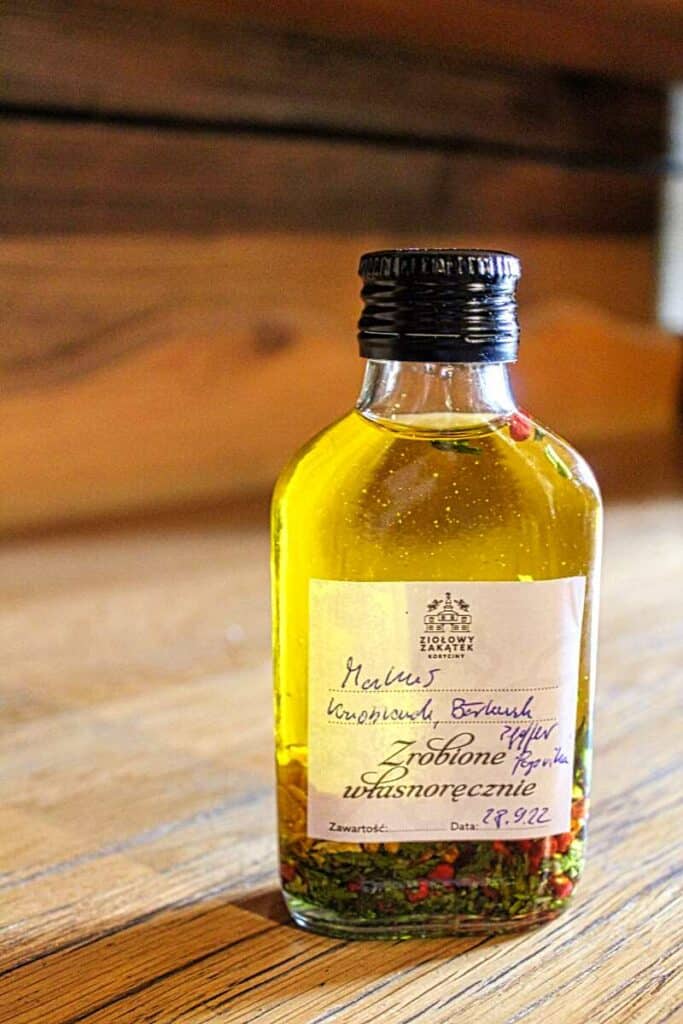 In workshops you can even make your own oil and design it just the way you want. But there is much more to discover!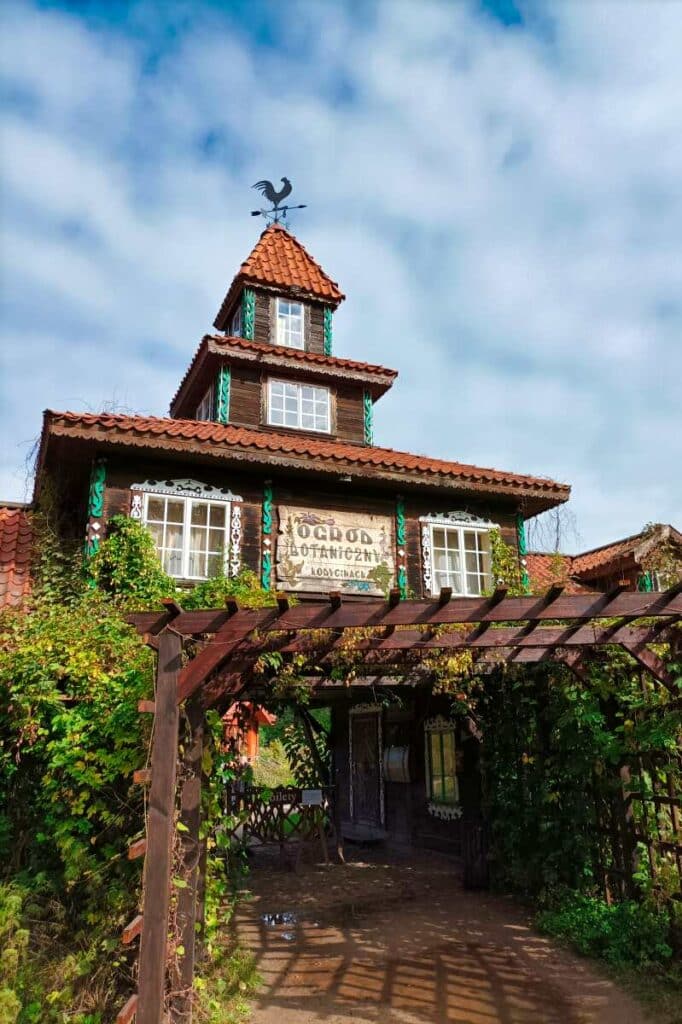 Ziołowy Zakątek is not only a herb store, but also a huge botanical garden, a spa, a hotel, a restaurant and much more, there is even an old wodden church! So if you want to spend your vacation in harmony with nature, this is the place for you. Also, the surroundings are ideal if you need an escape from mass tourism and what to spend some time in the nature.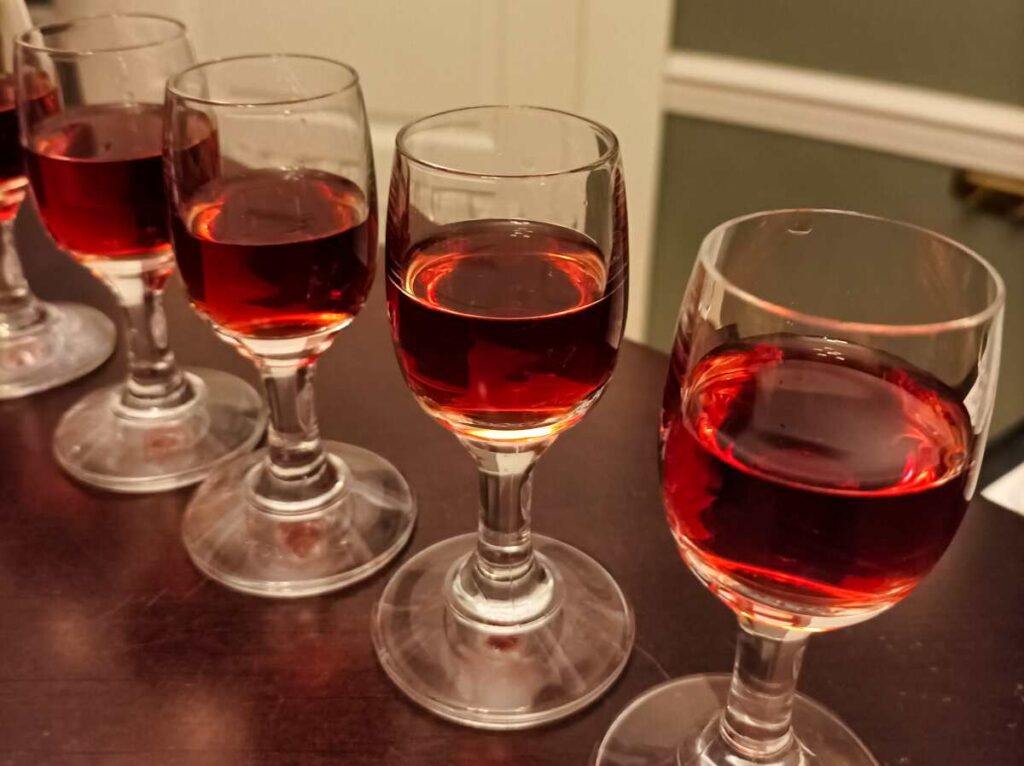 Manufaktura Cieleśnica
Our next spot is also interesting not only from a culinary point of view. Cieleśnica is located just a stone's throw from the border with Belarus at the gates of Janów Podlaski, which is famous for its horse breeding. Here stands a dreamlike estate, which looks like an enchanted castle, especially when in the morning the misty clouds of the river Bug float over the estate.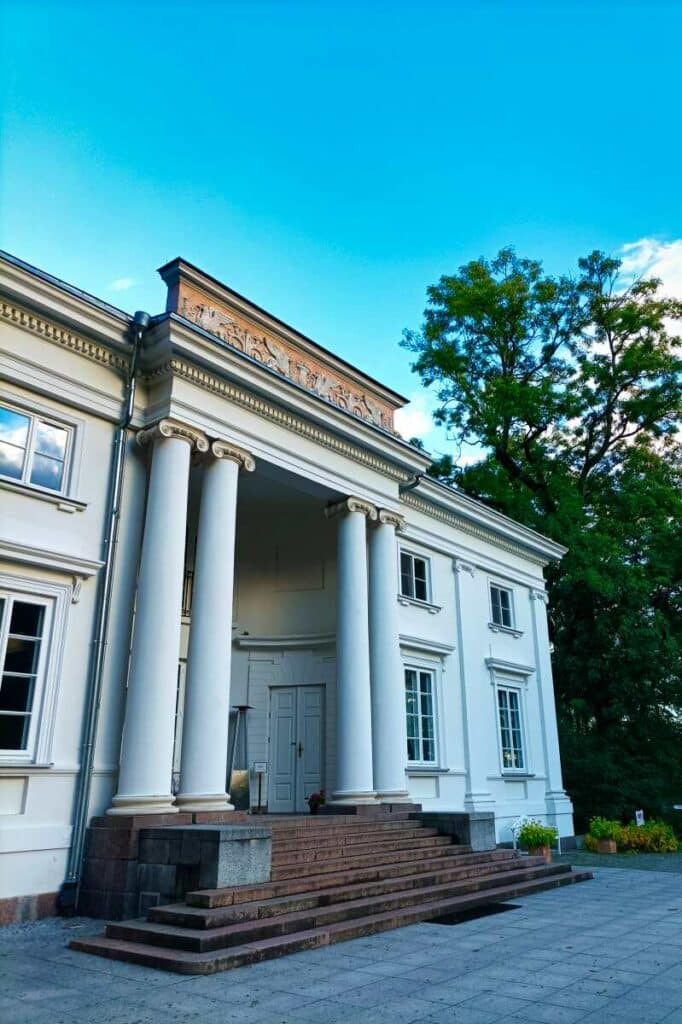 The estate once belonged to the famous magnate family Radziwiłł, after extensive restoration, a hotel was established here. And a distillery! The friendly distiller Szymon burns in an outbuilding, which belonged to the manor, delicious schnapps and liqueurs in very different flavors and degrees of strength. And they are really good! Here, too, the old knowledge of the local population was used, which for centuries has been producing delicious drinks from the fruit varieties that occur here.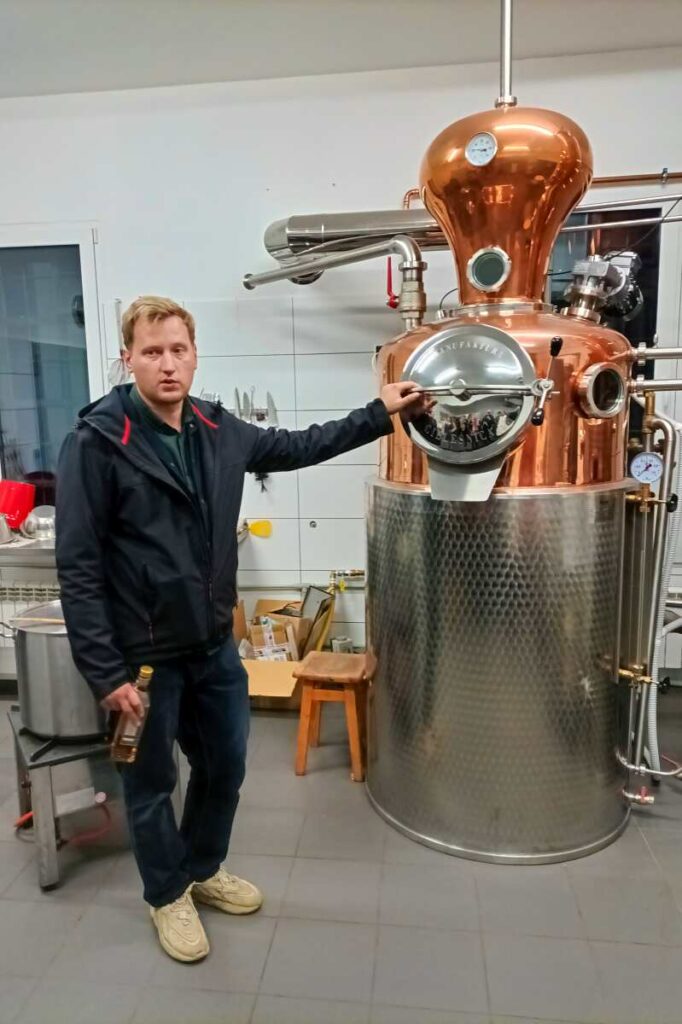 What we particularly liked was not only the palace, but also the lost place behind it. A vodka factory was built here in the 1920s, which fell into disrepair more and more. It's a bit creepy to walk around here before you get to the modern distillery. Even though Cieleśnica is quite far to the east and not easily accessible, we highly recommend a visit due to the unique atmosphere of the place. Soon, there will even be a vodka museum.
Winnica Dwórzno
Ok, now it gets a bit crazy. At the end of the trip, we went to Warsaw. So far, so normal. But what awaited us at the gates of the city, we really did not expect. There is a winery here! Poland is hardly ever associated with wine, rather with vodka or beer. In fact, there are several wine-growing areas, especially in the western part of the country, and the region around Zielona Góra is famous for its wine. There are a total of 400 wineries in the country, but they only have a total cultivation area of around 600 hectares. But we really wouldn't have expected a winery this far east, where the climate is already clearly continental.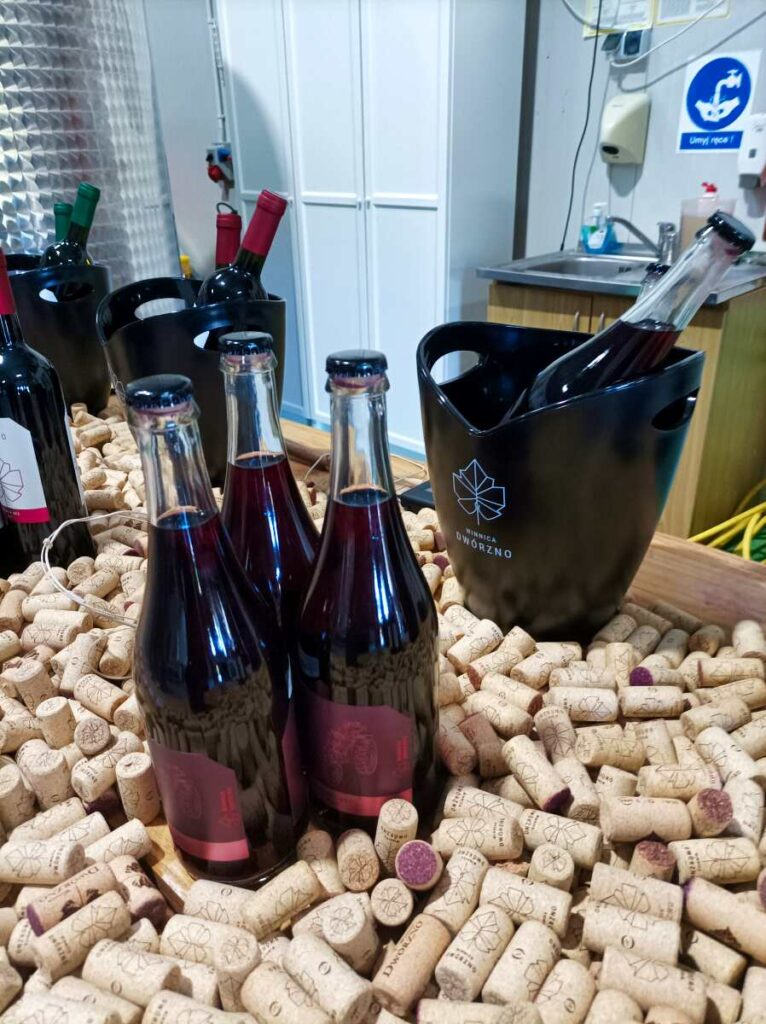 The family-run Winnica Dwórzno defies the sometimes harsh winter temperatures and has now become the largest winery in all of central Poland. The exciting thing is that the Polish wine market is hardly regulated. What may not sound so good at first glance means in practice that winemakers have a high degree of creative freedom and can run wild as they please. Incidentally, the grapes grown in Poland are mainly Solaris (by far the most popular), Hibernal, Seyval Blanc and Regent. All of them are varieties that cope well with frost.
The vines were imported from Germany. But why was a winery created here, in the heart of Mazovia of all places? It's because the family used to run a raspberry farm here and at some point came up with the idea of making wine from raspberries, which quickly became very popular. And then at some point they started to make wine from grapes as well, just like we are used to.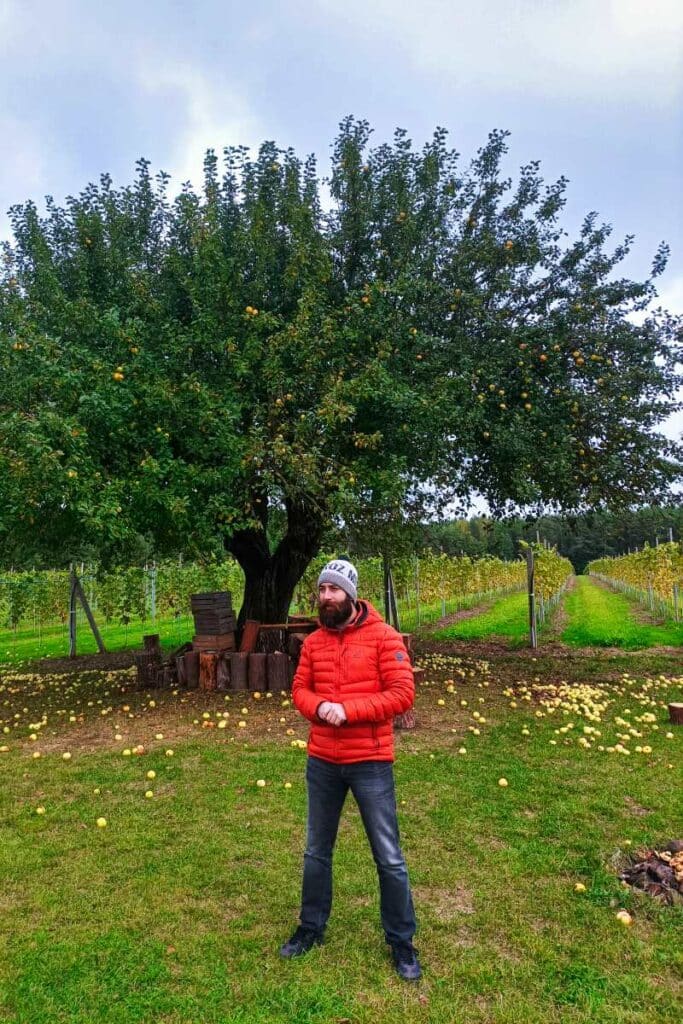 The climatic conditions faced here are not easy. Above all, the ground frost gives the vines a hard time, but without further ado they laid hoses that can be filled with hot water to cope with the problem. And so they managed to produce 50,000 bottles a year after all, with the harvest taking place very late in the year, typically in late September or even early October. You can not only do a tasting at the vinery, but also go on a tour of the vines, even an audio tour with your smartphone is possible.
Poland tastes good – This was our tour
We already knew that Poland tastes good. Nevertheless, we got to know a lot of new, exciting and above all surprising things on our trip and are fascinated every time by the diversity of Polish agricultural products. We particularly like the fact that sustainability now plays a very important role in Poland and that the farms here attach great importance to quality, harmony with nature and short transport routes. But what really amazed us was the passion for the products that the farmers had. It was simply stunning to meet them, they were the true prove that Poland tastes good!
#KOWR #polandtastesgood #polishfood #poland
What does Polish cuisine mean to you and what are your favorite dishes? Let us know and write us a comment!