The capital of the Wielkopolska region is made for a short vacation. In the following article we will tell you everything you need to know to spend a nice and above all relaxing vacation. In another article we have compiled for you the most important sights of the city and if you click here, you will go directly to a list of the most beautiful destinations in the region. Here we go with the most important Poznan Poland tips!
Poznan – climate and weather
Since Poznan is located close to the border with Germany, the weather here hardly differs from that in Berlin. The city is located in a zone that forms the transition from the continental climate and the climate of Western Europe, which is influenced by the Atlantic Ocean. In summer, it rarely gets really hot. Winters can be chilly, but temperatures below -10 ° Celsius are rare.
Poznan – the best time to travel
Apart from the cool winter months, you will always feel comfortable in Poznan. No matter what the weather is like, there is always something to discover. In summer you can relax on the banks of the Warta River, while in winter you can explore the wonderful Christmas markets, beautifully decorated streets and exciting museums.
I usually advise against traveling to Poland at the beginning of May, because half the country is on its feet then and two holidays (May 1 and 3) follow each other. But it's different with Poznan. The city offers many discounts as part of the Poznan for Half Price (Poznań za pół ceny) promotion. In some hotels you sleep for 50% of the price and in restaurants and museums you often pay only half. In addition, some sights are open, which normally can not be visited.
Avoid All Saints' Day on November 1, when almost all of Poland is on its feet to visit the graves of deceased relatives, and traffic is almost unbearable. Easter is also not a good time to visit, as most restaurants and stores close for several days and many museums are not open.
Important Poznan events
Besides Poznan for half price at the beginning of May, there are many other dates when it is worth coming to the capital of Wielkopolska.
The Youth and Malta festivals
In June, several major events take place at once. Many parties and concerts are held as part of Juwenalia, a student festival celebrated throughout the country. The Malta Festival attracts many visitors to the lake of the same name and to the city center and is one of the most important cultural festivals in the country with numerous concerts and other exciting events.
A street celebrates its birthday
But the most original day is November 11. It is actually Poland's Independence Day and demonstrations take place all over the country. In Poznan, however, it's a completely different story: the city celebrates Saint Martin's Day, after whom one of the most important streets in Poznan is named. There is a real carnival atmosphere here, and there are also the delicious St. Martin's croissants, real calorie bombs that are even protected by the EU as a regional specialty.
Christmas in Poznan
Poznan Christmas markets are beautiful, as are many in the country. But only here additionally takes place an ice sculpture festival. Too bad that these beautiful works of art are not made for eternity …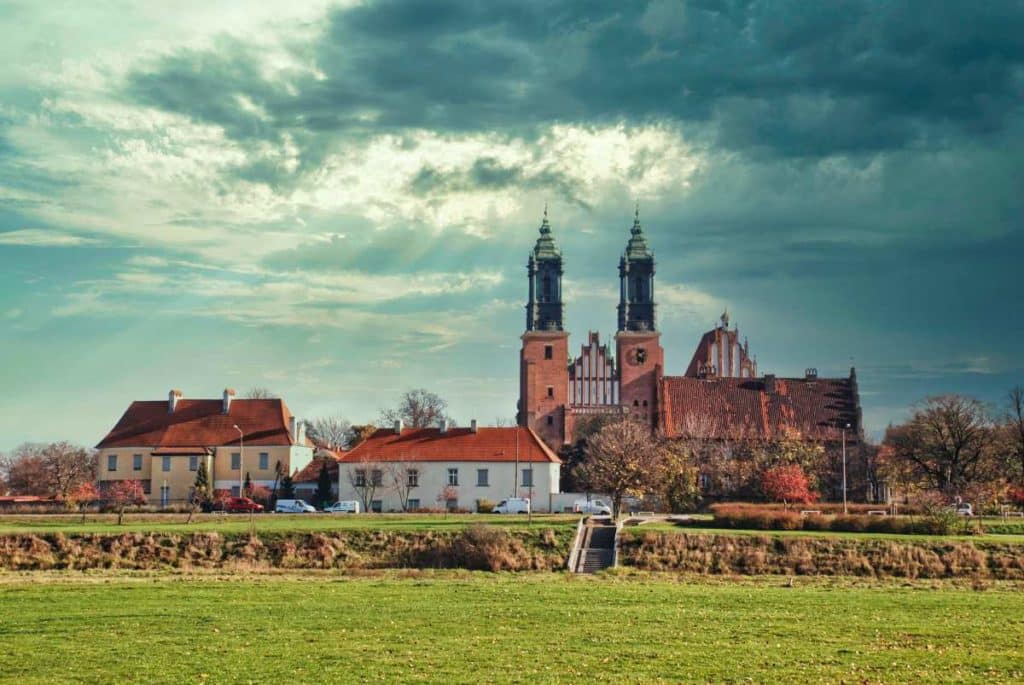 Poznan sights
Market square with town hall – wonderful ensemble of buildings and the most popular meeting place in the city
Prussian Quarter – several buildings from the imperial period
Imperial Residence Palace – under Hitler rebuilt palace of the former German Emperor Wilhelm II
Old brewery – mixture of shopping and cultural complex
Jesuit College and Parish Church – one of the most beautiful churches in the city and the seat of the city administration
Cathedral Island – possible place where the first Polish kings were baptized with a cathedral containing the crypt of these kings
Śródka – small, alternative district with many cafes and street art
Lake Malta – huge recreational area in the east of the city, where you can ski even in summer
Fort VII – old fort that functioned as a concentration camp during World War II
Citadel – former defense complex, in which you can walk wonderfully
For more about the Poznan attractions, check out our blog post on the subject.
Poznan Arrival
But how to get to Poznan? Here we present you the best ways to get to Poznan.
Airplane
Poznan's Ławica Airport is located just a few kilometers west of the city. There are currently direct flights from Germany, Denmark, Norway, the UK, Ireland, Spain, Italy, Greece, Ukraine, Israel and Georgia. You can easily reach the airport by buses 148, 159 or night bus 242. Tickets are available at the kiosks in the airport, at the ticket machine at the bus stop and in some buses. The trip to the city center takes about 30 minutes. Alternatively, you can take a cab or use one of Poland's popular ride-hailing services, such as Uber.
Train
The Berlin-Warsaw Express runs four times a day from Germany to Poland, also stopping in Poznan along the way. If you travel from the east, make a stop in Warsaw and then take that train or another one towards Poznan. The journey time from Berlin is only about two and a half to three hours. Poznan is also well connected to other Polish cities. The modern main station was completely rebuilt only a few years ago, from here you can either walk to the center or simply take the streetcar.
Bus
The central bus station is integrated into the railroad station. There are several daily connections from Western Europe and to other Polish cities, for example with Flixbus*, Sindbad or Eurolines.
Car
The A2 has been extended from Germany to Warsaw, so theoretically you can even drive from the Ruhr area to Poznan without having to change the road once. However, you have to keep in mind that Polish freeways are subject to tolls and you will have to pay almost 20 euros for the route from Germany to Poznan. Information and a price calculator can be found on the website of the Autostrada operators. Coming from Czech republic, You can drive to Poznan via Wroclaw and if you travel to Poznan from Belarus or Ukraine, you go to Warsaw first an then take the A2.
The parking situation is not very good, so you should always ask your accommodation if there is a parking space. Also the traffic jams can be quite annoying. So think carefully about whether you want to drive into the center by car. A good and safe parking garage is located directly under the Freedom Square (Plac Wolności), from here you are already in two minutes on the Old Town Market.
Pozan public transport
In Poznan you can do a lot on foot. However, if you want to visit the more distant destinations, for example the Cathedral Island, Fort VII or Lake Malta, you should use local transport.
Public transport
You can easily explore the city by streetcar or bus. In the meantime, almost the entire old fleet has been replaced by modern vehicles, and buses also run at night. These have the numbers 201, 202 and 204.
Tickets
You can buy tickets (bilety) almost everywhere – at vending machines, at kiosks, at the post office and at machines in the vehicles (here, however, you can usually only pay with cash). The tickets are cheap and are divided into four zones. The most important sights of Poznan are all in zone A. There are time tickets, which are divided into 40-minute tickets, day tickets and two-day tickets. With all of them you can change as many times as you want. You can also pay by the stop, so you pay only 0.60 złoty per stop in zone A. By the way, if the pollution levels in the city are too high, you can ride the bus and train for free the next day, it will be noted on this website.
Polish language
Polish belongs to the family of West Slavic languages. So if you know Czech, you will understand a few words of Polish. Even if you know a few words of Russian, it will help you. Polish is not an easy language to learn, so the Poles will be even happier if you make an effort and learn a few words:
| | | |
| --- | --- | --- |
| English | Polish | Pronounciation |
| Hi! | Cześć | Tsheshtsh |
| Hello! | Dzień dobry | Dshin dobre |
| Good Morning! | Dzień dobry | Dshin dobre |
| Good evening! | Dobry wieczór | Dobry vjetshur |
| Thank You | Dziękuję | Dshenkuje |
| Please | Proszę | Proshe |
| How are You? | Jak się masz? | Jak she mash? |
| Nice to meet You | Miło cię poznać | Miou tshe posnatsh |
| Excuse me | Przepraszam | Psheprasham |
| Yes | Tak | Tak |
| No | Nie | Nje |
| I (don't) understand | (Nie) rozumiem | (Nje) rosumjem |
By the way, you'll get along fine with English. young Poznaners all learn the language at school.
Young Poznaners all learn the language at school.
Dining in Poznan
Polish cuisine is quite hearty. Some of the same dishes have been cooked for centuries, and the country's rural tradition in particular is reflected in the local cuisine. There is generally a lot of meat on the table, but cabbage and cereals are also important ingredients of Polish cuisine. The Poznan region is also known for its many potato dishes.
The main local dishes
Bigos – stew with sauerkraut, mushrooms and meat
Pierogi – filled dumplings, which are available either sweet or salty.
Barszcz Czerwony – originally from Ukraine, beetroot soup.
Żurek – sour flour soup with egg
Gołąbki – literally "doves", cabbage rolls with meat filling
Rogale Świetomarcińskie – delicious croissants with icing and nut filling, traditionally available only in Poznan.
Where to eat in Poznan?
The classics of Polish cuisine can be found on almost every corner in Poznan. They taste especially good here:
Brovaria, Stary Rynek 73. Right on the market square there is a small brewery serving Polish classics – and of course delicious home-brewed beer.
Pyra Bar, ul. Strzelecka 13. The people of Poznan are also called "potatoes" (pyry) throughout the country. Of course, then there must be a potato bar.
Restauracja Bamberka, Stary Rynek 2. Once many immigrants from the German Bamberg came to the city, who have preserved their own culture and developed their own cuisine to this day. Here you can see how it tastes.
Poznan accommodations
Retro Hostel*, ul. Kramarska 1. It is less than 100 meters from here to the market square. Both the dorms and the double rooms are cozy and clean and the price is unbeatable for this location!
Blow Up Hall*, ul. Kościuszki 42. The Old Brewery is home to one of the most unusual hotels in the country. Everything is perfectly designed and fully automated. Let yourself be surprised!
Altus*, ul. Święty Marcin 40. The name of the new hotel translates as "high" – and it keeps its promise. Here you can sleep with a fabulous view high above the rooftops of the city.
You can also find nice and cheap vacation rentals, apartments or private rooms in Poznan at Airbnb*. If you sign up through my link, you get up to 50 euros off your first booking and I a small obolus. With that we can co-finance our next blog trip. It will cost you nothing extra.
Security
Poznan is a very safe city. You don't have to be afraid of muggings, but it is best to wear your valuables as close to your body as possible on the bus and in the streetcar. In the evening, some streets in the Dębiec district may seem a bit unsafe. It is rarely dangerous here, even though a joking Polish saying is Każdy z Dębca, to przystępca (Everyone from Dębiec is a criminal).
Emergency numbers
Should something happen, you can call the emergency numbers. Often someone on the end of the line speaks English:
Police: 997
General Emergency Call: 112/911
Fire department: 998
Credit card blocking: 116 116
Health
You may have to pay for the treatment there in advance. However, you can then have the amount reimbursed by your health insurance at home. The waiting times in public hospitals and at doctors are often long, which is why many go to private hospitals or private doctors, which are more expensive. By the way, you can find pharmacies on every corner, many medicines are also available in supermarkets and kiosks.
Poznan hospital
In this hospital you will get fast and reliable help:
Money
There are ATMs on every corner in Poznan. It is important that when withdrawing money you do not choose the conversion to euros, but to the local currency, the złoty. Otherwise, the bank will use an allegedly guaranteed rate, which is always much worse than the actual one.
You can also exchange money in an exchange office (kantor). Here a comparison is worthwhile, often there are several exchange offices in tourist places. There are always two exchange rates, depending on the exchange direction, the worse one is always valid. Some exchange offices also charge a commission, it is best to ask beforehand.
Credit cards are accepted almost everywhere. Almost all stores and restaurants have a terminal. GooglePay and ApplePay work without any problems. VPAY cards can also be used without any problems.
Telephone and Internet
With a European sim card, you can call, surf and text in Poznan for the same price as at home. Network coverage is excellent throughout the city. If you run out of data, you can use the many Wi-Fi networks available in the city.
Almost all hotels, restaurants and cafés now offer Wi-Fi. The city is also expanding its urban Wi-Fi network.