You are planning a vacation in Poland and want to go by train? Trains Poland – that fits perfectly together. In this article we present you all important information for your train journey in Poland. Where do you get tickets, which routes are the most beautiful, how do you organize your trip best and what kind of trains are there in Poland? You can find out all this in this article. If you are interested in practical tips about Poland in general, just click here.
Poland Trains – The most important information at a glance
The state railroad company PKP (Polskie Koleje Państwowe) is mainly responsible for rail traffic in Poland.
The route network
Trains are the most popular means of transport in Poland, next to cars. Already at the beginning of the 20th century, Poland, which was then divided between Germany, Austria-Hungary and Russia, had several railway networks, which were merged after Poland gained independence. After the Second World War, the train network in then socialist Poland was continuously expanded and supplemented after the democrats took over the power.
In gerneral, in Poland one has to distinguish between several route networks. The most important network for your trip – if you limit your vacation to travel between larger cities such as Gdansk, Warsaw, Cracow, Wroclaw and Poznan – is the clearly arranged network of Intercity and Eurocity trains. All the above-mentioned cities are connected to this network.
As you can see on the map, this network is not very dense and less well developed than for example the IC or ICE network in Germany or other western European countries. Moreover, the eastern part of the country is not connected at all, which has historical reasons, but also reflects the lower level of development of the eastern regions of Poland.
If we look at the general route network, it looks much better. So you can travel by train almost everywhere in Poland.
Train travel providers in Poland
The most important supplier is the PKP, the state railroad company. In addition, there are numerous regional providers, the most important ones are presented here:
Koleje Dolnośląskie. The Lower Silesian Railway Company connects smaller and larger towns in Lower Silesia, including of course the capital Wroclaw.
SKM w Trójmieście. The trains of the Szybka Kolej Miejska pass through the so-called Trójmiasto and are comparable to suburban trains. So you can travel comfortably and quickly between Gdansk, Gdynia and Sopot.
SKM w Warszawie. SKM trains also operate in the capital. This can be a good alternative to public transport, especially if you want to travel from one end of the city to the other or to the suburbs. The train station network in Warsaw is relatively dense.
Koleje Mazowieckie. If you would like to explore the extended surroundings of the capital, the Koleje Mazowieckie are ideal. They run through the entire Mazowieckie voivodeship (comparable to a state or province).
A similar offer as in Mazovia can be found in Greater Poland (Koleje Wielkopolskie) and Lesser Poland (Koleje Małopolskie).
Poland Trains – The train types
Important connections in the country are served by the Euro- or Intercity trains, which we have already introduced to you above. But there are also other national train connections.
Express Intercity and Express Intercity Premium
The Express Intercity and Express Intercity Premium trains are the fastest connections in Poland. The premium trains are even the only high-speed trains and are called "Pendolino". They are modern, offer WIFI and a lot of comfort. But they are also a bit expensive. They were introduced only a few years ago, so the route network is still very limited. Roughly speaking, you can say that the high-speed trains take you from Wroclaw to Krakow, from there to Warsaw and from the capital to Gdansk. On the way, the train also stops, but the east and west of the country are not served at all. A map with the connections can be found here.
Seat Reservation on Premium Trains
Unlike all other trains (except the Eurocity trains between Berlin and Warsaw) you have to reserve a fixed seat on premium trains.
TLK
If you want to travel cheap and have some time to spare, we can recommend the TLK trains. The abbreviation stands for Twoje Linie Kolejowe ("Your train lines"). They are often slightly cheaper than intercity trains, but the fleet is often older and the trains are less comfortable. In total, the TLK serve almost 300 connections and connect 350 stations throughout the country. Great deal: If you book early, you will be granted a special discount, which can be up to 30%.
Small operators
In addition, there are countless smaller state or private train companies that operate diesel or electric trains and offer varying degrees of comfort. In general, however, the regional trains are often more modern than PKP long-distance trains, especially the TLK trains.
You prefer to travel at night rather than during the day? That is no problem in Poland. Besides the numerous international connections, there are also a number of domestic connections. The practical page rail.cc gives you a detailed list. Depending on the train, you can book either a bed in a four-person compartment or a sleeping chair with plenty of legroom in the spacious compartment.
Orientation on the platform
Orientation on the platform is not so easy in Poland. Announcements that sound like tin cans, often exclusively in Polish, are not much help to most people. The biggest hurdle, however, is the name of the tracks, which differs from that in other countries. In most pcountries one distinguishes between tracks, in Poland between platforms (perony). Each platform has its own track (tor). So always check before departure which peron and which tor is indicated, so that you don't get a nasty surprise and don't get on the wrong train.
Prices
Travelling by train in Poland is still very cheap compared to Western Europe, although prices have risen sharply in recent years. You have to dig deepest for the Intercity or Intercity Premium trains. There are two classes, but even for the fast intercity connections you usually never pay more than 30 Euro per way.
Regional connections or those with TLK trains are even cheaper. The price depends on the length of the journey.
Booking and ticket purchase
Buy tickets online or via app
We recommend you to buy your tickets online in advance. This not only saves you a lot of time, but also means that you don't have to rely on English for the ticket machines or that the person at the ticket counter speaks a foreign language.
In case You travel to Poland from Germany: Deutsche Bahn often offers special prices. In the context of  Sparpreis Europa und Supersparpreis Europa you pay  only 18.90 € and/or 37.90 € depending upon distance, with a Bahn-Card you can save even more. However, the contingents are limited and usually a foresighted booking is necessary, whereby the tickets can be booked a maximum of two months before the start of the journey.
The most important connections to Poland are the Berlin-Warszawa-Express, which also stops in Poznan and runs four times a day. Once a day you can also get from Berlin to Gdansk or take the train from Vienna to Cracow. Czech Republic and Slovakia are also well connected to Polan and You can travel as far as from Kyiv via Lviv to go there too.
Booking pages
The main booking site for connections within Poland is the PKP site. Unfortunately, the website is currently online only in Polish.
If you would like to book an Intercity train within Poland, there is a English language website available. There is also a special app where you can easily buy the apps (IC Mobile Navigator).
If you travel with the regional companies, you can buy the tickets through the central website KOLEO, to which most regional companies are connected. The site is conveniently available in English. Most of the regional companies now offer their own apps, which also allow you to buy tickets via smartphone.
Buy tickets at the counter
Long hours at the counter and a lack of foreign language skills on the part of the sales staff are the biggest hurdles to overcome when buying tickets at the counter. Knowledge of English does not seem to be part of the job description, and unfortunately, the counter staff is not always very patient with foreigners or particularly willing to provide information. It is therefore better to use a vending machine if you have not bought a ticket before.
Buying tickets from vending machines
At larger and more and more smaller stations, there are now vending machines whose menus are almost always available in English, often also in other languages. However, there is one small pitfall: Sometimes you cannot pay by card, sometimes not in cash. So please have your credit or giro card with you as well as cash.
Buy tickets from the conductor
In general, it is possible in Poland to buy a ticket from the conductor for both long-distance and regional trains. In terms of regional tickets, this is the biggest difference to trains in other countries. It is important that you look for a conductor after you start your journey, so that he doesn't think you are traveling withour paying. The reason tickets for regional trains can also be bought from the conductor is mainly due to the fact that there are no ticket machines at many smaller stations and platforms. Most of the time you can also pay by card, but cash is a safe bet.
There used to be a joke in Poland: it said that the abbreviation PKP does not stand for Polskie Koleje Państwowe (Polish State Railways), but for Płać Konduktorowi Połowe (pay the conductor half). In the past it was quite common to "agree" on a price with the conductor, and the money did not go into the state coffers, but into the conductor's pocket. This has changed fundamentally in recent years, you should not even try to bribe a conductor!
Cheap on the road at the weekend
The PKP offer cheap "weekendowy tickets" that allow you to explore the country on the weekend on all IC and TLK class trains. With the ticket "weekendowy MAX" you can also use the trains of the classes EIC and EIP (additional payment: 10 zł per ride). For the second class you pay 81 or 164 zł, for the first class you pay 110 or 264 zł.
The tickets are even valid from Friday evening at 7 pm and until Monday morning at 6 am. If Friday or Monday is a public holiday, the validity is even extended by one day. You can get the tickets on the network, at the ticket offices or directly from the conductor (except in EIP trains).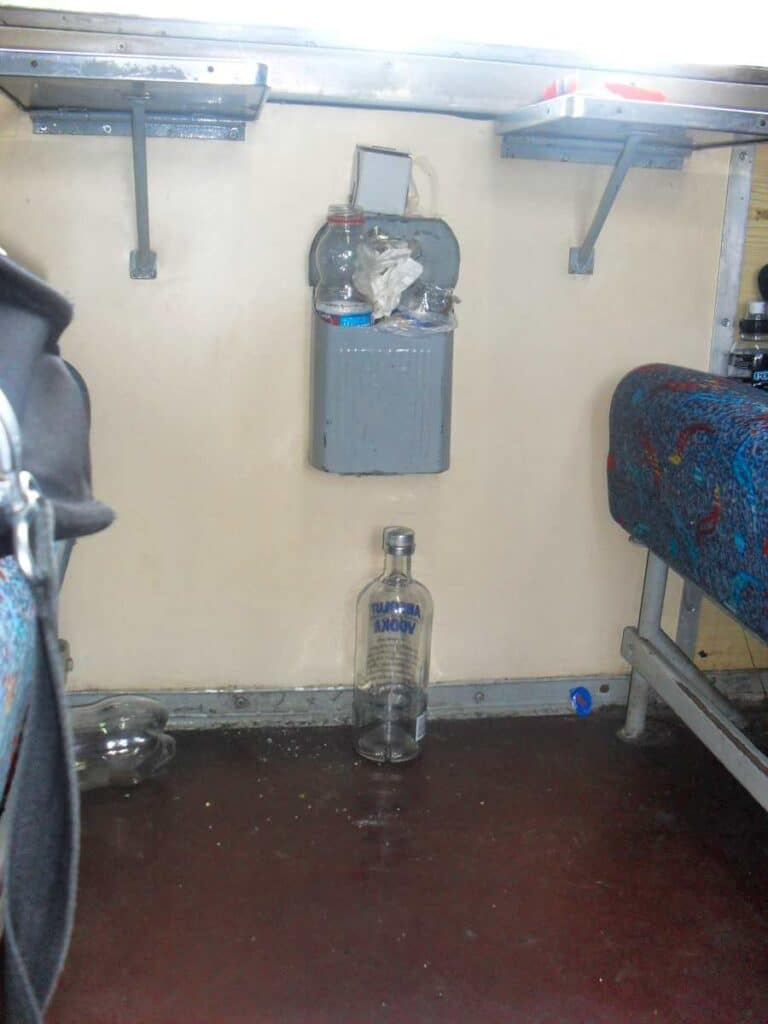 Your train ride
Bought a ticket and boarded the right train? Perfect, then you can start. Didn't you stock up on food and drinks before the trip (attention, no alcohol except on international connections)? If you are travelling by long-distance train, you will usually find a restaurant run by the WARS company. Alternatively, a salesman will walk through the train in a small car and sell sandwiches and drinks. Unfortunately there is nothing to eat on most regional trains.
Toilets
The toilets in Polish trains are very different. Especially in the TLK trains the cleanliness sometimes leaves a lot to be desired. Toilet paper is not always available, and if so, it is more like grey sandpaper. So just be sure to have a few sheets of paper with you. The soap usually consists of foul-smelling white powder. If you have your own soap with you, you have a clear advantage here. Very important: If it is not a closed toilet system, you may only use the toilets outside of closed villages, because your remainings will simply be dumped on the tracks.
Smoking
By the way, smoking is prohibited on all trains nowadays in Poland. Occasionally the conductor will turn a blind eye when you smoke in the toilet. But this is illegal and can lead to a report and a fine.
What do you think? Do you have any other tips about trains in Poland? Write your Polish train tips in the comments!