Azerbaijan is a very diverse country: millennia-old cities, deserted mountain landscapes, restored fire temples, impressive UNESCO World Heritage sites, magnificent Khan palaces, peculiar mud volcanoes, iridescent petroglyphs, and a capital that has both: history and future. It's not easy to find practical information to help you plan your trip. I've been traveling to the mysterious country in the South Caucasus off and on for six years and would like to share with you my very own Azerbaijan travel advice, so that your vacation is guaranteed to be a success!
Azerbaijan Travel Advice – Top Tips
Baku is not called the "City of Beating Winds" for nothing. In the semi-desert city, the desert sand sweeps through the streets now and then. In a country like Azerbaijan, which has nine of eleven existing climate zones, the regional climatic conditions can vary greatly. Therefore, in our tips on travelling to Azerbaijan, we also start with the climate, travel time and weather.
Weather, climate and travel time
Each region has its climatic peculiarities, but the country knows little rainfall. Along the coast the climate is relatively mild all year round. It is more rainy in the warm and humid south around Lənkəran. In the exclave of Naxçıvan, the thermometer can drop to minus 25 degrees in winter and climb to plus 40 degrees in summer. Gəncə and Şəki are two of the coldest regions in Azerbaijan, with an average daily maximum temperature of only 20 degrees.
Touristically interesting are the months of June, August and September. The best time to travel to Lahic with its steppe climate is from May to September. It is not uncommon for the temperature to reach 30 degrees in July. In 2013 the first ski resorts were opened in the Greater and Lesser Caucasus (in Qəbələ and in Qusar). The ideal time to visit Azerbaijan is April to June, before the summer heat sets in with an average of 26–33 degrees and the summer vacations begin. Since Azerbaijanis travel a lot in their own country, it gets crowded everywhere. During the summer months, the water temperature of the Caspian Sea is 21 degrees or more.
The climate at Abşeron and in Baku
The Abşeron Peninsula has a steppe climate. There is a lot of sun, little precipitation, but now and then very strong winds. Baku is not called the "City of Winds" for nothing. On such days, visibility does not clear up because sand from the desert is blown into the city with the wind. The Azerbaijani capital counts an average of 284 sunny days per year and only one or two rainy days per month. From October to March there are rarely more than six rainy days.
Daytime highs are 25 to 30 degrees from June to September, or 35 degrees in recent summers, 5 to 10 degrees from December to March, and something in between in other months. Nighttime lows are 19 to 23 degrees from June to September, 1 to 5 degrees from December to March, and 8 to 15 degrees in other months. In winter, temperatures can drop below freezing, but only at night. Ice and snow are rare, but possible in December, January, February and March.
When to travel to Baku?
The objectively best months with good weather guarantee are May to October. In April, the (European) trees in Baku start to blossom, and there is wonderful photographic weather. From June to August, however, it gets very hot, but stays dry. You should definitely look for a hotel with air conditioning. September and October are ideal months, even if the days are already getting shorter. February is the coldest month of the year. In winter it is dark early and often overcast, but November can still be very beautiful.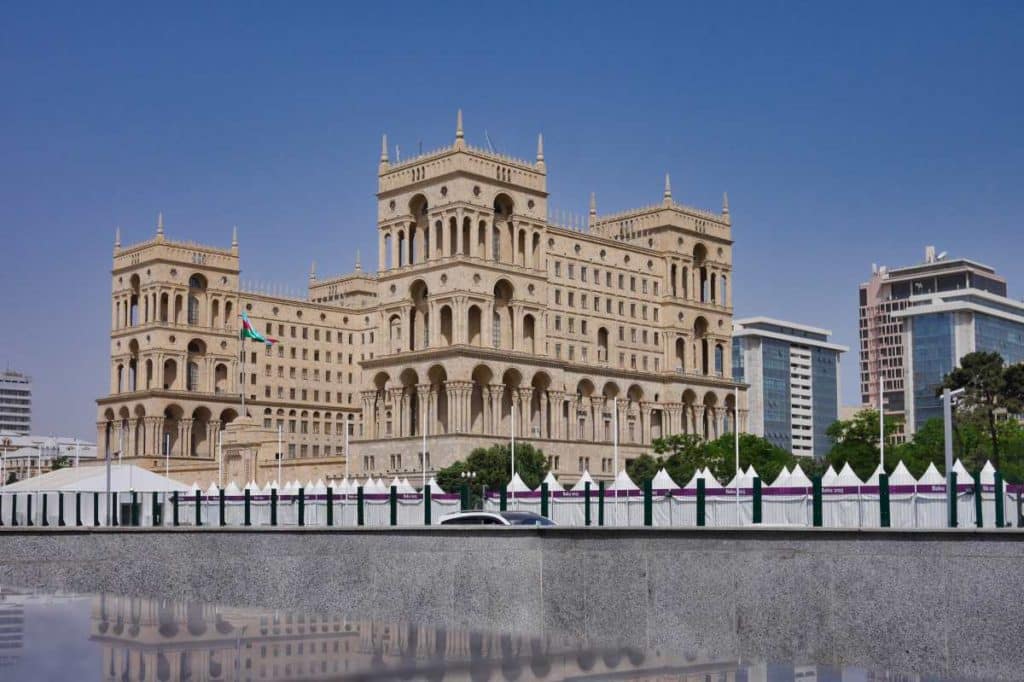 Aserbaidschan Sehenswürdigkeiten
A country as diverse as Azerbaijan offers numerous unforgettable destinations. But some of them are more for connoisseurs. We have summarized more on this page about Azerbaijan. In any case, the following places in Azerbaijan are must-sees:
Baku – The Azerbaijani capital is a feast for architecture fans. In addition to oriental buildings such as the Şirvanşah Palace, the Maiden's Tower and the Juma Mosque, Art Nouveau villas, neo-Gothic palaces, magnificent Soviet buildings and modern glass palaces such as the three Flame Towers will surprise you.
Heydər Əliyev Center – Zaha Hadid designed this spectacular exhibition center in Baku, where the permanent exhibition "Mini Azerbaijan" with miniature buildings from all over the country on a scale of 1:33 is particularly worth seeing.
The Fire Temple of Suraxanı – On the Abşeron Peninsula there is not only a Zoroastrian fire temple, but also a natural gas fire called Yanar Dağ burning since ancient times.
Qobustan – In the Qobustan National Park there are 6000 year old rock paintings, which are not for nothing a UNESCO World Heritage Site. You should also pay a visit to the bubbling mud volcanoes in the area.
Şəki – The 2000-year-old Silk Road town of Şəki boasts the UNESCO-protected Khan Palace and three mystical caravanserais. One of them has been converted into a hotel.
Gəncə – The second largest city in Azerbaijan was once an important trade center. It is an excellent starting point for a trip to the former German settlements of Göygöl, Tovus, Şəmkir and Çınarlı. In Kedabag you can follow in the footsteps of the Siemens brothers.
Lahic – The enchanted mountain village of Lahic lies at an altitude of almost 1400 meters and is surrounded by castle ruins and waterfalls – a wonderful hiking area.
Lənkəran – Nature lovers will find national parks with hiking trails, lagoons with flamingos, untouched steppe landscapes and real primeval forest in the subtropical climate on the Caspian Sea.
Naxçıvan – The breathtakingly beautiful, mountainous enclave is an almost unknown eco-paradise. Between Ararat and Ordubad lie the "Machu Picchu" of Eurasia, the Tomb of Noah and the oldest salt mine in the world.
Nabran – Here, in the most popular seaside resort of the Abşeron Peninsula, a beautiful sandy beach merges with untouched forests. Eco-tourism is coming, hiking is already possible.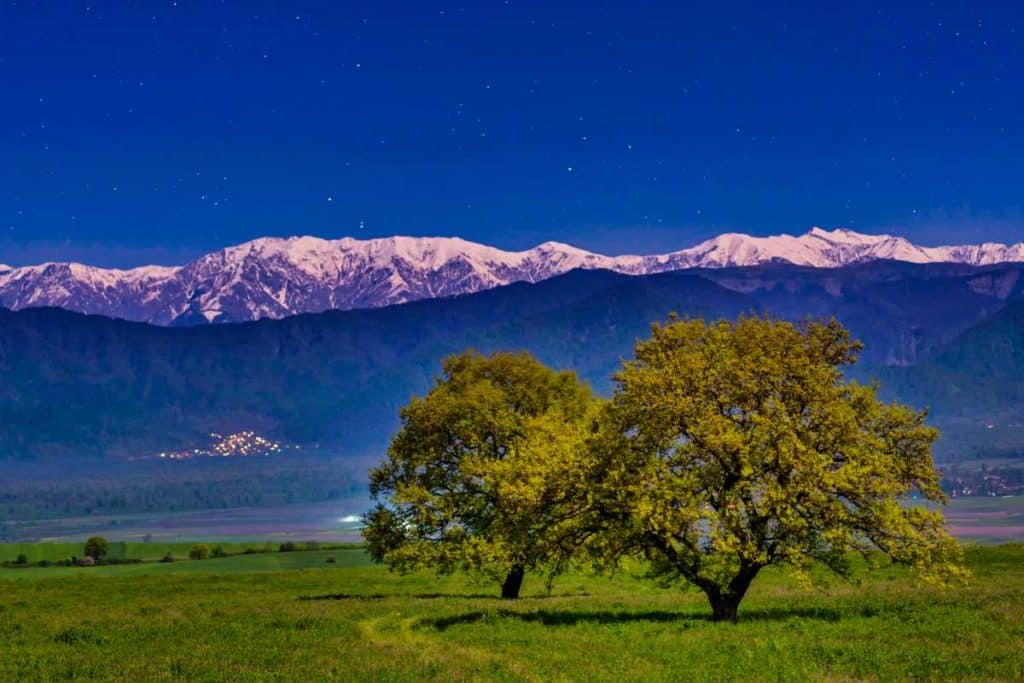 What else there is to see
The places just described represent a top 10 for a trip to Azerbaijan. However, there are many other exciting places that many tourists may not yet have on the screen:
Şıxov Beach – The James Bond film "The World Is Not Enough" was filmed at the gates of Baku. You can even swim to the discarded oil platform.
Zaqatala – 40 kilometers from Zaqatala the largest waterfall in Azerbaijan is located. The steep descent into the rocky gorge is a must for adventurers.
Qəbələ – Around this small town on the Great Caucasus, 150 kilometers from the Iranian border, a world-class ski area is developing, with beautiful resorts and cable cars.
Naftalan – Wellness lovers will find something entirely new here: lukewarm petroleum baths in the renovated Chinar Sanatorium.
Sumqayıt – 30 kilometers outside Baku, the "donkeys", the oil production pumps, can still be seen in action. 14 kilometers to the northwest are the red-and-white striped Candy Mountains, one of Azerbaijan's iconic landscapes.
Entering Azerbaijan
For travelers from most Western countries a passport valid for 3 months after departure is sufficient. Some temporary passports are also accepted.
Visa
Everyone who wants to travel to Azerbaijan needs a visa (E-visa). Tourist visas are valid for 30 days and easy to get online. A copy of the passport must be scanned and paid for by credit card. After three days at the latest, you will receive the visa as a PDF (without photo) and print it out. It must be presented upon entry. An extension of the visa is possible at the Ministry of Foreign Affairs in Baku.
Registration
International visitors must register with the State Migration Service within 72 hours of arrival if they intend to stay in the country for more than 15 days. Those staying with friends or acquaintances must register themselves. Hotels usually take care of this service.
Azerbaijan Arrival – How to get to Azerbaijan
To start your Azerbaijan trip, logically, you must first come to Azerbaijan. Here we will show you what travel options are available.
By plane
The safe and comfortable Azerbaijan Airlines (AZAL), which has been operating since 1992, takes you directly to Baku. Ukraine International Airlines offers flights from several Western cities to Baku (with a stop in Kiev).
Travelling inside Azerbaijan
By car
Driving a cab is still very cheap in Azerbaijan and the best choice for a day trip from Baku. However, if you want to make a round trip or drive inland, it makes sense to take a rental car, preferably with four-wheel drive. The road system is surprisingly good, but speed traps lurk at every corner. In any case, there are plenty of gas stations!
By plane
In recent years, airports have also been built in smaller cities in Azerbaijan. There are direct connections from Baku to Gəncə and to Naxçıvan.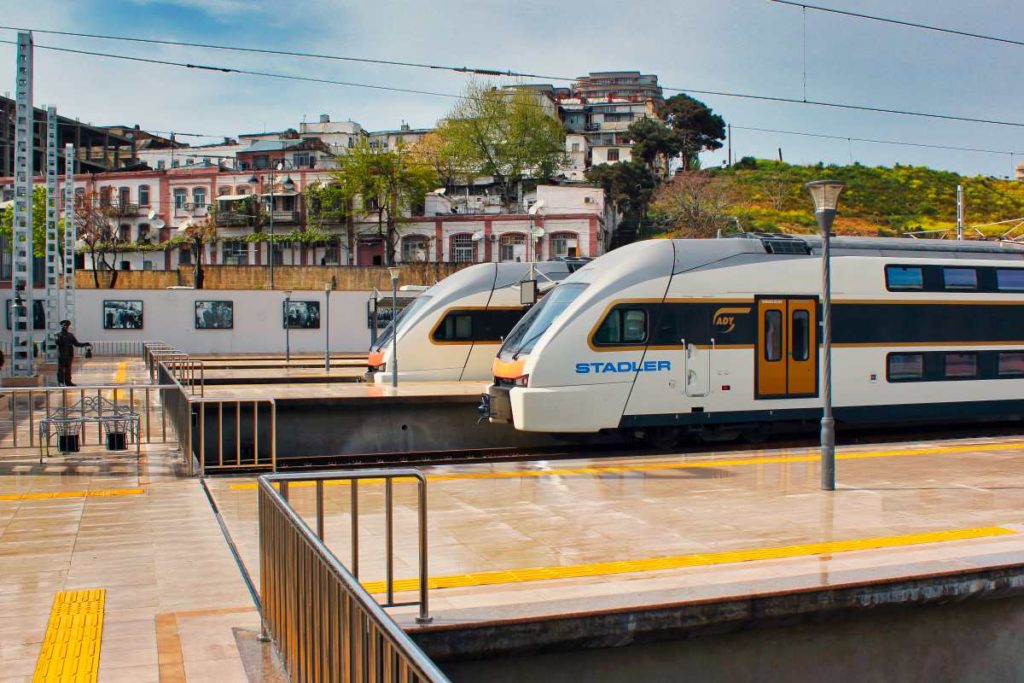 By train or bus
Between Baku and Tbilisi in Georgia, there is a brand new night train that runs through the Caucasus. There are also train connections in the country itself, e.g. from Baku to Gəncə, Şəki and Lənkəran, but the trains usually run only once a day. From the central bus station in Baku, buses go in all directions, also several times a day.
Metro
There is a metro only in the capital Baku. Currently, there are two metro lines. The stations and carriages are similar to those in other cities of the former USSR. The metro is fast and cheap, but in the city center there are only two stations from which you can get to the outskirts of the city. The airport is to be connected in the near future.
Cabs
Cabs operate in all cities. In Baku, there are the aubergine-colored Baklanjan cabs, which are real London cabs. You should not expect to speak foreign languages, but you can get by with Russian.
Azerbaijani food
In Azerbaijan you will surely want to try the local cuisine. This article from Christian Lang, which lists the most important dishes of Azerbaijani cuisine, will help you.
Overnight stay in Azerbaijan
Hotels
The standard of Azerbaijani hotels has improved significantly in recent years. In Baku there are recommendable hotels in every category. For little money you can even stay in the old town. Reviews on sites like Expedia* are helpful.
Eating and drinking in Azerbaijan
Azerbaijani cuisine has much to offer and has also been influenced over time by the regional cuisines of Iran, Turkey and Georgia. These various influences have been combined with ancient traditions and thus evolved. In our article on Azerbaijani food, we have summarized the most delicious dishes for you. By the way, the drinking water should not be drunk in the whole country.
Language
Azerbaijani belongs to the southwestern Turkic languages and is closely related to Turkish. It sounds relatively foreign to our ears, yet it is useful to learn at least some phrases in Azerbaijani, the people here are very happy when foreigners learn their language!
| | | |
| --- | --- | --- |
| English | Azerbaijani | Russian |
| Hi! | Salam! | Privyet! |
| Hello! | Salam! | Dobry dyen! |
| Bye Bye | Hələlik! | Do Swidanje! |
| My name is … | Mənim adım … | Menja zawut … |
| Thank You | Sag ol | Spassiba |
| You are welcome / Please | Buyur | Pa sha loozta |
| Yes | bəli | Da |
| No | xeyr | Nyet |
| Excuse me | Bağışlıyın! | Iz-vee-nee-tye |
| Cheers | Saglığına | Na Zdarowje |
| Help | Kömək edin | Pomosh |
| I do not speak Azerbaijani. | Mən azərbaycanca danışa bilmirəm. | Ja (ne) gawarju pa russkje |
Russian is also common, so if you speak this language, you will also get ahead in many places. More and more young people speak English as well.
You want to learn more Azerbaijani? Then we recommend you this book.
Security
Azerbaijan is a very safe country. In Baku you see a lot of police in the cityscape. Even in the dark, you can feel safe. The crime rate is even lower than in many European cities of this size. As a visitor, you should always carry your passport and visa. Provocative clothing is not welcome.
Emergency numbers
Should something happen, you can call the emergency numbers. Often someone on the end of the line speaks English:
Fire Brigade: Tel. 101
Police: Tel. 102
Ambulance: Tel. 103
Lost and Found: Tel. 5909191
Ministry of Tourism Information Center: Tel. 147
Electricity
The mains voltage is 220 V. With a European plug, you can plug any electrical appliance into one of the type C and F sockets used in Azerbaijan. As far as mains voltage and sockets are concerned, there are no differences compared to Western countries.
Health
In Baku there are English and even German speaking doctors. The hospitals are modern, but often do not meet European standards. Outside Baku, the standard is lower.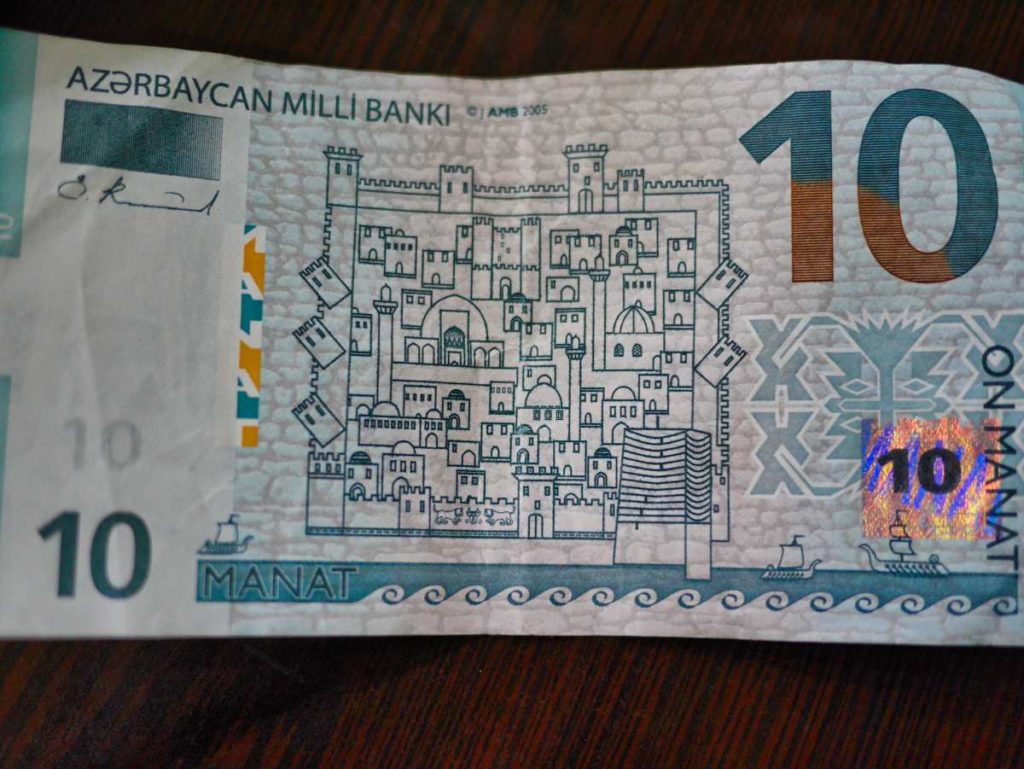 Money
The official currency in Azerbaijan since 1992 is the Azərbaycan Manatı. The Manatı is legal tender and must be accepted everywhere.
Withdrawing money in Azerbaijan
You can find ATMs in almost all cities in Azerbaijan. It is important that when withdrawing and paying you do not select the conversion in euros or dollars, but in the local currency, otherwise it will be expensive. You can use your EC card (Maestro) and/or credit card to withdraw Manat. Credit cards are not always accepted. The most common is the Visa card.
Telephone and Internet
WiFi is available in almost every café, hotel or restaurant in larger cities. However, you will be asked to enter your cell phone number and also click on the flag of the country where the provider is located. A few seconds later you will receive a password via SMS. Normally, you search for the network "Baktelekom", for example, and open the browser. After entering the SMS password, the WLAN is activated.
Book recommendations
Everything you need to know about Azerbaijan's troubled past, presented in a nutshell.
You want to know more about Azerbaijan's culture? Than this book is the right choice!
Classical travel guide, that also covers Armenia and Georgia.
To prepare your trip, it is best to learn a few words in Azerbaijani. This book is great for beginners!
This compendium should probably contain pretty much all the dishes that exist in Azerbaijani cuisine. Wonderfully designed and over 800 pages strong!
Portrait of Azerbaijan, presenting the country in all its facets.
What other Azerbaijan travel advice is important to you? Have you been here before? Let us know and write us a comment! And make sure to follow us on Facebook for more articles.