In this article we want to show you when you should go on vacation in Azerbaijan and tell you the best time to visit Azerbaijan. Our Azerbaijan expert Heike Maria Johenning has written many more Azerbaijan articles for you. If you click here, you will get directly to the most beautiful Azerbaijan sights. And here we give you many practical travel tips for a relaxing vacation in Azerbaijan. But now let's get started and we will introduce you to the best time to travel in Azerbaijan.
The climate zones
Of the eleven climatic zones existing in the world, Azerbaijan has a whole nine. Each region has its climatic peculiarities, but the country knows little precipitation. Along the coast, the climate is relatively mild throughout the year. It is more rainy in the warm and humid south around Lənkəran. In the Naxçıvan enclave, the thermometer can drop to minus 25 degrees in winter and climb to plus 40 degrees in summer. Gəncə and Şəki are two of the coldest regions in Azerbaijan, with an average daily maximum temperature of only 20 degrees.
The best time to visit Azerbaijan
Touristically interesting here are the months of June, August and September. The best time to travel to Lahic with its steppe climate is from May to September. Thereby 30° Celsius in July are not uncommon.
The best time to travel in summer and winter
In 2013 the first ski resorts were opened in the Greater and Lesser Caucasus (in Qəbələ and in Qusar). The ideal time to travel to Azerbaijan is April to June, before the summer heat sets in with an average of 26 – 33° Celsius and the summer vacations begin. Since Azerbaijanis travel a lot in their own country, it gets crowded everywhere. During the summer months, the water temperature of the Caspian Sea is 21 degrees or more.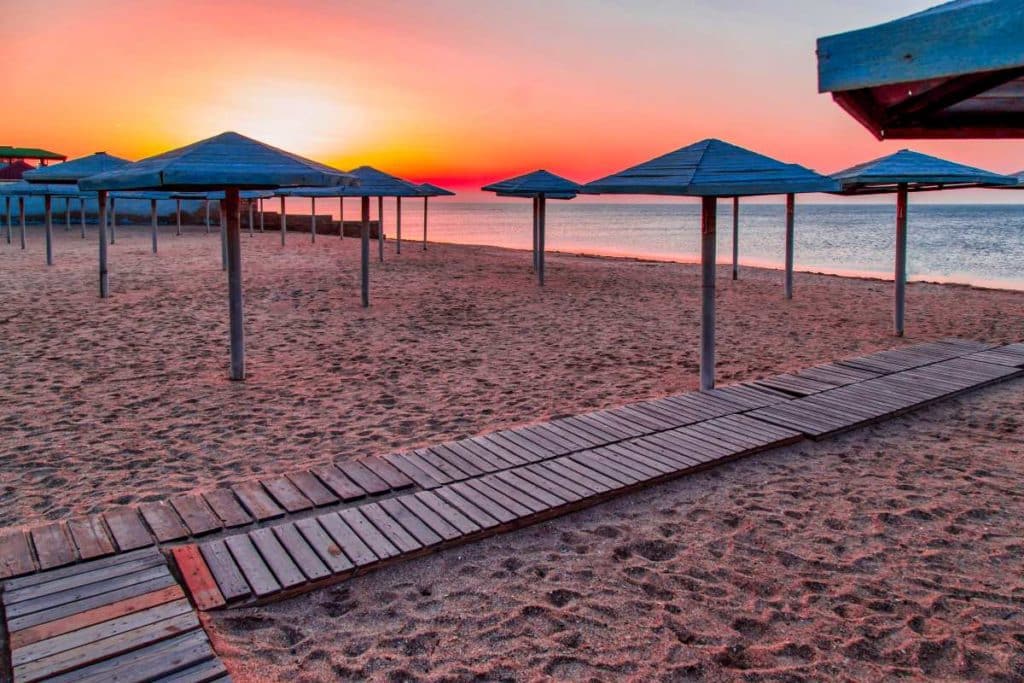 Abşeron with Baku – the climate in the most popular region
The Abşeron Peninsula has a temperate steppe climate. There is a lot of sun, little precipitation, but now and then very strong winds. Baku is not called the "City of Winds" for nothing. On some days, visibility does not clear up because sand from the desert is blown into the city with the wind. The Azerbaijani capital counts an average of 284 sunny days per year and only one or two rainy days per month. From October to March there are rarely more than six rainy days.
Daytime highs are 25 to 30 degrees from June to September, or 35 degrees in recent summers, 5 to 10 degrees from December to March, and something in between in other months. Nighttime lows are 19 to 23 degrees from June to September, 1 to 5 degrees from December to March, and 8 to 15 degrees in other months. In winter, temperatures can drop below freezing, but only at night. Ice and snow are rare, but possible in December, January, February and March.
The objectively best months with good weather guarantee are May to October. In April, the European trees in Baku begin to blossom, and there is wonderful photographic weather. From June to August it gets very hot, but it is dry. You should definitely look for a hotel with air conditioning.
September and October are ideal months, even if the days are already getting shorter. February is the coldest month of the year. In winter it is dark early and the sky is often overcast, but November can still be very beautiful.
You want more tips for your vacation in Azerbaijan? Then just click here.
Book recommendations
Everything you need to know about Azerbaijan's history.
You want to know more about Azerbaijan's culture? Than this book is the right choice!
Classical travel guide, that also covers Armenia and Georgia.
To prepare your trip, it is best to learn a few words in Azerbaijani. This book is great for beginners!
Interested in Azerbaijani cuisin? Then check out this book!
Portrait of Azerbaijan, presenting the country in all its facets.
What is the best time for you to go on vacation in Azerbaijan? Let us know and write us a comment! And make sure to follow us on Facebook or Pinterest for more articles about Azerbaijan!