Carpet weaving is still the most important national handicraft of Azerbaijan. In the specialist literature it is assumed that the birthplace of carpet art is in the Caucasus. This has not yet been proven, as only a few examples from the 17th century have been preserved. Some written evidence dates the beginnings to 450 B.C. Since 2010, carpet weaving has been an immaterial UNESCO World Heritage. Carpets were Azerbaijan's main source of income before oil. In the cultures of the Orient, undreamt-of magical powers (Flying Carpets) are attributed to them, but not only there …
Carpet Designs
The quality of a carpet is determined by the number of knots, which can vary from 160,000 to 400,000. Depending on the manufacturing technique, carpets are divided into two different groups: woven and knotted.
One of the most popular designs on oriental carpets is "Buta". This is a curved almond design with a bent tip, which in all likelihood comes from the cypress tree. In Europe, it gave rise to the kidney-shaped design of the Paisley Pattern. The shape is often interpreted as a flame or palm leaf and associated with the fire cult of the followers of Zarathustra.
The diamond-shaped cross with hooks on all four sides is also a recurring motif associated with fertility and wealth.
In the 14th and 15th centuries, the dragon theme appeared on carpets for the first time. It is an expression of the expansion of trade relations between China and East Asia. A distinctive feature of Azerbaijan's textile products is a widespread use of gold and silver threads in silk weaving, as well as in carpet making, beginning in the 17th century. In Russia and Europe these high quality products were very popular, especially at court and among the clergy. Some Renaissance painters immortalized these "courtly" carpets in their paintings.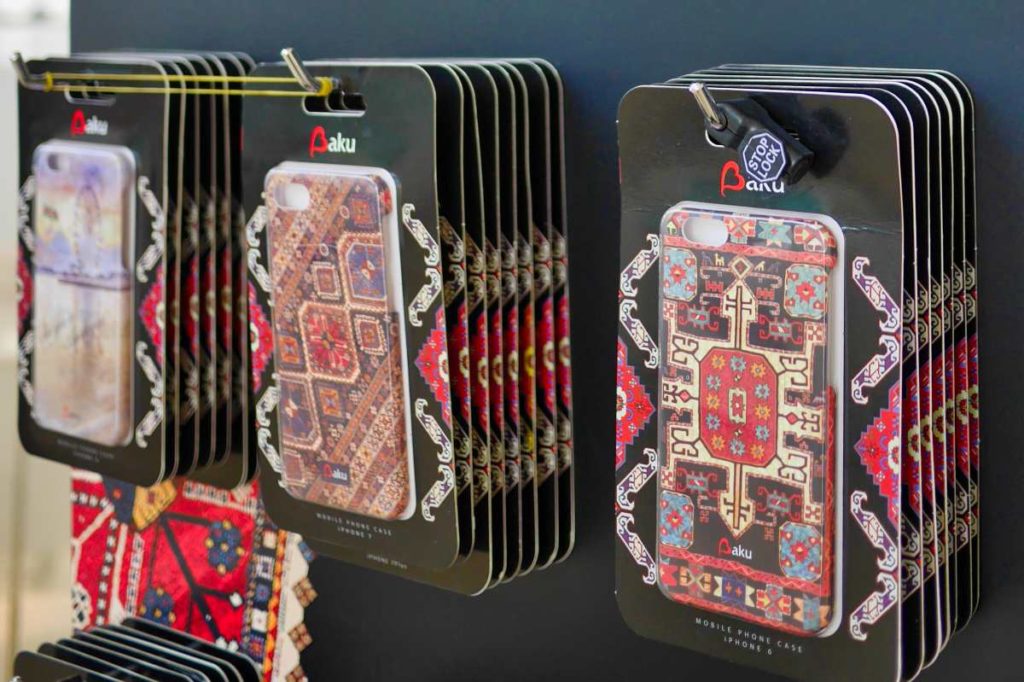 Further Processing and Sale
Finished woven carpets have always been laid out on the street, trodden into shape and washed before being sold. One of the ways you can tell the quality of a carpet is that it unrolls by itself when you roll it up. Traditionally, carpets were not laid on floors, but hung on walls as insulation.
Lətif Kərimov
Es ist dem 1906 geborenen und 1991 verstorbenen Teppichweber, Wissenschaftler, Künstler und Buchautor Lətif Kərimov zu verdanken, dass die Teppichkunst Aserbaidschans wissenschaftlich erfasst und somit nachfolgenden Generationen erschlossen werden konnte. Als Mitglied der Akademie der Wissenschaften der UdSSR verfasste er eine Enzyklopädie mit allen aserbaidschanischen Teppichknüpftechniken, Farben und Ornamenten, die sich je nach Region voneinander unterscheiden. Kərimov gründete 1967 in Baku das weltweit erste Teppichmuseum. Der umfangreiche Bestand mit über 10.000 Teppichen aus mehreren Jahrhunderten war zunächst in der Juma-Moschee in der Altstadt und nach 1992 im Museumszentrum, einem neoklassizistischen Prachtbau am Bulwar (der Uferstraße am Kaspischen Meer), zu bewundern. Seit 2014 befindet sich diese einzigartige Sammlung in einem futuristischen neuen Museum am anderen Ende des Bulwar.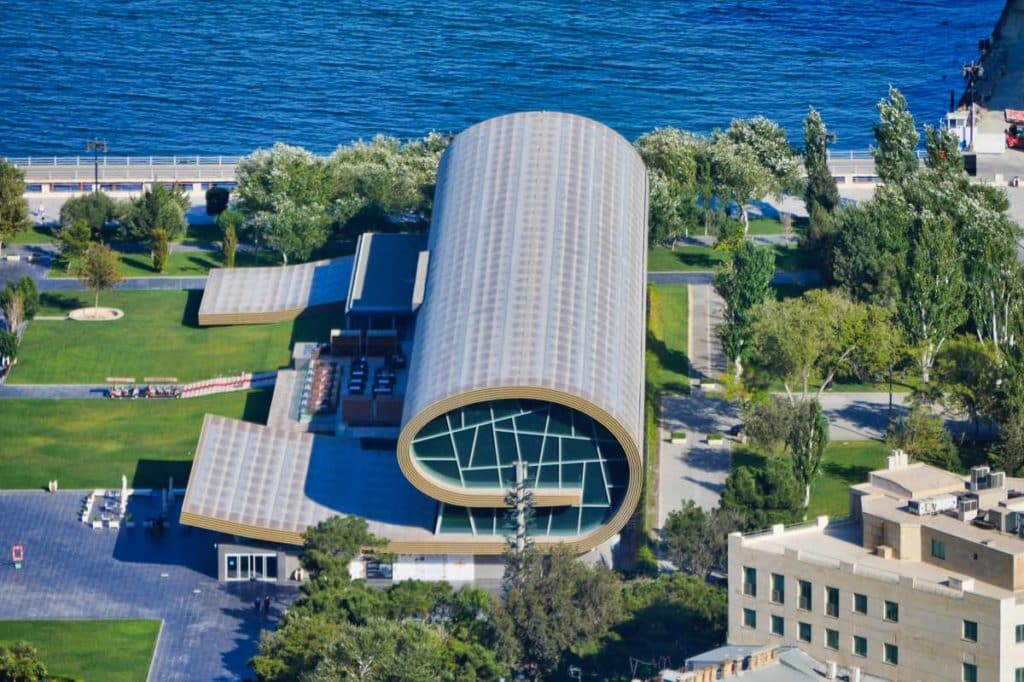 The Carpet Museum in Baku
Austrian architect Franz Janz designed an elongated corpus in the form of three carpets rolled up one on top of the other with white aluminum cladding adorned with a planar pattern of octagonal golden stars. Gold here, as in the national emblem, symbolizes the golden future of the country. The space created on the sides of the carpet is glazed on both sides and allows enough light into the interior.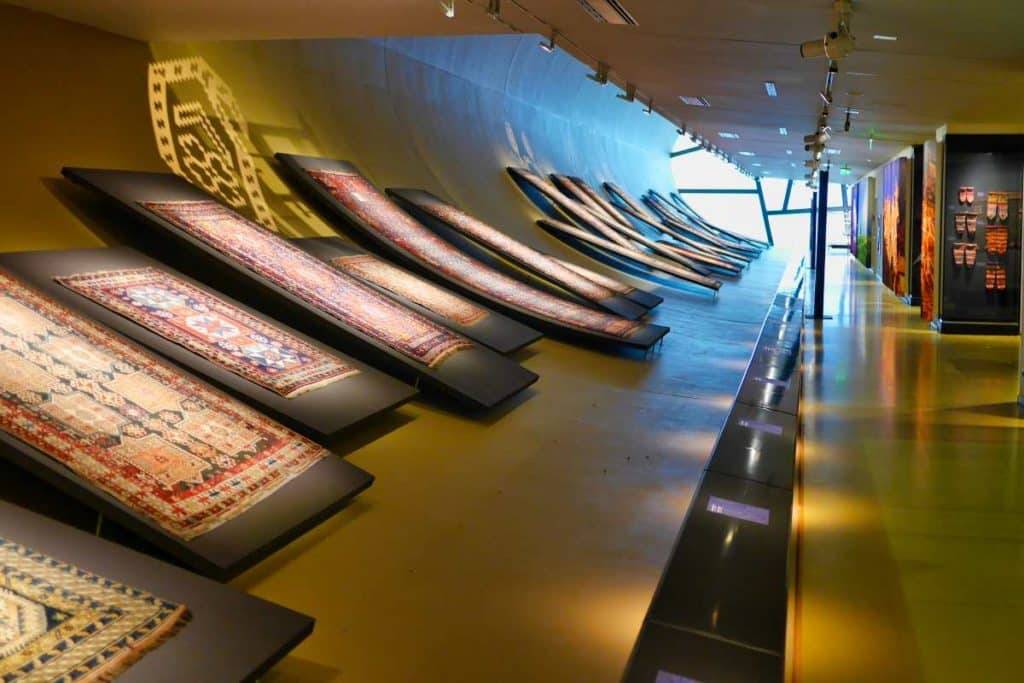 The exhibits were hung or laid at an angle according to the specifications of the Royal Victoria and Albert Museum in London so that the precious carpets remain well preserved. The museum, which is equipped with state-of-the-art technology, includes a research center. With touch screens in English, you can learn everything about the manufacture and origin of the carpets. Also on display are the so-called garden carpets or carpet gardens with ponds, trees, watercourses, flowerbeds and swans depicted in the center. This art was developed in Persia at the beginning of the 6th century. The most impressive example was a 600-square-meter legendary carpet called "The Spring of Chosrau," which was intended to make the winter months more bearable for the then Persian Great King Chosrau of the Sassanid dynasty. He took walks on it.
In the 20th century, human figures or portraits were also woven into carpets to order, thus establishing a new genre. In this context, it is worth mentioning the three examples in the Carpet Museum, which are part of a tryptich and depict the Maiden's Tower, an oil pipeline and the Atəşgah fire temple. Three paintings by Baku-born artist Tahir Salahov, who celebrates his homeland, the Land of Fire, with this cycle, served as models.
The "Carpet Whisperer" Faig Ahmed
If you think carpets are an outdated art form, you haven't seen the surreal, shape-shattering, pixelated weavings of the best-known contemporary Azerbaijani carpet artist Faig Ahmed. Now represented with his artworks in museums on all five continents, the visual artist from Baku was born in 1982 and is currently revolutionizing the Oriental carpet. He draws inspiration from Sufi aesthetics, defies gravity and designs 3D carpets.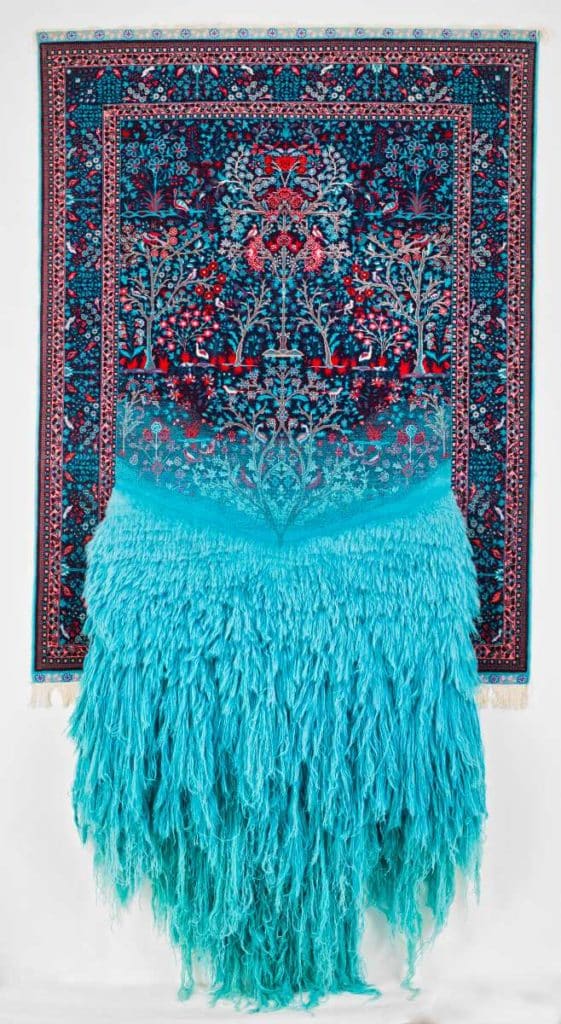 Ahmed sees them as a passe-partout to connect past and future, tradition and modernity. He integrates visual distortions, woven oil traces or prisms rising from the texture into his carpets. Mostly traditional ornamentation melts away in all directions, he works with optical illusions and designs his creations on the computer. His latest coup is called "Doubts." This is a tapestry that de facto flows onto the floor, changing pattern and shape. His design, "Speech of the Birds," with its sky-blue color, unusual for rugs, features filigree trees with birds and flows into a giant tuft of wool at the bottom. Some of his fabulous artwork is also on display at the Carpet Museum. More info on the artist can be found here.
Do Flying Carpets Really Exist?
Faig Ahmed's carpets can do many things, but they do not fly. In general, the oriental carpet that floats through the air belongs to the kind of supernatural flying machines that are associated primarily in Europe with oriental fairy tales. The Flying Carpet is considered a symbol of the journey around the world, and in literature it has existed since biblical times. In the tales of the Thousand and One Nights some Flying Carpets appear.
In the story "Aladdin and the Magic Lamp," only a bed flies. Similarly, in the movie "The Adventures of Prince Ahmed," although a magic carpet is a universal means of transportation, it cannot fly, but is teleported. And yet the Flying Carpet also appears in other literary contexts and cultures, for example in the Russian saga "Baba Yaga," in "Asterix in the Orient," or in Mark Twain's story "Captain Stormfield's Visit to Heaven".
In Persian mythology, King Solomon possessed a magical knotwork given to him by the Queen of Sheba, which provided an imperial view from above. The silk carpet held his entire palace. Thus, Solomon was able to fly off in Syria in the morning and land in Afghanistan in the evening. However, it was primarily Hollywood in the 1920s that contributed to the spread of the myth of the supernatural means of transport that points the way to an unreachable heavenly castle. Since then, the Oriental carpet whirling through the air has been anchored in cognitive memory and, as a symbol of oriental-romanticizing superpowers, leads a life of its own in our imagination.
How did you like our article about Flying Carpets? Let us know and write us a comment!
Book recommendations
Everything you need to know about Azerbaijan's troubled past, presented in a nutshell.
You want to know more about Azerbaijan's culture? Than this book is the right choice!
Classical travel guide, that also covers Armenia and Georgia.
To prepare your trip, it is best to learn a few words in Azerbaijani. This book is great for beginners!
This compendium should probably contain pretty much all the dishes that exist in Azerbaijani cuisine. Wonderfully designed and over 800 pages strong!
Portrait of Azerbaijan, presenting the country in all its facets.