The capital of the Lesser Poland Region (Małopolska) is considered the most beautiful of the country and is made for a short vacation. In the following article we will give you the most important Krakow tips, so that you can spend a nice and above all relaxing vacation in the cultural capital of Poland. In another article we have compiled the most important sights of Krakow for you and if you click here, you will be taken directly to a list of the most beautiful excursion destinations in the region.
Visiting Krakow – Climate and weather
In Poland it can be colder than elsewhere, but Krakow is located in the south of the country and there is hardly any climatic difference to the east of Germany. The city is located in a zone that forms the transition from the continental climate and the climate of Western Europe, which is influenced by the Atlantic Ocean. In summer it rarely gets really hot. Winters can be chilly, but temperatures below -10 ° Celsius are rather the exception.
Krakow – the best time to travel
Apart from the cool winter months, you will always feel comfortable in Krakow. No matter what the weather is like, there is always something to discover. In summer you can relax on the banks of the Vistula River, while in winter you can explore the wonderful Christmas markets, beautifully decorated streets and alleys, and exciting museums.
Avoid All Saints' Day on November 1, when almost all of Poland is on its feet to visit the graves of deceased relatives, and traffic is almost unbearable. A visit is also not recommended at Easter, when most restaurants and stores close for several days and many museums are not open. Many stores and restaurants also close between the years.
Important Krakow events
In June, Krakow hosts the City Festival, during which a large dragon parade is held to commemorate the dragon that is said to be at mischief in a cave below the Wawel. The finale is a colorful fireworks display.
June is a good month to visit Krakow, because that's when the Jewish Cultural Festival is held. In Kazimierz you can learn all about Jewish traditions and customs, listen to Jewish music and taste Jewish-Polish food.
Poland is perhaps the most important country in Europe when it comes to jazz music. Krakow has a special status here. There are several festivals every year, I recommend the Summer Jazz Festival. It lasts several weeks, concerts are held every day in different places.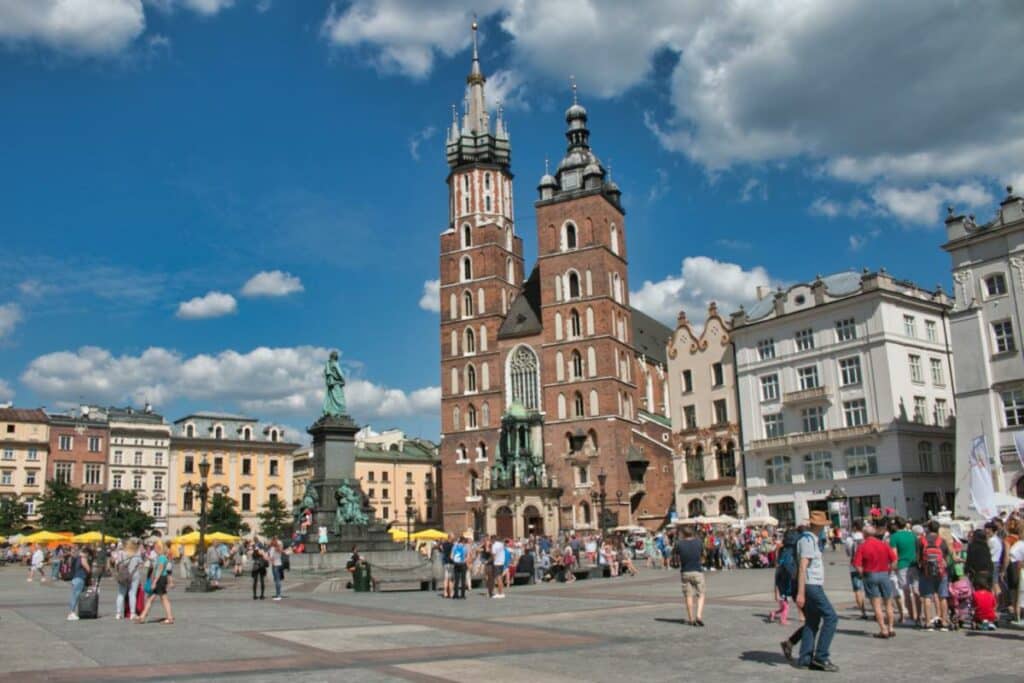 Attractions in Krakow
Rynok square: Europe's largest market square with historic buildings throughout
St. Mary's Church: one of the most important churches in Poland with the famous altar by Veit Stoß
Wawel: legendary castle above the Old Town, which was the seat of Polish kings for centuries
Kazimierz: Jewish quarter in the south of the city with numerous historic synagogues
Nowa Huta: socialist planned city outside the center, which is a top sight especially for architecture fans
Planty: green belt that surrounds the old town and invites to hours of walking
Modernist architecture: west of the center there is a real treasure trove for fans of socialist architecture
Kleparz: cozy neighborhood where you can escape the tourist hustle and bustle of the old town
Schindler's factory: Here Oskar Schindler saved the lives of many Jews, today the factory houses an impressive museum.
Płażów Concentration Camp: former Nazi concentration camp, mandatory program for every visitor.
You can find more about Krakow sights in our article Attractions in Krakow – Top 10 Most Beautiful Places.
Krakow Arrival
Airplane
Krakow Airport is named after Pope John Paul II and is located about ten kilometers west of the city and is the second largest in the country. There are numerous connections to other European cities, and low-cost airlines also fly to Krakow. You can reach the center from the airport either by train (Koleje Małopolskie), bus (line 208, 209, 252 and at night 902) or by cab.
Train
Krakow's train station was extensively modernized a few years ago and a shopping center was added. Unfortunately, the connections to Germany are not good, for example, if you come from Berlin, you have to expect over eight hours of travel time and change trains in Poznan. From Dresden it takes ten hours and you have to change trains at least twice (in Berlin and Poznan). If you are coming from Munich, it will take you 13 hours and you will have to change trains in Vienna and Katowice. From Vienna (via Katowice) you need about eight hours. So the plane is certainly the better choice. Travelling from Prague or Lviv is a little better, the connections to other cities in Poland aren't bad either.
Bus
The central bus station is located in the immediate vicinity of the main train station. There are several daily connections from Western Europe and to other Polish cities, for example with Flixbus*, Sindbad or Eurolines. Travel times by bus are comparable to those of trains, but usually much cheaper – so a sensible alternative.
Car
Die Anfahrt mit dem Auto ist schnell und unkompliziert. Ab der deutschen Grenze (hinter Cottbus) geht es durchgehend über Schlesien auf der A4 Richtung Krakau. Ab der Grenze seid ihr vier bis fünf Stunden unterwegs. Auf der A4 wird ab Kattowitz eine Maut erhoben. Die Kosten halten sich in Grenzen und können auf der Website der Betreibergesellschaft eingesehen werden.
The parking situation is not very good, so you should always ask your accommodation if there is a parking space. Also the traffic jams can be quite annoying. So think carefully if you want to drive to the center by car. A good and safe parking garage is located directly at the Wawel, from here you are already in ten minutes on the market square.
Getting around Krakow
Public transport
Public transport is organized by the operating company MPK Kraków. There are almost 30 streetcar lines in the city, with which you can explore the center and the outskirts. There are also countless buses at your disposal.
Tickets
You can get tickets (bilety) almost everywhere – at vending machines, kiosks, post offices and machines in the vehicles. The tickets are cheap, the price depends on the duration. There are tickets for 20, 50 and 90 minutes, 24, 48 and 72 hours or for a whole week. With the tickets you can change trains as often as you want within the validity period and use all means of transport. The price of the tickets depends not only on the time, but also on the fare zones. The most important sights are all in zone I or II. You can find a detailed price table here.
Polish language
Polish belongs to the family of West Slavic languages. So if you know Czech, you will understand a few words of Polish. Even if you know a few words of Russian, it will help you. Polish is not an easy language to learn, so the Poles will be even happier if you make an effort and learn a few words:
| | | |
| --- | --- | --- |
| English | Polish | Pronounciation |
| Hi! | Cześć | Tsheshtsh |
| Hello! | Dzień dobry | Dshin dobre |
| Good Morning! | Dzień dobry | Dshin dobre |
| Good evening! | Dobry wieczór | Dobry vjetshur |
| Thank You | Dziękuję | Dshenkuje |
| Please | Proszę | Proshe |
| How are You? | Jak się masz? | Jak she mash? |
| Nice to meet You | Miło cię poznać | Miou tshe posnatsh |
| Excuse me | Przepraszam | Psheprasham |
| Yes | Tak | Tak |
| No | Nie | Nje |
| I (don't) understand | (Nie) rozumiem | (Nje) rosumjem |
By the way, you will get along fine with English, young Krakowers all learn the language at school.
No products found.
Dining in Krakow
Of course, our Krakow tips should not be without food tips! Polish cuisine is quite hearty. Some of the same dishes have been cooked for centuries, especially the rural tradition of the country is reflected in the local cuisine. There is generally a lot of meat on the table, but cabbage and cereals are also important ingredients of Polish cuisine.
The main local dishes
Bigos – stew with sauerkraut, mushrooms and meat
Pierogi – filled dumplings, which are available either sweet or salty.
Barszcz Czerwony – originally from Ukraine, beetroot soup.
Żurek – sour flour soup with egg
Gołąbki – literally "doves", cabbage rolls with meat filling
Oscypek – tasty hard cheese made from sheep's milk, popular throughout the south and often eaten with cranberry jam.
Where to eat in Krakow?
Bar Mleczny Pod Temidą, Grodzka 43. Milk bars are cult in Poland! Here you can get many classics of Polish cuisine for little money. What exactly is a milk bar, learn in our article on this topic.
Browar Lubicz, ul. Lubicz 17. Cool micro-brewery near the train station. Here you can find not only good beer, but also delicious pierogi!
Ariel, ul. Szeroka 18. In the district of Kazimierz, you can taste classics of Jewish cuisine in a wonderful ambience.
Jama Michalika, ul. Floriańska 45. One of the most beautiful cafés/pubs in Poland. The food, the decor – everything fits here.
Krakow accommodations
Finding accommodation in Krakow is not difficult. There are thousands of hotel beds for every budget. For a middle class hotel you often don't have to pay more than 40 euros per night, in a hostel you will have to pay about 10 euros per bed in a dormitory. However, you should book early, especially in summer and early May, many accommodations are fully booked.
Where to stay in Krakow?
Hotel Stary*, ul. Szczepańska 5. Here you feel like in a museum! The historical interior convinced me as well as the Sky Bar.
Pod Różą*, ul. Floriańska 14. The centrally located hotel is the oldest in the city and has lost none of its charm to this day.
Flamingo Hostel*, ul. Szewska 4. Näher am Marktplatz als hier könnt ihr kaum übernachten. You can hardly stay closer to the market square than here. There are rooms in different categories, which do not need to hide from a hotel.
Security
Don't worry, Krakow is a safe city. You don't have to be afraid of muggings, but it's best to carry your valuables as close to your body as possible on the bus and in the streetcar. In the evening, some streets in Nowa Huta may seem a bit unsafe, but even here it is rarely dangerous. Caution is advised, however, at soccer matches. The two local clubs, Wisła and Cracovia, are considered enemies.
Emergency numbers
Police: 997
General Emergency Call: 112/911
Fire department: 998
Card blocking: 116 116
Health
The health care system in Krakow is on a European level. As an EU citizen, you are automatically insured in Poland, so you can go to a hospital in Krakow in case of emergency. It may be that you have to pay for the treatment in advance. However, you can have the amount reimbursed by your health insurance at home. The waiting times in public hospitals and doctors are often long, so many people go to private hospitals or private doctors, which are more expensive. Pharmacies can be found on every corner, many medicines are also available in supermarkets and kiosks.
Money
ATMs are a dime a dozen in Krakow. It is important that when withdrawing money you do not choose the conversion to euros, but to the local currency, the złoty. Otherwise, the bank will use an allegedly guaranteed rate, which is always much worse than the actual rate.
You can also exchange money in an exchange office (kantor). Here a comparison is worthwhile, often there are several exchange offices in tourist places. There are always two exchange rates, depending on the exchange direction, the worse one is always valid. Some bureaux de change also charge a commission, it is best to ask beforehand.
Card payments are widespread and you can also use your smartphone to pay everywhere without any problems.
Telephone and Internet
With a European sim card, you can make calls, surf the Internet and send texts in Krakow for the same price as at home. Network coverage is excellent throughout the city. If you run out of data, you can use the many Wi-Fi networks available in the city. Almost all hotels, restaurants and cafés now offer Wi-Fi. The city is also expanding its urban Wi-Fi network.
Do you have any other Krakow tips or would you like to receive more information about visiting Krakow? Feel free to write it in the comments!