Poland's capital is modern and has an excellent infrastructure. Nevertheless, it is important to consider some things before visiting Warsaw so that nothing stands in the way of a relaxing city trip to the Vistula.
These things you should know before visiting Warsaw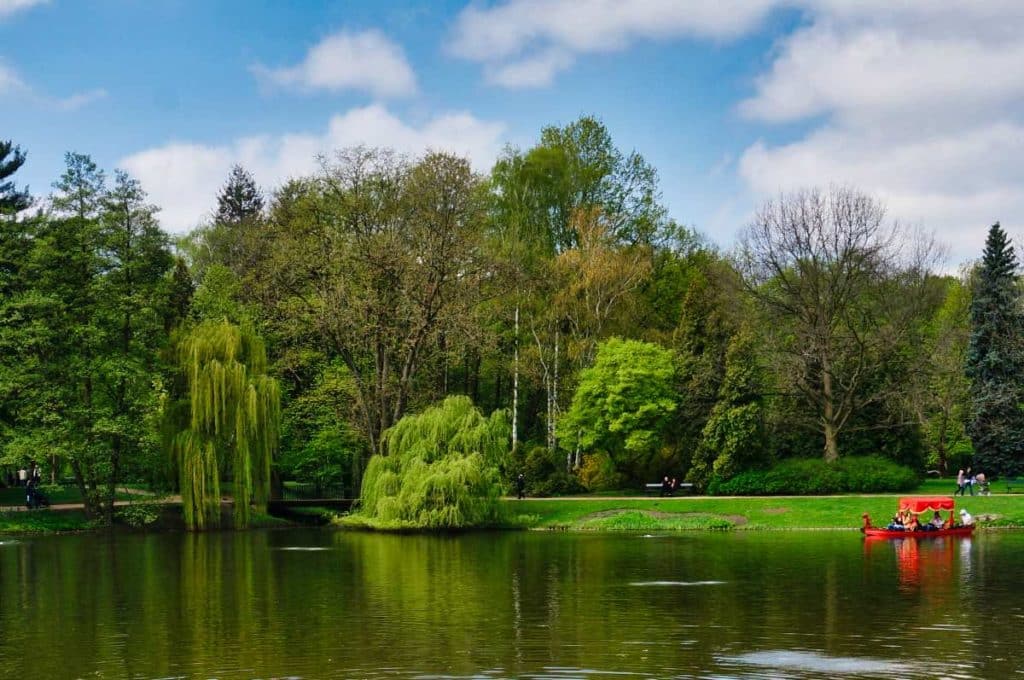 Warsaw – climate and weather
The climate in Warsaw hardly differs from that in the north or east of Germany. The city is located in a zone that forms the transition from the continental climate and the climate of Western Europe, which is influenced by the Atlantic Ocean. This means that in summer it can be even warmer here than in Central Europe, but in winter it can be much colder. But don't worry: except for the period between December and February, temperatures rarely drop below -10 degrees Celsius. Then it can also snow more heavily from time to time.
Warsaw – the best time to travel
Apart from the cold winter months, you will always feel comfortable in Warsaw. No matter what the weather is like, there is always something to discover. In the summer you can relax on the banks of the Vistula, while in the winter you will find the wonderful Christmas markets, beautifully decorated streets and many ice skating rinks.
However, early May would not be a good time, as two Polish holidays (May 1 and 3) follow each other and many Poles make a trip to the capital. You should also avoid Warsaw on All Saints' Day (1.11.). Then almost all of Poland is on its feet to visit the graves of deceased relatives, and the traffic is almost unbearable.
Important Warsaw Events
It is mainly music festivals that always attract many visitors to Warsaw. Among the most important Warsaw events are the Chopin concerts in the famous Łazienki Park, which take place every Sunday between May and September.
Poland has a decades-long jazz tradition. Therefore, there are several jazz festivals in Warsaw. The most beautiful jazz festival in Warsaw is Jazz in the Old Town. In July and August, concerts of famous national and international jazz musicians take place in the Market Square.
Warsaw also has its own film festival. It is held in the Palace of Culture, among other places, and shows mainly sophisticated films, with many accompanying events.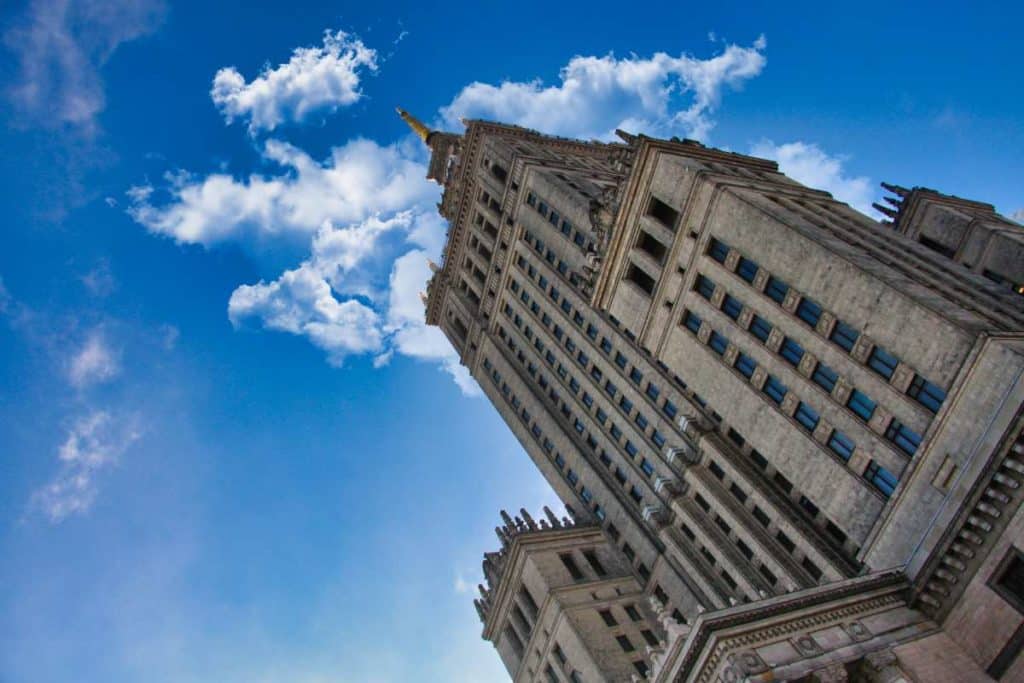 Warsaw sights to see
Royal path – Krakowskie Przedmieście and Nowy Świat streets are the most magnificent in the country
Royal Castle – the people of Warsaw are particularly proud of the castle, which was rebuilt from donated funds.
Market Square – at the beautifully reconstructed Warsaw Old Town Market beats the heart of the city
Mariensztat – the cozy old town district is still a real Warsaw insider tip
Palace of Culture – the tallest building in Poland is one of the most iconic buildings of the socialist past
Vistula shore – in recent years there are more and more beach clubs and beautiful walking paths here
Praga – the "other Warsaw" can be experienced in the hip creative district east of the Vistula River
Museum of the Warsaw Uprising – the museum commemorates the courageous struggle of Poles against the Nazis.
Museum of the History of Polish Jews – moving exhibition about the history of Jews in Poland and the Holocaust.
Łazienki Park – castles in the park, gorgeous lakes and free concerts in summer. Where better to relax?
Wilanów – the castle of King Jan III Sobieski is one of the most visited sights in the country
For more on Warsaw sightseeing, check out our blog post on it.
How to get to Warsaw?
Airplane
Warsaw has two airports, at least officially. While Chopin Airport (also known as Okęcie) in the south of the city can be reached quickly and is mainly served by normal airlines, Modlin Airport to the north of the city is much further away. Mainly low-cost airlines fly there. However, both airports are well connected to the city center, for example by train. There are flights to Warsaw from numerous cities, for example with Ryanair and Wizz Air.
Train
Going to Warsaw by train is definitely a good idea. With the legendary Berlin Warsaw Express it takes only 6 hours from Berlin, also from Vienna it is only 7 hours. Tickets are available, among others, on the site of the Polish Railways. Warsaw is also easy to reach from Lviv and Kyiv and of course other Polish cities.
Most foreign trains stop at the Central Station (Dworzec Centralny) right next to the Palace of Culture; for onward travel to other Polish cities, you may need to depart from the West (Warszawa Zachodnia) or East (Warszawa Wschodnia) Station.
By the way, we have compiled tips for train travel in Poland for you here.
Bus
You can also get to Warsaw comfortably by bus, but it takes a bit longer. If you are coming from abroad, you can take Flixbus*, which usually stops at a metro stop on the outskirts of the city center. If you are coming from another Polish city, you can also take Flixbus*. Or you can take a PKS bus, which are small, locally organized bus companies.
Car
The A2 has from Germany has been extended to Warsaw, so theoretically you can even drive from the Netherlands to Warsaw without having to change the road once. However, you have to keep in mind that Polish freeways are subject to tolls and you will have to pay almost 20 euros for the route from Germany to Warsaw. Information and a price calculator can be found on the website of the Autostrada operators.
By the way, the parking situation is not very good, so you should always ask your accommodation if there is a parking space. The traffic jams can also be quite annoying. So think carefully if you want to drive to the center by car.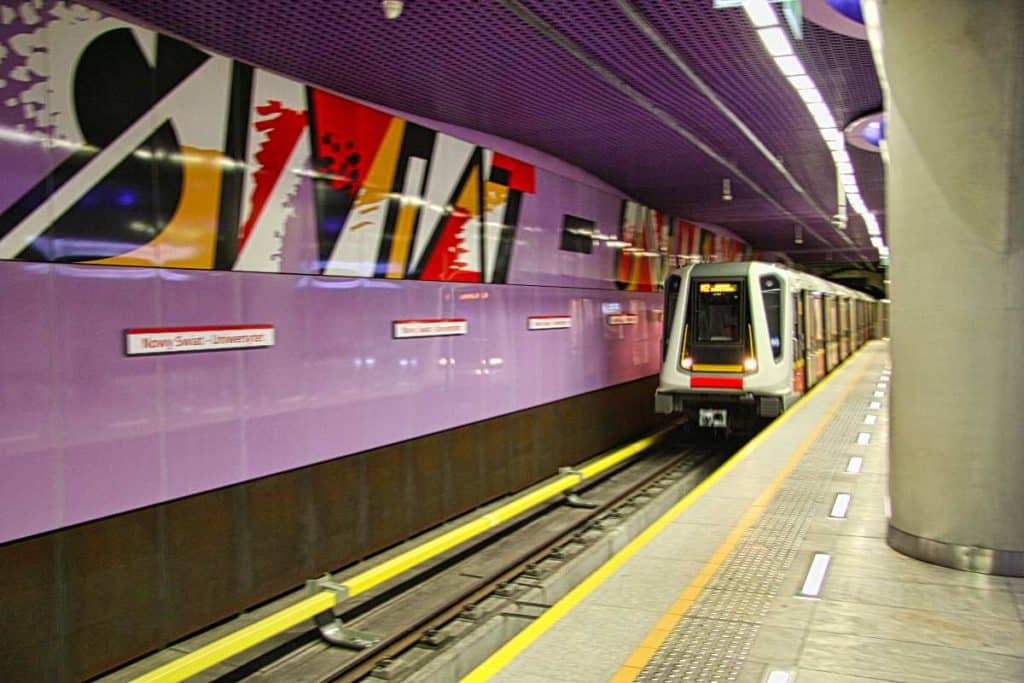 Warsaw Local Transport
Public transport
It took decades, but since 1995 there is finally a metro in Warsaw! In the meantime, a second line has been opened, so that you can travel comfortably from north to south as well as from west to east by metro. The streetcars, which take you almost everywhere in the center, have been in use for much longer. In addition, there are countless bus lines. In contrast to the Warsaw Metro and the streetcars, the buses often run at night. All information about public transport in Warsaw can be found on the website of the public transport company.
Tickets
You can buy tickets (bilety) almost everywhere – from vending machines, kiosks, post offices and often from the driver for an extra charge. The tickets are cheap and staggered according to time. You can always use several means of transport, for example, if you have to change trains. There are Warsaw tickets for 20, 75 and 90 minutes. You can also buy special tickets for 1 or 3 days. And if you are there on the weekend, it is best to get the Bilet Weekendowy, so you can travel on Saturday and Sunday quite relaxed. It is important to note that you have to validate all tickets at the ticket machine on your first trip. All students up to 26 years of age (take your international student ID with you!) and seniors over 70 years of age pay only half price.
Polish language
Polish belongs to the family of West Slavic languages. So if you know Czech, you will understand a few words of Polish. Even if you know a few words of Russian, it will help you. Polish is not an easy language to learn, so the Poles will be even happier if you make an effort and learn a few words:
| | | |
| --- | --- | --- |
| English | Polish | Pronounciation |
| Hi! | Cześć | Tsheshtsh |
| Hello! | Dzień dobry | Dshin dobre |
| Good Morning! | Dzień dobry | Dshin dobre |
| Good evening! | Dobry wieczór | Dobry vjetshur |
| Thank You | Dziękuję | Dshenkuje |
| Please | Proszę | Proshe |
| How are You? | Jak się masz? | Jak she mash? |
| Nice to meet You | Miło cię poznać | Miou tshe posnatsh |
| Excuse me | Przepraszam | Psheprasham |
| Yes | Tak | Tak |
| No | Nie | Nje |
| I (don't) understand | (Nie) rozumiem | (Nje) rosumjem |
By the way, you will get along fine with English, young Warsawers all learn the language at school.
Sometimes other languages can be heared as well, if You speak German for example, You might have a good chance to communicate at tourist spots as well.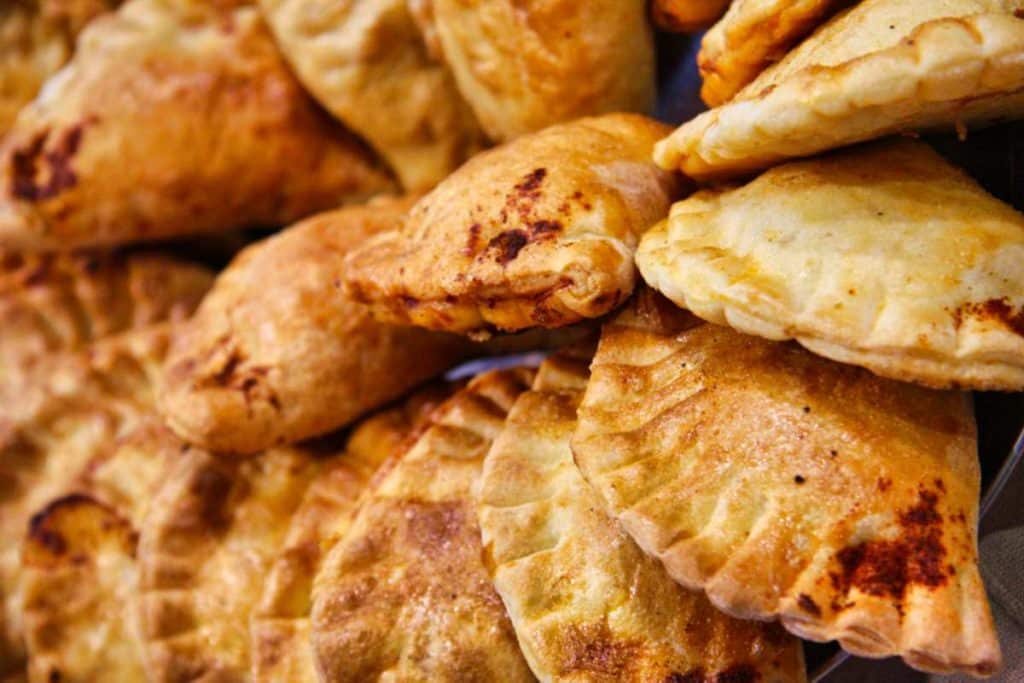 Dining in Warsaw
Polish cuisine is quite hearty. Some of the same dishes have been cooked for centuries, and the country's rural tradition in particular is reflected in the local cuisine. There is generally a lot of meat on the table, but cabbage and cereals are also important ingredients of Polish cuisine.
The main local dishes
Bigos – stew with sauerkraut, mushrooms and meat
Pierogi – filled dumplings, which are available either sweet or salty.
Barszcz Czerwony – originally from Ukraine, beetroot soup.
Żurek – sour flour soup with egg
Gołąbki – literally "doves", cabbage rolls with meat filling
Where to eat in Warsaw?
You can find the classics of Polish cuisine on almost every corner in Warsaw. They taste especially good here:
Zapiecek – The chain is represented eight times in Warsaw. Here you can get delicious pierogi, just like a Polish grandmother would make them.
Folk Gospoda, ul. Waliców 13 – Here you will find seasonally changing classics of Polish cuisine, but also a few international dishes.
Bar Ząbkowski, ul. Ząbkowska 2. Milk bars are iconic in Poland. For little money, you can get delicious home cooking in a simple ambience. The Ząbkowski bar in the Praga district is particularly goo
Warsaw Accommodation
Finding accommodation in Warsaw is not difficult. There are thousands of hotel beds for every budget. For a middle-class hotel you often don't have to pay more than 40 euros per night, in a hostel you will have to pay about 10 euros per bed in a dormitory. However, you should book early, especially in summer and early May, many accommodations are fully booked.
Where to stay in Warsaw?
Oki-Doki*, pl. Dąbrowskiego 3 – In the popular centrally located hostel you can not only stay cheap, but also rent a bike or take part in a pub tour.
Castle Inn*, ul. Świętojańska 2 – Located in the middle of the Old Town, one of the most beautiful hotels in the city with individually decorated rooms.
Bristol*, ul. Krakowskie Przedmieście 42 – The Bristol is a legend. Located in the middle of the boulevard Krakowskie Przedmieście, you can sleep here just like Pablo Picasso or John F. Kennedy, almost next to the Presidential Palace.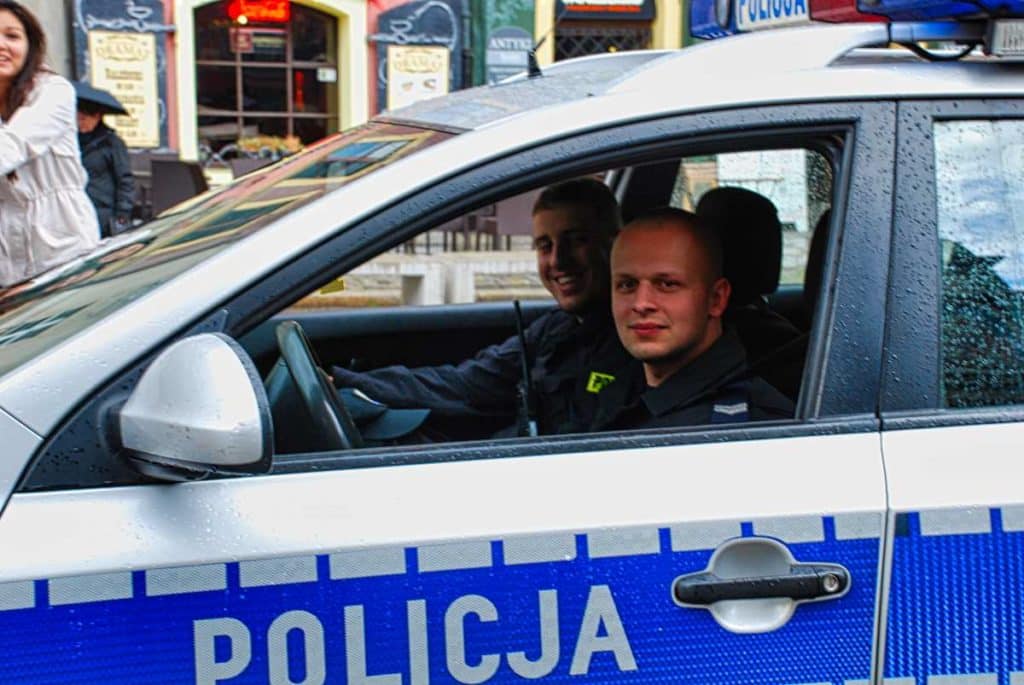 Security
Don't worry, Warsaw is a safe city. You don't have to be afraid of muggings, but it is best to carry your valuables as close to your body as possible on the bus and in the metro. In the evening, some streets in Praga may seem a bit unsafe, but even here it is rarely dangerous.
Emergency numbers
Should something happen, you can call the emergency numbers. Often someone on the end of the line speaks English:
Police: 997
General Emergency Call: 112/911
Fire department: 998
Card blocking: 116 116
Health
The health care system in the Polish capital is on a European level. As an EU citizen, you are automatically insured in Poland, so you can go to a hospital in Warsaw in case of emergency. It may be that you have to pay for the treatment in advance. However, you can have the amount reimbursed by your health insurance at home. The waiting times in public hospitals and doctors are often long, so many people go to private hospitals or private doctors, which are more expensive. Pharmacies can be found on every corner, many medicines are also available in supermarkets and kiosks.
Hospitals in Warsaw
In these hospitals you will get fast and reliable help:
Money
ATMs are a dime a dozen in Warsaw. It is important that when withdrawing money you do not choose the conversion to euros, but to the local currency, the złoty. Otherwise, the bank will use an allegedly guaranteed exchange rate, which is always much worse than the actual one.
You can also exchange money in an exchange office (kantor). Here a comparison is worthwhile, often there are several exchange offices in tourist places. There are always two exchange rates, depending on the exchange direction, the worse one is always valid. Some bureaux de change also charge a commission, it is best to ask beforehand.
Card payments are widespread and you can also use your smartphone to pay everywhere without any problems.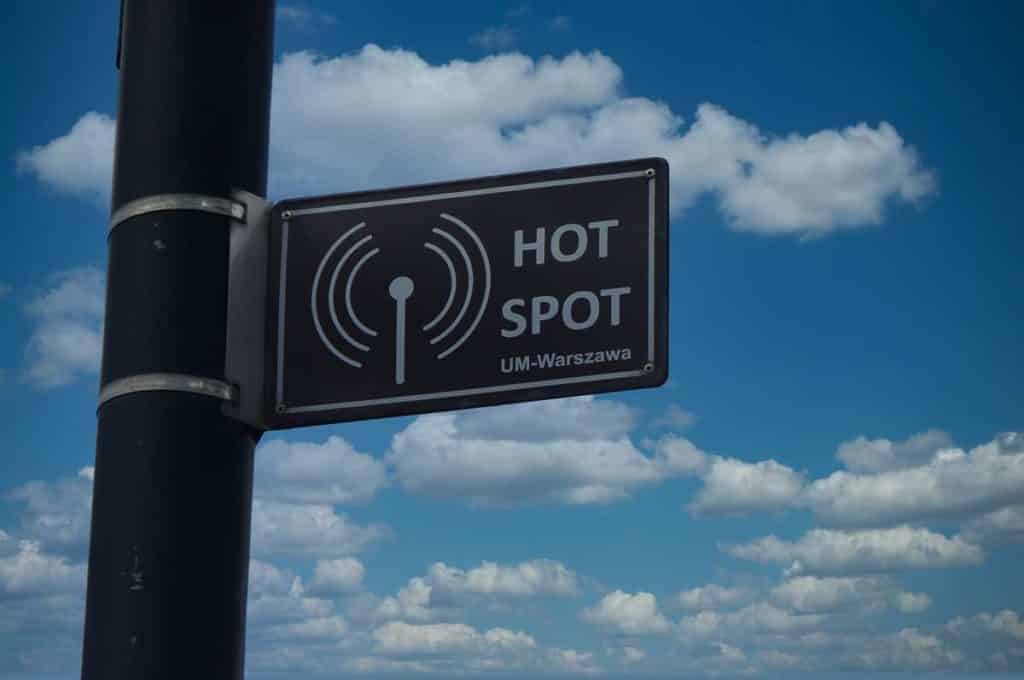 Telephone and Internet
With a European sim card, you can make calls, surf the Internet and send texts in Warsaw for the same price as at home. If you are a non EU-citizen, you can buy a local sim card almost in every shop or kiosk. Network coverage is excellent throughout the city.
Still not enough about Poland? Check out our Poland country page regularly, where we always publish new articles!